Our new Bachelor Program Informatics starts in the winter term of 2023.
The three bachelor programs Software & Information Engineering, Media Informatics & Visual Computing, and Medical Informatics will be phased out and can no longer be started after the summer term of 2023 (graduation later is of course still possible). Business Informatics and Computer Engineering will continue to be offered.
Find details, questions, and answers in the news article
!
BSc Informatics:
Starts Winter 2023
Bachelor Program
UE 033 521
Create the technologies of the future – today. Informatics combines mathematics, engineering, psychology, linguistics and design in one diverse field. With us, you'll study at the leading faculty for informatics in Austria.

Facts
Duration: 6 Semesters
ECTS Worth: 180
Degree: Bachelor of Science (BSc)
Language: German
Restricted Admission: Yes / Process
Specializations: Yes / Details
Questions? — We have answers
Diese Seite in Deutsch.
About
What to expect?
We build from the basics: At TU Wien Informatics, you'll learn all important fundamentals of informatics and mathematics from the beginning. This offers you the best conditions to develop according to your interests. Because in the Informatics bachelor, you are flexible: You can choose from seven different specializations, or stick with a more general course of study with courses that match what you're most interested in.
You'll learn from the best and are integrated into an international research community. Modern laboratories and a good balance between teachers and students help you to reach your full potential.
Why all this?
Whether in academia, business, or industry: With a bachelor's degree in Informatics, you are more in demand than ever. The tech industry offers a wide range of career opportunities and is pioneering - not only in terms of salaries and work-life balance but in shaping a better world for us all.
Develop, research, program, communicate, consult with companies, manage IT projects, or start your own business. There are no limits to your creativity.
Develop, research, program, communicate, consult with companies, manage IT projects, or start your own business. With a bachelor's degree in Informatics, you are ideally equipped for an international IT career.
Curriculum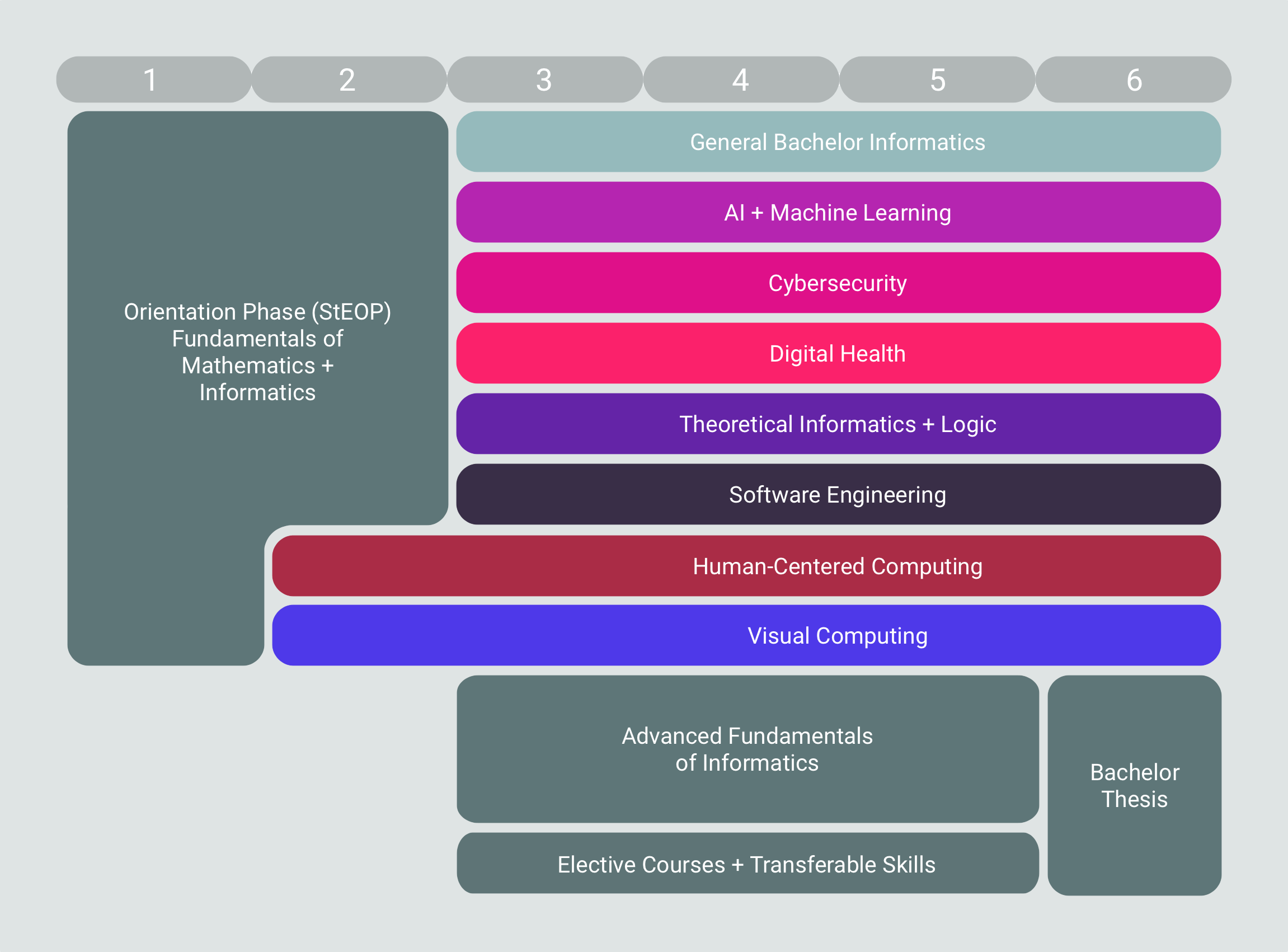 The first two semesters are dedicated to the orientation phase (StEOP). Here you'll learn mathematics, programming, how systems work, and how data is structured. In short: all the essential basics.
Afterward, you can choose a specialization, or stick with the general informatics course. Either way, you'll also delve deeper into informatics - from operating systems to design, theory, statistics, security, and much more. Here, too, you'll remain flexible and can put together modules according to your specialization or preference. A well-balanced set of electives and soft skills enables you to further your education inside and outside of informatics.
Specializations
In the Bachelor of Informatics, you can choose a specialization after completing the orientation phase (semesters 1 & 2) to focus on a particular field:
The good thing is that you are able to specialize, but you don't have to! It is also possible to opt for a general informatics course and attend modules from different specializations. If you choose a specialization, it is documented as such in your degree certificate upon graduation.
The specialization has core and elective modules. Modules consist of different courses that are grouped thematically. Arrange your learning content according to your interests!
Artificial Intelligence + Machine Learning
Artificial Intelligence is all around us. It influences what we buy, composes music, analyzes X-ray images, and optimizes driving directions. Intelligent machines need inventors! Design systems, find new methods, design visualizations, and solve tomorrow's problems with us.
Cybersecurity
Everything is connected - your smartphone, your bank account, the blinds in your apartment. But who protects these sensitive connections and data? As an expert in Cybersecurity, you track down attacks, conduct security tests and develop systems to protect society.
Digital Health
Do you want a to combine technical know-how and working in healthcare? Then you've come to the right place. Program algorithms that detect and predict diseases, develop software for care, and visualize complex health data.
Human-Centered Computing
Ever thought about how your smartwatch works? Or why we don't live in the metaverse already? Human-Centered Computing combines informatics, interaction, and design. Learn how we use technology and develop systems by and for people.
Software Engineering
Your washing machine, TV, smartphone, and laptop have one thing in common: software. It influences how we live, work, and think. And it keeps everything running. With us, you'll learn to develop, analyze and secure software in a team.
Theoretical Informatics + Logic
Theoretical Informatics combines mathematics with real-world application. Theoreticians develop the foundations of informatics, and define, model, and calculate whether systems are secure and reliable.
Visual Computing
From images to 3D models to virtual reality: With us, you'll learn what computer graphics, computer vision, and visualization can do. Use your know-how to revolutionize the future of human-machine interaction.
Environment
You are deeply immersed in a rich environment full of exciting ideas and interesting challenges that foster your talents and provide new experiences:
You're more than just a number when you study with us. Be part of TU Wien Informatics!
Frequently Asked Questions