Doctoral School
As a doctoral student, you are part of the TU Wien Informatics Doctoral School and encouraged to advance technology through independent creative research.

Latest News
Looking for archived news? Head over to our Newsroom.
Our Mission
Creative and Innovative Research
The framework of the TU Wien Informatics Doctoral School intends to foster scientists who have broad knowledge and expertise in the domain (breadth) and contribute to the development of the sciences (depth) through independent research. Our graduates gain new scientific insight and can present results comprehensively. They can solve complex scientific problems in both fundamental and applied research at a high international level and according to accepted scientific standards.
Objective
Our mission is to provide you with an environment that encourages you to contribute to technology advancement through systematic, yet creative research. Our program enables you to become an independent researcher capable of generating, pursuing, and communicating novel research ideas. To achieve this, you will be involved in research activities as soon as possible.
Get in Touch
As a doctoral student at TU Wien Informatics, you're automatically part of our Doctoral School and can approach us any time (see contact info below). In addition, we suggest you subscribe to our newsletter to learn about our talks, exciting events, and news about our world-renowned guest professors. It's a low volume list; we'll send a message or two every month.
Excellence
At the Faculty of Informatics, we are not only deeply committed to top-quality teaching, but we are also remarkably active in basic research and industry co-operations. This is witnessed through our researchers' numerous prestigious awards, our remarkable success in acquiring competitive project funding, and many more; visit our Facts & Figures page for details. And finally, there is our city, Vienna, the capital of Austria. Indeed, one of the top places on earth for a student; see our Living in Vienna page for details.
Our faculty has an excellent international reputation that is also witnessed through diverse academic rankings. We have dozens of interesting basic research projects and industry cooperations ongoing where our doctoral students are actively involved, collect research experience, and build their networks.
We have a sophisticated process in place that is clearly dedicated to top-level quality in education and assessment. On the path to your final doctoral thesis, e.g., you have two rounds of expert feedback that help you improve the quality of your work.
Our Process
In a relatively early phase, you will have to defend your research proposal in the Proficiency Evaluation. You will get pointers on how to improve your focus, research questions, methodology, etc.
Before you submit your final doctoral thesis, you will hand in a preliminary version; again to obtain feedback on how to improve it. This feedback is given by two independent international experts who will also grade your final thesis and challenge you during your defense.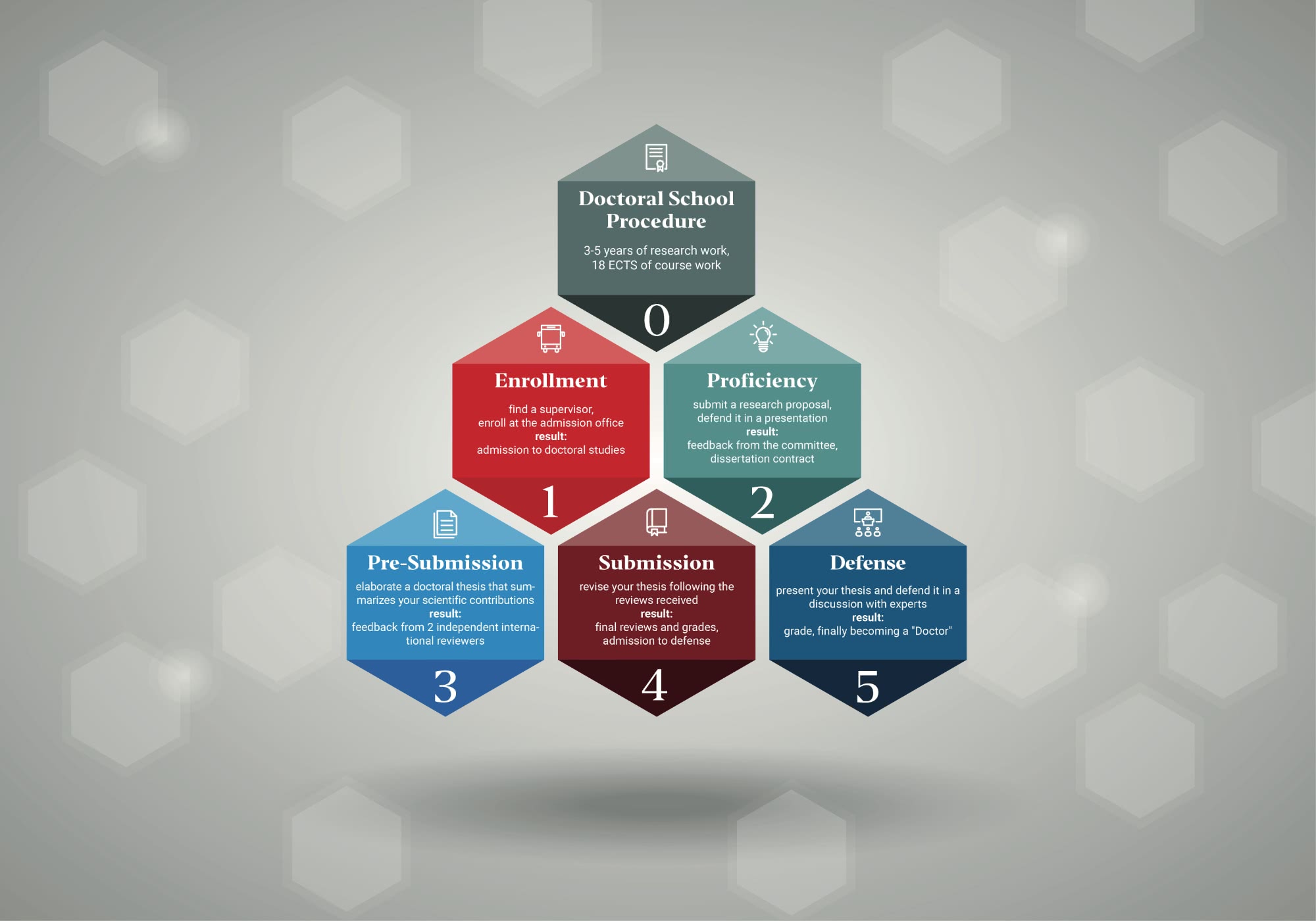 Apart from elaborating your doctoral thesis, you will also have to pass 18 ECTS of coursework. Following a structured curriculum, some of these courses provide you with fundamental skills, while others can be specifically tailored to your research. To expose you to the latest trends worldwide, we regularly invite renowned international experts to give courses as guest professors.
Excellent Support
All-Around Help and Advice
We are aware that top research requires peace of mind and that problems with visas, housing, and often finding the right information can be quite distracting and time-consuming. Therefore, to let you leverage your full scientific performance, we do our best to support you in these things.
Our Services
Admission and Relocation Support
If you are seeking admission, you can submit your applications at any time. We also support you in regards to visas, accommodation, etc.
Guest Lectures
We organize guest lectures which are given by internationally renowned researchers (so-called "area courses"). In addition, we coordinate fundamental and other more specialized courses. All these courses are held in English.
Info Events
We hold regular information events to announce details on the curriculum, upcoming visiting professor courses, or simply answer your questions about your path towards the doctorate.
Social Events
We organize social events in which we expose you to exciting facets of our city that you might have missed otherwise, like visiting a brewery, the House of Music, the Museum of History, or one (or two ;-) of Vienna's famous Christmas Markets. And of course, it is not only about the sights, but an important aspect is also getting together with other students, sharing experiences and simply having fun.
All-Around Help and Advice
If you still have open questions after looking into all the information on our website and in the FAQs, we are happy to help you. Just drop us an email at doctoral-school@informatics.tuwien.ac.at.
Testimonials
I enjoy the freedom to work on the subject I am most interested in while also receiving valuable feedback from my supervisors and peers. The amicable coordinators are happy to help with any question. All while living in the world's most liveable city!
Vienna is the best city to live and study; hence the best place to pursue a PhD in computer engineering is TU Wien Informatics.
At DC SafeSecLab, I investigate statistical and machine learning algorithms' opportunities to detect safety and security-relevant anomalies and covert communication in industrial networks. SafeSecLab offers a real-world project in which I can work together in an interdisciplinary team. I enjoy the teamwork, freedom, and connections to both the industry and academia. The direct, uncomplicated access to modern factory equipment and machinery makes the project even more attractive.
When I came to Vienna to continue my studies at TU Wien, I felt how much it is well-organized even in a pandemic. Its location in the city center of Vienna and many eye-catching historical buildings make unforgettable experiences for every student. It is a perfect place for international students who look for a well-ranked and professional university in one of the greatest cities for living.​