BSc Computer Engineering
Bachelor Program
UE 033 535
Are you eager to know what chips, circuit boards, and processors are all about? Do you want to develop and program innovative electronics? Computer engineering combines informatics and electrical engineering. Calculate, plan, build, network, and program future technologies – today.

Facts
Duration: 6 Semesters
ECTS Worth: 180
Degree: Bachelor of Science (BSc)
Language: German
Restricted Admission: Yes / Process
Questions? — We have answers
Diese Seite in Deutsch.
About
What to expect?
In the Computer Engineering bachelor, you will learn how hardware and software interact. Theory and practice are closely linked. Whether it's medical devices, robots, cars, airplanes, or objects in our daily lives - the combination of electronics and code keeps everything running in our interconnected world.
At TU Wien, we build from the basics: from mathematics to algorithms and data structures, system architecture, programming, statistics, operating systems, and computer networks. You'll also learn how to develop microelectronics, how signals are processed, and how components and software interact to form a highly sophisticated system.
Why all this?
The combination of electrical engineering and informatics opens up a wide variety of work as a computer, network or software engineer, system architect, expert in automation technology and more.
Develop, research, program, communicate, advise companies, manage IT projects or start your own company. With a bachelor's degree in Computer Engineering you are well prepared for an international IT career.
Curriculum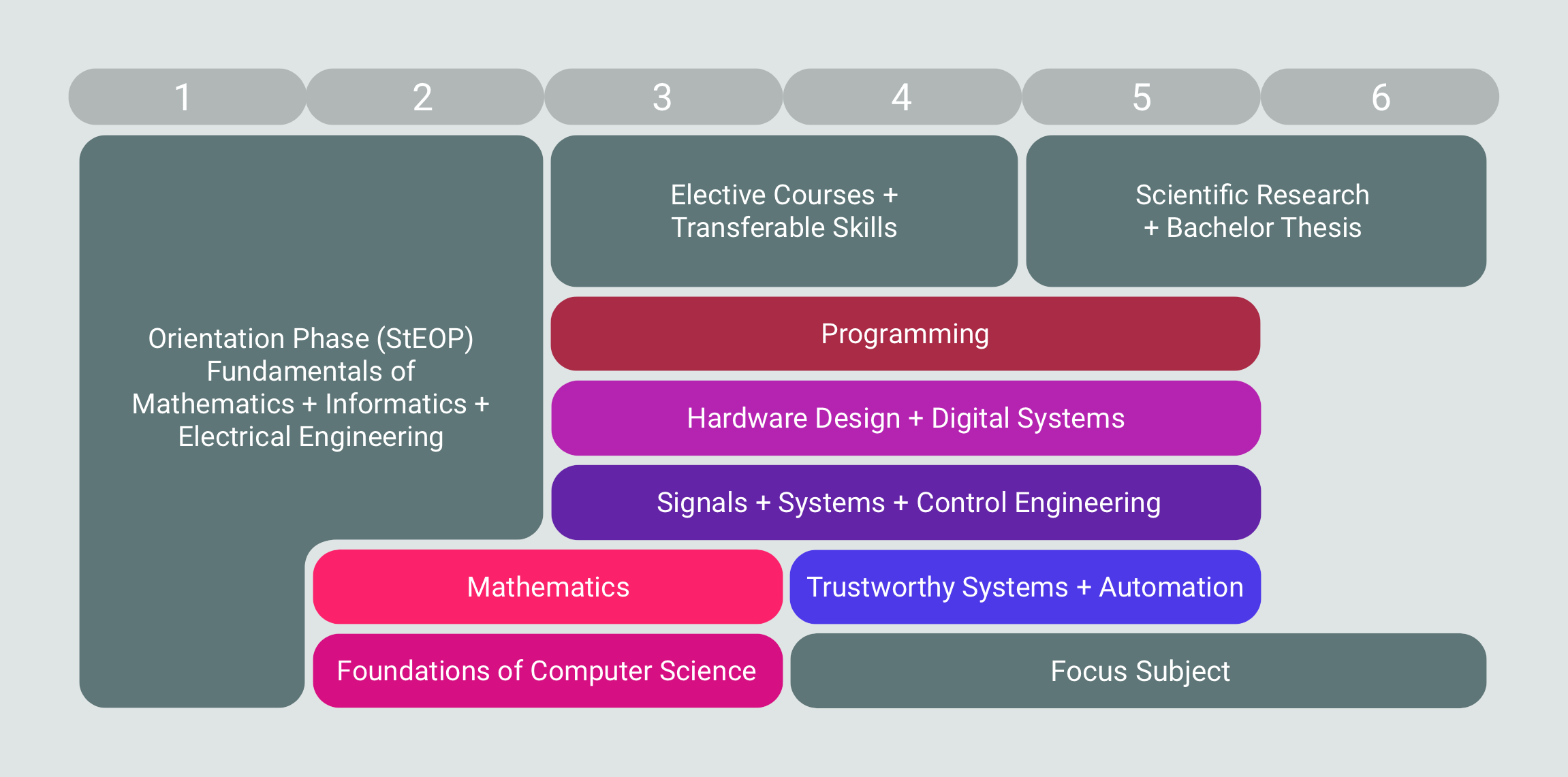 In the orientation phase (StEOP), you will mathematics and programming, how systems work, and what modeling is - all the essential basics. From the first semester, you'll start with Fundamentals of Informatics and learn about algorithms, data structures, and digital systems. Mathematics is also an important part of the equation (pun intended). Programming from the start of your studies will help you to put theory into practice. In practical lab exercises, you'll learn how operating systems are structured and how to create complex computer networks.
Electrical engineering will be part of your studies from the second semester onwards. You'll design and build hardware, focusing on the interconnection of electrical components. You will also learn how individual hardware elements interact. Starting in the third semester, you'll delve into Signals + Systems, where you'll learn signal processing and automation. You'll learn about the design and application of fault-tolerant systems in the subject Reliable Distributed Real-Time Systems and the basics for constructing embedded & cyber-physical systems.
Environment
You are deeply immersed in a rich environment full of exciting ideas and interesting challenges that foster your talents and provide new experiences:
You're more than just a number when you study with us. Be part of TU Wien Informatics!
Frequently Asked Questions