BSc Business Informatics
Bachelor Program
UE 033 526
Companies no longer work without information technology. From giant tech corporations to small firms, business informatics shapes the digital world of work. Combine data analytics, financial transactions, management and logistics to develop the technologies of the future – today.

Facts
Duration: 6 Semesters
ECTS Worth: 180
Degree: Bachelor of Science (BSc)
Language: German
Restricted Admission: Yes / Process
Questions? — We have answers
Diese Seite in Deutsch.
About
What to expect?
In the Business Informatics bachelor, you will learn how to plan, analyze, develop and implement information and communication systems for business. Theory and practice are closely linked.
At TU Wien, you'll get to know all the basics of informatics, mathematics, and economics that you need. Data structures, algorithms, software engineering, accounting, and management are only part of your comprehensive education.
As an expert in Business Informatics, you are a mediator between IT and business and develop meaningful and sustainable strategies for our environment and society.
Why all this?
With your bachelor's degree in Business Informatics, you are in high demand – whether in business, industry, or research and development. Work as a data scientist, software engineer, enterprise architect, IT manager, and more.
Develop, research, program, communicate, advise companies, manage IT projects or start your own company. With a bachelor's degree in Business Informatics you are well prepared for an international IT career.
Curriculum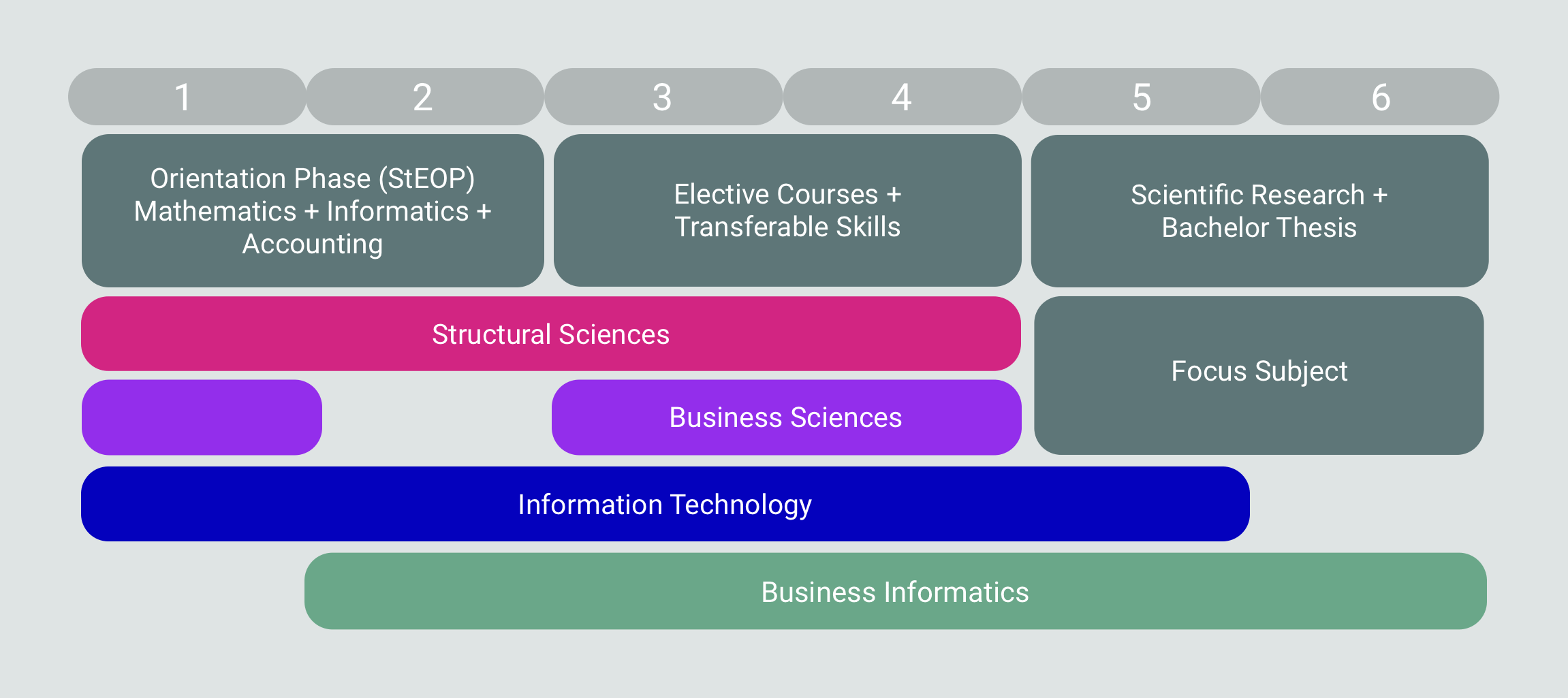 In the orientation phase (StEOP), you'll learn mathematics, programming, accounting, systems design, and data structure. In short: all the essential basics.
Structural Sciences
Structural Sciences cover the mathematical foundation of computer science, including statistics, probability theory, and theoretical computer science.
Business Sciences
The basics of business administration are just as essential as economics and management. You will gain insights into organization, management, and optimization of companies.
Information Technology
Computational thinking and computer science are the core learnings of Information Technology. You'll learn programming, software and systems engineering and implement real-world projects.
Business Informatics
In Business Informatics, we'll teach you how databases work, how to model systems, and develop web applications. You'll understand how business strategies and information systems interact and solve legal and security issues.
Environment
You are deeply immersed in a rich environment full of exciting ideas and interesting challenges that foster your talents and provide new experiences:
You're more than just a number when you study with us. Be part of TU Wien Informatics!
Frequently Asked Questions