This was the 28th Epilog—Celebrating Excellence
2019-06-26
Epilog
Award
Excellence
Students
Impressive presentations, innovative research and inspiring posters: We honored this summer term's most excellent students for their achievements.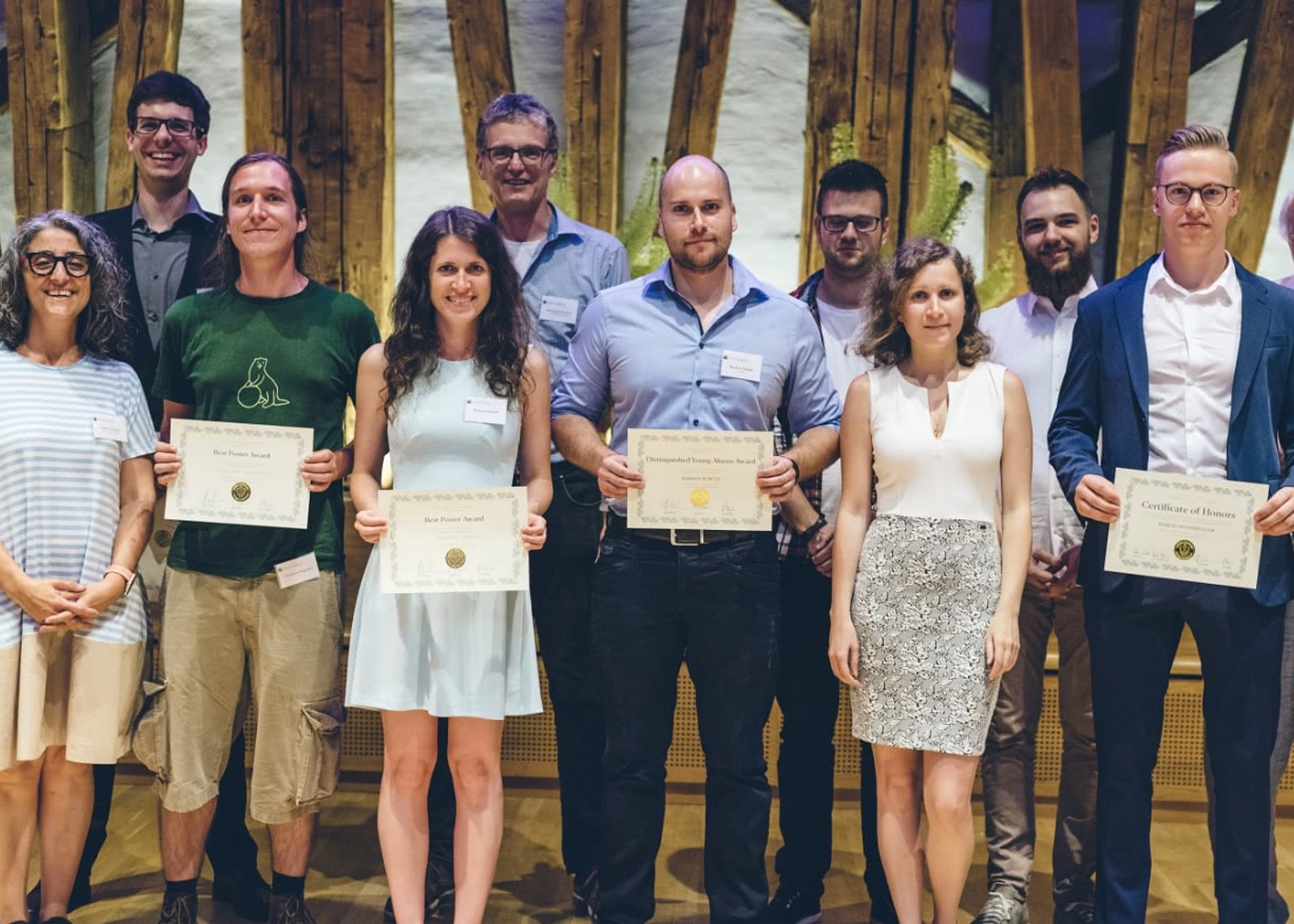 TU Wien Informatics celebrated excellent students for their outstanding achievements on June 25, 2019. The award ceremony took place at the festive Kuppelsaal. The jury, chaired by Margrit Gelautz and consisting of Stefan Biffl, Martin Kampel, Wolfgang Kastner, and Florian Zuleger not only awarded the best diploma thesis, but also the Best Poster Award and honored the graduates of the "Bachelor with Honors" excellence program.
Distinguished Young Alumn
Of the four best graduates who presented their diploma theses, Markus Schütz from the Institute of Computer Engineering was awarded the "Distinguished Young Alumn Award" endowed with € 1,500. He invented "PRTMR: A Novel Approach for Hardware Redundancy in Space Applications" and convinced the jury both with his excellent balance of theory and practice and with his sound knowledge of the topic in the subsequent round of questions. Andreas Steininger supervised the successful graduate. Nataliia Avdosieva from the Institute of Visual Computing and Human-Centered Technology wrote her diploma thesis on "Designing for Privacy. Design Patterns for Making Online Products GDPR Compliant". At the same institute, Lukas Prost researched on "Real-Time Rendering of Photometric Area Lights for Interactive Lighting Design," while Philipp Frauenthaler from the Institute of Information Systems Engineering presented "A Framework for Blockchain Interoperability and Runtime Selection."
Simply the Best
The Best Poster Award, endowed with € 500 each, was presented to two graduates this semester—thanks to a spontaneous increase in prize money by Dean Hannes Werthner, the jury was able to award the prize for the two best posters: Romana Jakob took home a Best Poster Award for her presentation on "A Usability Design Approach of Tailored Visualizations for Mobile Applications." Her diploma thesis was supervised by Margit Pohl from the Research Unit of Human Computer Interaction. Christian Kapeller, who was supervised by Margrit Gelautz from the Research Unit Information of Interactive Media Systems, received the other Best Poster Award for his thesis presentation on "Evaluation of a 3D Reconstruction System Comprising Multiple Stereo Cameras".
Our excellence program for bachelor students with outstanding achievements—"Bachelor with Honors"—enables students to deepen their knowledge and inspires them for scientific research at an early stage of their academic careers. The certificates were awarded to Marcel Moosbrugger and Thomas Hader for their outstanding achievements.
The Bamberg CS30 Strategy
Daniela Nicklas from the University of Bamberg gave the traditional Epilog Keynote. She talked about "The Bamberg CS30 Strategy—Encouraging female students since 2005", a roadmap to promote women in informatics. She gave an overview of the Bamberg CS30 strategy, the title of the program referring to the female gender ratio of 30.4 percent for first-year students in informatics in the year 2014 at the Faculty of Information Systems and Applied Computer Science at the University of Bamberg. These figures are the consequence of a coherent strategy to encourage and retain female students, comprising a broad range of actions targeting children in elementary school, where gender does not matter as much as in later age groups, as Nicklas explained. Workshops for girls, mentoring programs, and support for enrolled students as well as alumnae tracking and female tutors as role models are also contributing to the successful way forward. Giving girls and young women the chance of discovering their interest and talent for informatics was an essential factor, Nicklas is convinced. She said it was still a long way to go, but closed with a motto quoting science fiction author Lois McMaster Bujold: "Aim high. You may still miss the target, but at least you won't shoot your foot off."
Curious about our other news? Subscribe to our news feed, calendar, or newsletter, or follow us on social media.