The 31st Epilog—Another Online Experience
2020-12-02
News
Women in Informatics
Faculty
Excellence
Students
We honored our most excellent students for their achievements and bestowed them their awards in an online ceremony.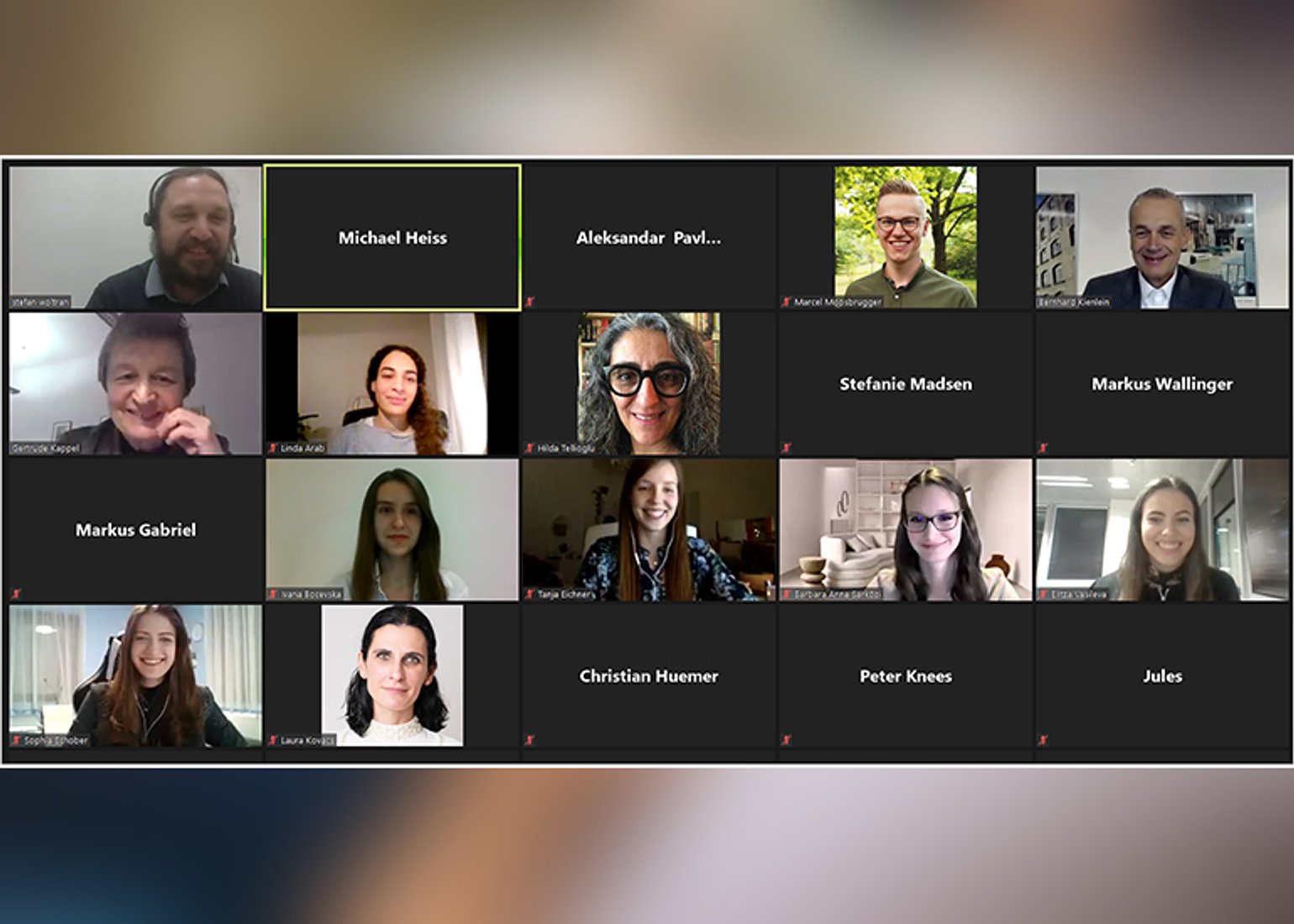 Since extraordinary times call for exceptional measures, we once again held our 31st Epilog online this winter semester. On 1 December 2020, our Zoom audience witnessed the four best candidates compete for the Distinguished Young Alumn Award, the presentation of the Siemens' Awards of Excellence, and the awarding of the prestigious Bachelor with Honors certificates. Moreover, the Best Poster Award winner was announced—elected by TU Wien Informatics staff via online voting.  

Host and Vice Dean of Academic Affairs, Stefan Woltran gave the floor to Dean Gerti Kappel for her welcome words. "It is one of the most honourable duties of a dean to welcome and congratulate these very successful graduates," she addressed the students. "Talking about the best of the best does not mean that the others are not good enough," Gerti Kappel compared the display of excellence to a race where only the first three winners will be named in the newspapers. "But of course the successful candidates are standing on broad shoulders—the shoulders of our faculty."
Distinguished Young Alumn
The best four candidates were selected by a jury, chaired by Margrit Gelautz and consisting of Jürgen Cito, Chris Fermüller, Florian Michahelles, and Ulrich Schmid. By presenting their excellent diploma theses, the candidates competed for the Distinguished Young Alumn Award.  Marcel Moosbrugger convinced the jury with his excellent presentation on "Automating Termination Analysis of Probabilistic Programs" which, according to the jury, "explored undiscovered territory in a challenging area and managed to present the complex topic in an illustrative way." He, therefore, received the Distinguished Young Alumn Award endowed with €1,500 for his outstanding research. His diploma thesis, supervised by Laura Kovacs, deals with the question of deciding the termination of computer programs—one of the most infamous challenges in computer science. 
The other three best graduates who presented their diploma theses were also honored for their excellent achievements. Markus Gabriel wrote his thesis about "Distributed Factorization Machines for Next-Track Music Recommendations" and was supervised by Peter Knees. Aleksandar Pavlović presented "Reasoning in Knowledge Graphs: Bridging Databases and the Semantic Web," supervised by Emanuel Sallinger. Markus Wallinger researched on "MetroSets—What studying at TU Wien and taking the U6 have in common" and was supervised by Martin Nöllenburg.
The Siemens Award for Excellence —Promoting Women
With its excellence program, Siemens AG Austria has been supporting TU Wien Informatics' efforts to aiming at gender balance and promoting excellent female students in a successful research career for more than a decade now. Bernhard Kienlein, Head of Digital Industries at Siemens AG Austria, presented the Siemens Awards for Excellence each worth € 1,000 to the six awardees: The Bachelor students Linda Arab, Ivana Bocevska, and Sophia Schober, all from the field of Information and Software Engineering, and to the master scholarship holders Tanja Eichner (Medical Informatics), Barbara Anna Sarközi (Software Engineering and Internet Computing), and Elitza Vasileva (Visual Computing).
"Aiming at gender balance is a vital interest of society and also industry. To increase the proportion of women in technology is also very important—it is proven that more diversity is leading to better results," said Kienlein while addressing the successful awardees. "That is why we at Siemens have decided to give diversity the utmost priority," he further explained. With the changes brought about by digitalization, young and open-minded computer science talents were increasingly needed in Austria and Europe, he pointed out. Kienlein congratulated the happy award recipients, wished them the best for their future careers, and recommended "to proudly list the prize in your CVs." 

Celebrating Excellence
Our Bachelor with Honors excellence programme for students with outstanding achievements enables them to deepen their knowledge. It inspires them for scientific research at an early stage in their academic careers. Alexander Selzer, Wolfgang Rumpler, Valentin Rupprecht, and David Schmidt from Information and Software Engineering, plus Jakob Troidl (Medical Informatics) were awarded their Certificates of Honors by Dean of Academic Affairs Hilda Tellioglu, including a personal letter of recommendation by the TU's rector, stating that they belong to the Top 5 percent of students at TU Wien.  

Voting for the Best Poster
For the second time, TU Wien Informatics staff were asked to cast their vote for one of the nominees for the Best Poster Award. The lucky winner of the award, endowed with € 500 and supervised by Werner Purgathofer, was Daniela Stoll with her poster presentation "Tactile Multi-Media Guide—Interaction design on tactile reliefs," focussing on creating more inclusive cultural environments, especially for visitors with various visual, hearing and cognitive access needs and wishes.
Curious about our other news? Subscribe to our news feed, calendar, or newsletter, or follow us on social media.