Role Models for Girls in Informatics
By Mihaela Rozman / Claudia Vitt (edt.)
2020-02-26
Education Outreach
Our workshop series "Tagebuch der Informatikerin" brought female computer scientists and practitioners to school classes across Austria.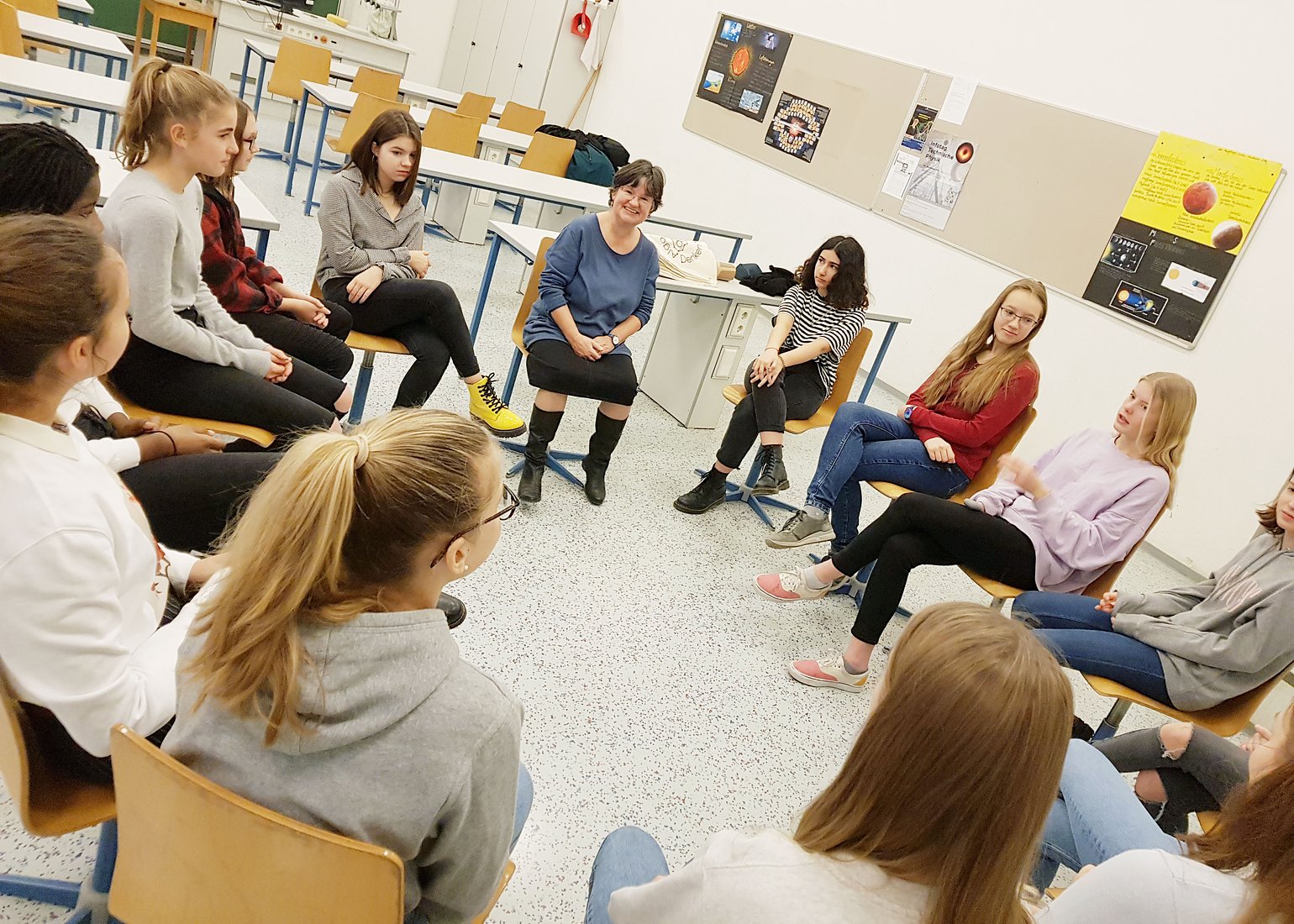 The UNESCO report "Cracking the Code" decisively shows that most young European women become attracted to science, technology, engineering and math between the ages of 11 and 12. But that interest then drops off significantly between 15 and 16, with limited recovery. Schools play a central role in determining girls' interest in STEM subjects and are vehicles for ensuring equal access to high-quality STEM education. Among the main obstacles for school girls in Austria which deter them from entering the field of computer science are lack of female role models, little or no practical experience with computer science, and negative perception of the everyday reality of being a woman in science.
Importance of Role Models
Girls need support to develop positive attitudes towards computer science, belief in their abilities, and a sense of belonging in Informatics' studies and careers. This can be done by increasing girls' exposure to computer science or establishing links to role models like it was done by the workshops Tagebuch der Informatikerin. To address the existing barriers, the pilot workshop series Tagebuch der Informatikerin (diary of a female computer scientist), gave almost 300 girls between the ages of 13 and 15 across classrooms in Austria an opportunity to gain an insight into the life and work of established female computer scientists and practitioners. In collaboration with Abenteuer Informatik, organizers offered also pilot workshops for boys.
All over Austria
The workshops took place between mid-January 2020 and mid-February 2020. "The demand from schools was much greater than we had imagined," says Agata Ciabattoni Professor of Logic in Computer Science. Due to the immense interest in the workshops, the organizers of the activity, which is part of project ADA – Algorithmen Denken Anders, are already planning the next round of workshops for winter 2020/2021. Among the female computer scientists and practitioners who visited school in provinces of Vienna, Lower Austria, Salzburg, Styria, and Upper Austria were our own Dean Prof. Gerti Kappel (Business Informatics), Prof. Hilda Tellioglu (Visual Computing & Human-Centered Technology), Prof. Margit Pohl (Human Computer Interaction), and Ass. Prof. Martina Lindorfer (Security and Privacy). The workshops outside Vienna were led by Marlies Temper (FH St. Pölten), Corinna Kröhn (JKU Linz), Jean Hallewell (FH Oberösterreich), Ana Sokolova (University Salzburg), Johanna Pirker (TU Graz) and Birgit Hofer (TU Graz).
Female Computer Scientists Still Underrepresented
At the panel discussion for the stakeholders, our Ass. Prof. Martina Lindorfer (TU Wien), gave a thematic introduction in which she talked about the obstacles that her generation of women interested in Informatics have had to overcome while entering the field. The distortion of self-selection when girls choose not to pursue Informatics studies seems to play a key role, as girls often do not consider computer science professions to be compatible with their gender. Even if girls themselves do not support these stereotypes, knowing that people in their immediate environment like peers, friends, parents, and teachers have such beliefs, can undermine girls' confidence and thus their performance and intention to pursue computer science studies. Dr. Sabine Zauchner-Studnicka (Working circle for women in IT of the Austrian Computer Society – OCG): "Parents and the media are forgotten target groups when it comes to supporting or developing girls´ interest in computer science. For example, where do the female scientists appear in the media? Computer scientists are underrepresented, in comparison with female chemists, doctors or biologists."
The "Tagebuch der Informatikerin" takes place in cooperation with Informatik Austria, Austrian Computer Society - OCG, e- Education Austria and EIS Education Innovation Studios of the Federal Ministry for Education (BMB) and the Future Learning Lab. It is an activity within the project ADA – Algorithmen Denken Anders, led by the Vienna Center for Logic and Algorithms at our Faculty and funded by the Vienna Business Agency and the Federal Ministry for Climate Protection, Environment, Energy, Mobility, Innovation and Technology (BMK).
Curious about our other news? Subscribe to our news feed, calendar, or newsletter, or follow us on social media.