Abenteuer Informatik: Opening Ceremony of Interactive Exhibition
2019-06-11
Education Outreach
Social Responsibility
We celebrated the opening of the interactive exhibition "Adventure Informatics". Thanks to the generous support of our sponsors!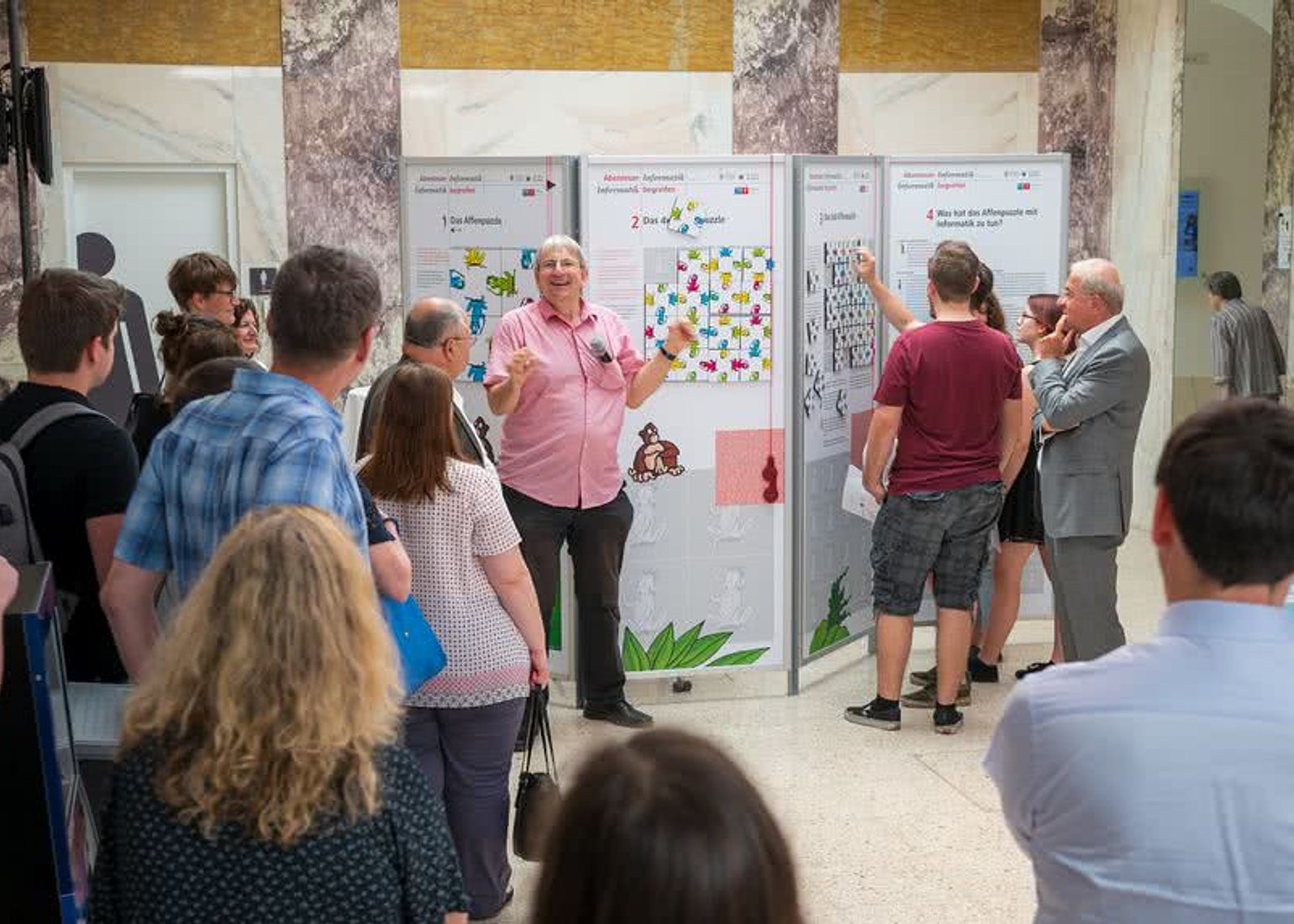 Treasure Hunt
Abenteuer Informatik gives pupils, their teachers and other people the chance to go treasure hunting and explore riddle tours. Being creative and supporting computational thinking is one of the main goals of the exhibition. Another one, as project leader Gerti Kappel puts it, is "Every pupil in Vienna has visited the TU and knows that informatics is exciting". That is why the Vienna Informatics Living Lab (VILL) started workshops for many topics in computer science at the beginning of this year. Pupils and their teachers can attend didactic workshops for free, and part of this is the newly opened exhibition Abenteuer Informatik. Containing 45 exhibition boards and 20 experimental stations, the permanent exhibition offers a wide range of topics, as there are binary and information representation, efficient algorithms and the limits of computability.
Construction Workers Do It
"The exhibition is attracting a lot of different people. I see passersby, our students and our construction workers trying to decipher brainteasers - everybody wants to know what the exhibition is about", explains Gerald Futschek, project manager of Adventure Informatics. Together with his team, he developed the didactic concept of the interactive setting: "First do it, then deal with the theory behind. This way people learn how to think for themselves and can approach the complex contents of informatics", Futschek is convinced.
Bridging the Gap
TU Wien Rector Sabine Seidler pointed out that dealing with digitalisation was more than handing out tablet computers to pupils, and emphasized the importance of showing that technology brings fun, as displayed in the exhibition. Dean of TU Wien Informatics Hannes Werthner agreed: "It is important to motivate young people for informatics, so we take academic teaching seriously and try to bridge the gap between schools and university".
Links
Curious about our other news? Subscribe to our news feed, calendar, or newsletter, or follow us on social media.