Heinz Zemanek 1920 – 2014
Die Heilige Messe für Heinz Zemanek findet am 16. September 2014 im Stephansdom statt. Der große österreichische Computerpionier verstarb im Alter von 94 Jahren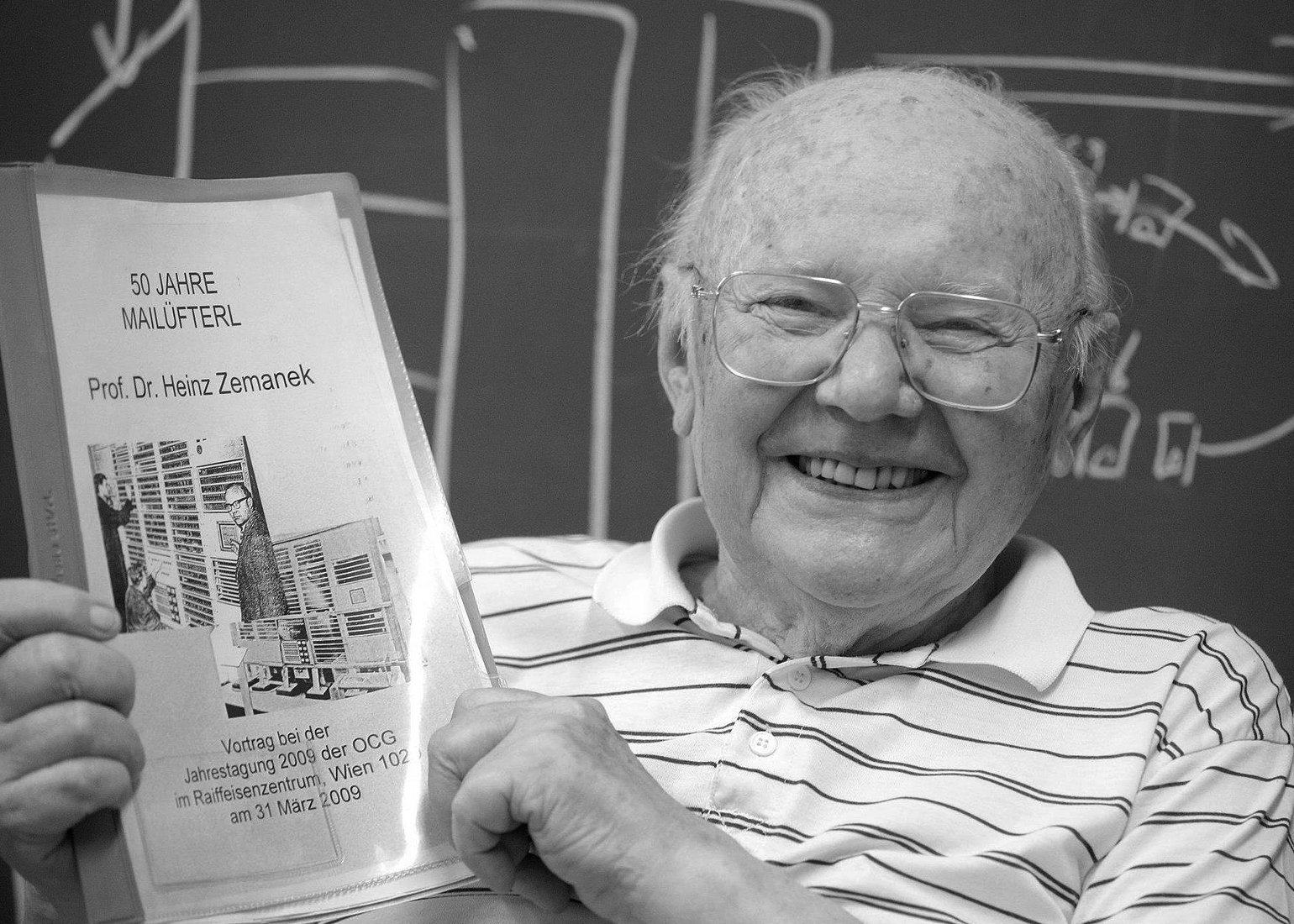 TU Wien, Presseaussendung 676/ 2014, Nicole Schipani und Florian Aigner
Dass Österreich einen Platz in der frühen Geschichte der Computertechnik einnimmt, ist ganz maßgeblich Prof. Heinz Zemanek zu verdanken: Der Computerpionier, der in den 1950er Jahren einen der ersten mit Transistoren betriebenen Computer baute und später Computersprachen mitentwickelte, verstarb am 16. Juli 2014 in Wien, im Alter von 94 Jahren.
Zemanek forschte an der TU Wien und später auch in dem von ihm aufgebauten Wiener IBM Labor. Mit seiner Alma Mater und dem auf seine Initiative hin gegründeten Institut für Computertechnik blieb er bis zu seinem Tod eng verbunden. Sechzig Jahre lang – von 1947 bis 2007 – hielt er an der TU Wien Vorlesungen. Die TU Wien verliert mit ihm einen ihrer bedeutendsten Wissenschaftler.
"Mit Prof. Heinz Zemanek verliert die Technische Universität Wien einen herausragenden Techniker und Visionär", sagt Rektorin Sabine Seidler. "Mit seinem Innovationsgeist hat er Technikgeschichte geschrieben und bleibt dadurch der Scientific Community in höchst respektvoller Erinnerung. Das gesamte Kollegium verabschiedet sich in tiefer Trauer und wird das Wirken und Forschen Heinz Zemaneks in ehrenvollem Andenken weitertragen."
Heinz Zemanek studierte an der TU Wien und schloss sein Studium 1944 mit der Diplomarbeit "Über die Erzeugung von kurzen Impulsen aus einer Sinusschwingung" ab. Von 1947 bis 1961 arbeitete er an der TU Wien. Während dieser Zeit promovierte er (1950) und habilitierte sich schließlich 1958. "Ich bin meinem Kern nach ein Ingenieur – und das heißt: Wahr ist, was funktioniert." Heinz Zemanek sah sich selbst nicht in erster Linie als Theoretiker, sondern als Mann der Praxis: Unter seiner Führung wurde an der TU Wien von Mai 1956 bis Mai 1958 das "Mailüfterl" gebaut – einer der weltweit ersten Computer, die nicht mit Röhren, sondern ausschließlich mit Transistoren arbeiteten. Der Name "Mailüfterl" wurde von Zemanek in Anspielung auf die amerikanischen Röhrenrechner dieser Zeit gewählt, die Namen wie "Taifun" oder "Whirlwind" trugen. Der Wiener Rechner werde nicht deren Geschwindigkeit erreichen, meinte Zemanek, doch "für ein Mailüfterl werde es reichen."
"Heinz Zemanek war ein unglaublich motivierender Mensch", sagt Prof. Richard Eier, der in den Fünfzigerjahren bei Heinz Zemanek seine Diplomarbeit schrieb. "Er war nicht nur ein herausragender Wissenschaftler, sondern auch ein wichtiger Förderer für Generationen von Studierenden, an die er seine Begeisterung für die Computertechnologie weitergegeben hat."
TU Wien und IBM
Die Computerfirma IBM kaufte der Republik Österreich den an der TU Wien gebauten Rechner ab und übernahm wesentliche Teile der Technik für die Entwicklung des ab 1964 sehr erfolgreichen 360er-Rechners. In Wien stellten sie Zemanek ein eigenes Labor zur Verfügung, wo er sich in weiterer Folge vor allem auf Programmiersprachen konzentrierte. Die "Vienna Definition Language" (VDL) und die "Vienna Development Method" erlangten in den 1970er Jahren internationale Bedeutung.
1976 wurde Zemanek vom damaligen Computerriesen zum IBM-Fellow ernannt und hatte dadurch die Möglichkeit, seine Aufgaben völlig frei zu wählen. 1964 wurde Zemanek an der TU Wien zum außerordentlichen Professor ernannt, 1983 zum ordentlichen Professor berufen. Mitte der 80er Jahre trat Zemanek in den Ruhestand – allerdings nur formal. Seinen Enthusiasmus für Forschung und Lehre behielt er bis ins hohe Alter. Zemanek hinterlässt ein wissenschaftliches Werk aus rund 500 Aufsätzen und sieben Büchern, darunter etwa "Weltmacht Computer" (1991) oder "Vom Mailüfterl zum Internet" (2001).
Auszeichnungen und Ehrungen
Zemanek war Gründungspräsident der Österreichischen Computer Gesellschaft, die seit 1985 auch den "Heinz Zemanek-Preis" alljährlich vergibt, Präsident der International Federation for Information Processing (1971-1974), Mitglied der Akademie der Wissenschaften, korrespondierendes Mitglied der Königlich Spanischen Akademie der Wissenschaften, Ehrenmitglied der Wiener Gesellschaft für die Geschichte der Technik, korrespondierendes Mitglied der Bayerischen Akademie der Wissenschaften und ordentliches Mitglied der Europäischen Akademie der Wissenschaften und Künste.
Zemanek wurde mit zahlreichen Auszeichnungen geehrt. Er erhielt unter anderem den Kardinal Innitzer-Preis, das Große Verdienstzeichen der Republik Österreich, die Leonardo Da Vinci Medaille der European Society for the Education of Engineers, die Prechtl Medaille der TU Wien, die Kompfner-Medaille der Fakultät für Elektrotechnik und Informationstechnik, das Goldene Ehrenzeichen für Verdienste um das Land Wien, die IEEE Computer Pioneer Medal, die Oscar-von-Miller-Plakette in Bronze des Deutschen Museums in München sowie die JOHN-VON-NEUMANN-Medaille der ungarischen John-von-Neumann Gesellschaft für Computerwissenschaften.
Rückfragehinweis und Aussender: Büro für Öffentlichkeitsarbeit Technische Universität Wien Operngasse 11, 1040 Wien T: +43-1-58801-41027 pr@tuwien.ac.at
Downloads
Parte

/ Details zur Heiligen Messe

PDF / 1.98 MB / Parte-Heinz-Zemanek.pdf
Links
Note: This is one of the thousands of items we imported from the old website. We're in the process of reviewing each and every one, but if you notice something strange about this particular one, please let us know. — Thanks!