Zwei hervorragende Informatiker mit Innitzer-Preis ausgezeichnet
Am 14. Dezember 2013 verlieh der Wiener Erzbischof Christoph Schönborn den Preis an Georg Gottlob und Hannes Kaufmann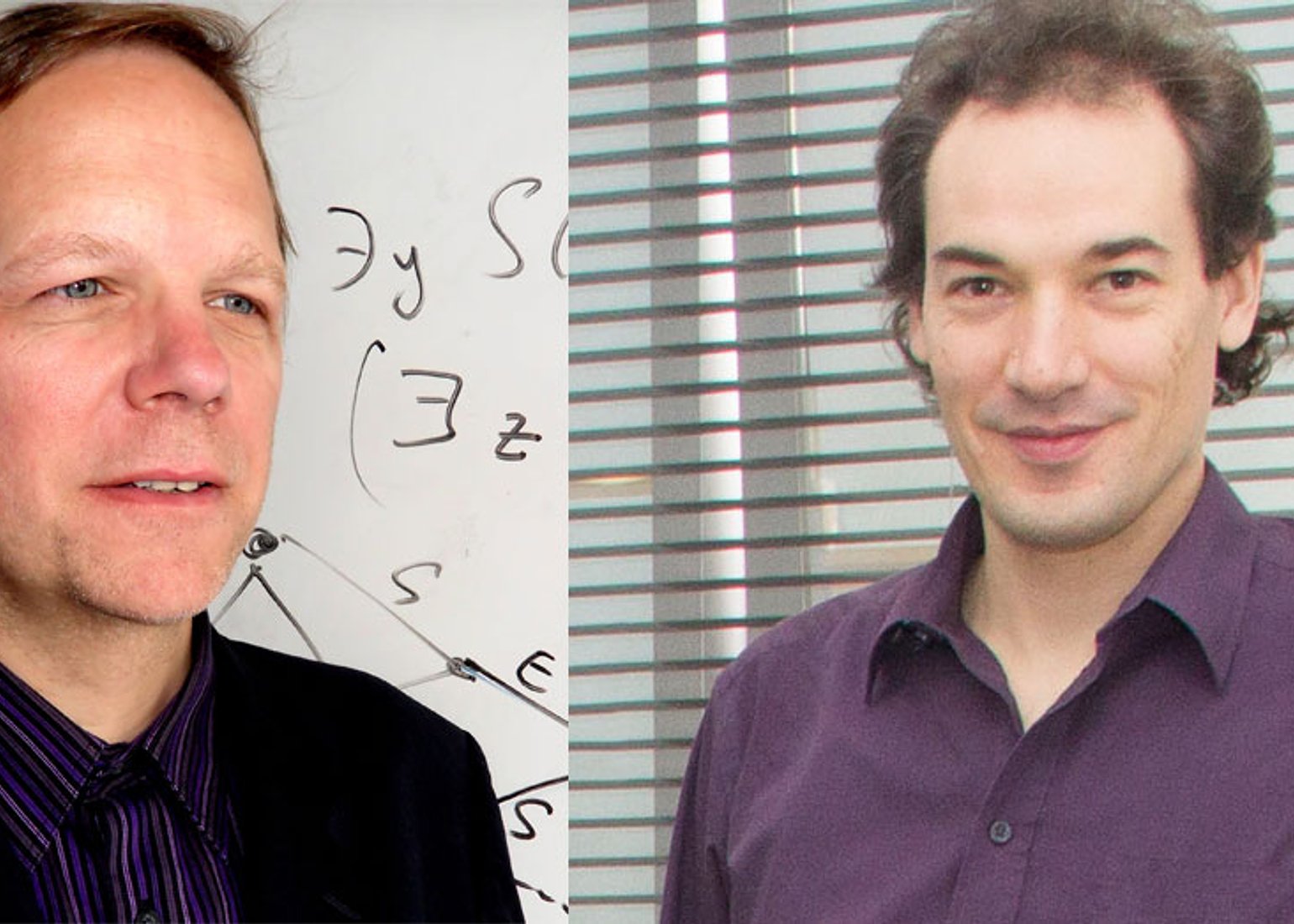 Von Computational Logic zur Extraktion von Webdaten
Georg Gottlob zählt zu den renommiertesten Forschern auf den Gebieten der Computational Logic, Künstlichen Intelligenz und Datenbanken. Seine Forschungsleistungen reichen dabei von der Untersuchung der Komplexität logischer Formalismen und Datenbank-Abfragesprachen über die Erfindung neuer Problemzerlegungsalgorithmen bis hin zur Entwicklung von Software zur Extraktion und Strukturierung von Daten aus dem World Wide Web.
Als seine größten Forschungserfolge betrachtet Georg Gottlob die Entschlüsselung der Komplexität der so genannten nichtmonotonen Logiken, die im Bereich der Künstlichen Intelligenz verwendet werden, sowie der Entwicklung der Hypertree-Decomposition, einer Methode um komplexe Berechnungsprobleme in einfachere Teilprobleme zu zerlegen. Ein weiterer Durchbruch gelang Gottlob und seinen StudentInnen im Bereich der Datenabfragesprachen durch die Entwicklung des ersten effizienten Algorithmus für die bekannte Sprache XPATH für semi-strukturierte Daten (XML).
Neben seiner Forschungstätigkeit am Institut für Informationssysteme (Arbeitsbereich Database and Artificial Intelligence) in Wien ist Georg Gottlob seit 2006 Professor an der Universität Oxford. Der Mathematiker und Logiker erhielt in seiner bisherigen Karriere bereits zahlreiche bedeutende Auszeichnungen: er ist ACM Fellow, Wittgenstein Preisträger, Fellow der britischen Royal Society und erhielt 2009 den ERC Advanced Investigators Grant. Zudem leitete er das erste Christian Doppler-Labor (Expertensysteme) und ist Mitbegründer der Firma Lixto Software GmbH. Diese Firma entwickelt Software und Services zur massiven Extraktion von Daten aus dem Internet, sowie zur Integration webbasierter Prozesse. Die verwendeten Methoden basieren u.a. auf theoretischen Resultaten und Algorithmen, die am Institut für Informationssysteme der TU Wien entwickelt wurden. Insbesondere handelt es sich hier um halbautomatische interaktive Methoden, um Extraktionsprogramme zu generieren, die danach Daten auf verschiedenen Webseiten erkennen, relevante Daten extrahieren, sie logisch strukturieren und in einer Datenbank speichern, von der sie abgefragt werden können.
Zwischen Realität und virtuellem Raum
Als aufstrebender Wissenschafter im Bereich Virtual, Mixed und Augmented Reality, forscht Hannes Kaufmann (Institut für Softwaretechnik und Interaktive Systeme, Arbeitsbereich Interactive Media Systems) an Anwendungen, die der Gesellschaft oder speziellen Zielgruppen einen hohen Nutzen bringen. So schickt er Feuerwehrleute mit Datenbrillen ins Feuer, die mittels 3D- und Wärmebildkameras bei extrem hoher Rauchentwicklung den Einsatz in Gebäuden erleichtern. Er entwickelt Soft- und Hardware zur vollen Bewegungsfreiheit in virtuellen Räumen, während der wirkliche Standort nicht verlassen wird. Wenn sich Hannes Kaufmann gerade nicht in der virtuellen Welt aufhält, lässt er Quadcopter steigen, die sich in Räumen völlig autonom fortbewegen und Umgebungsbilder liefern – gesteuert werden die intelligenten viermotorigen Hubschrauber über ein Smartphone, das "on Board" mitfliegt und alle Berechnungen vornimmt.
In seiner Habilitationsschrift vereint Hannes Kaufmann sämtliche Forschungsergebnisse aus den letzten Jahren, beschreibt wesentliche Aspekte von Virtual, Mixed und Augmented Reality und liefert neue Erkenntnisse und innovative Entwicklungen für Hard- und Software. Hannes Kaufmann arbeitet auch schon an neuen Entwicklungen: "Wir stehen erst am Anfang. Bisherige Arbeiten im Bereich der virtuellen und angereicherten Realität zeigen die Notwendigkeit und Vorteile dieser Technologien in zahlreichen Anwendungsgebieten. Dadurch dass die Technologie mittlerweile kostengünstig ist, wird sie auch erschwinglich für medizinische Anwendungen in der Rehabilitation und Therapie, zur Sicherheit bei Feuerwehreinsätzen oder in der Industrie, im Tourismus, Unterricht und vielen weiteren Anwendungsfeldern ."
Hannes Kaufmann studierte Mathematik und Darstellende Geometrie Lehramt an der Technischen Universität Wien. Anschließend promovierte er in Informatik und schloss 2004 seine Dissertation zum Thema "Geometry Education with Augmented Reality" ab. Kürzlich erhielt Hannes Kaufmann den INiTS Award für sein Projekt "3D Building Reconstruction and Thermal Mapping in Fire Brigade Operation", das Feuerwehrleuten künftig ein wichtiges Werkzeug in die Hand geben soll, die Gefahr bei Einsätzen zu verringern.
Kardinal Innitzer Preis
Seit fast fünfzig Jahren vergibt der Kardinal Innitzer Studienfonds Würdigungspreise in den Kategorien Lebenswerk, Geisteswissenschaft, Naturwissenschaft und Publizistik und Förderpreise an exzellente österreichische WissenschafterInnen, deren Forschungsarbeiten Habilitationsniveau besitzen. Ziel der Einrichtung ist die Förderung von Wissenschaft.
Die Preisverleihung nimmt der Herr Erzbischof von Wien, Kardinal Dr. Christoph Schönborn, im Rahmen einer feierlichen Vergabesitzung im Dezember jedes Kalenderjahres vor.
Curious about our other news? Subscribe to our news feed, calendar, or newsletter, or follow us on social media.
Note: This is one of the thousands of items we imported from the old website. We're in the process of reviewing each and every one, but if you notice something strange about this particular one, please let us know. — Thanks!