Patrick Wolowicz mit "apps4austria" Award prämiert
Insgesamt waren drei Informatikprojekte unter den Finalisten des ersten "apps4austria" Wettbewerbs für innovative Anwendungen für Open government Data.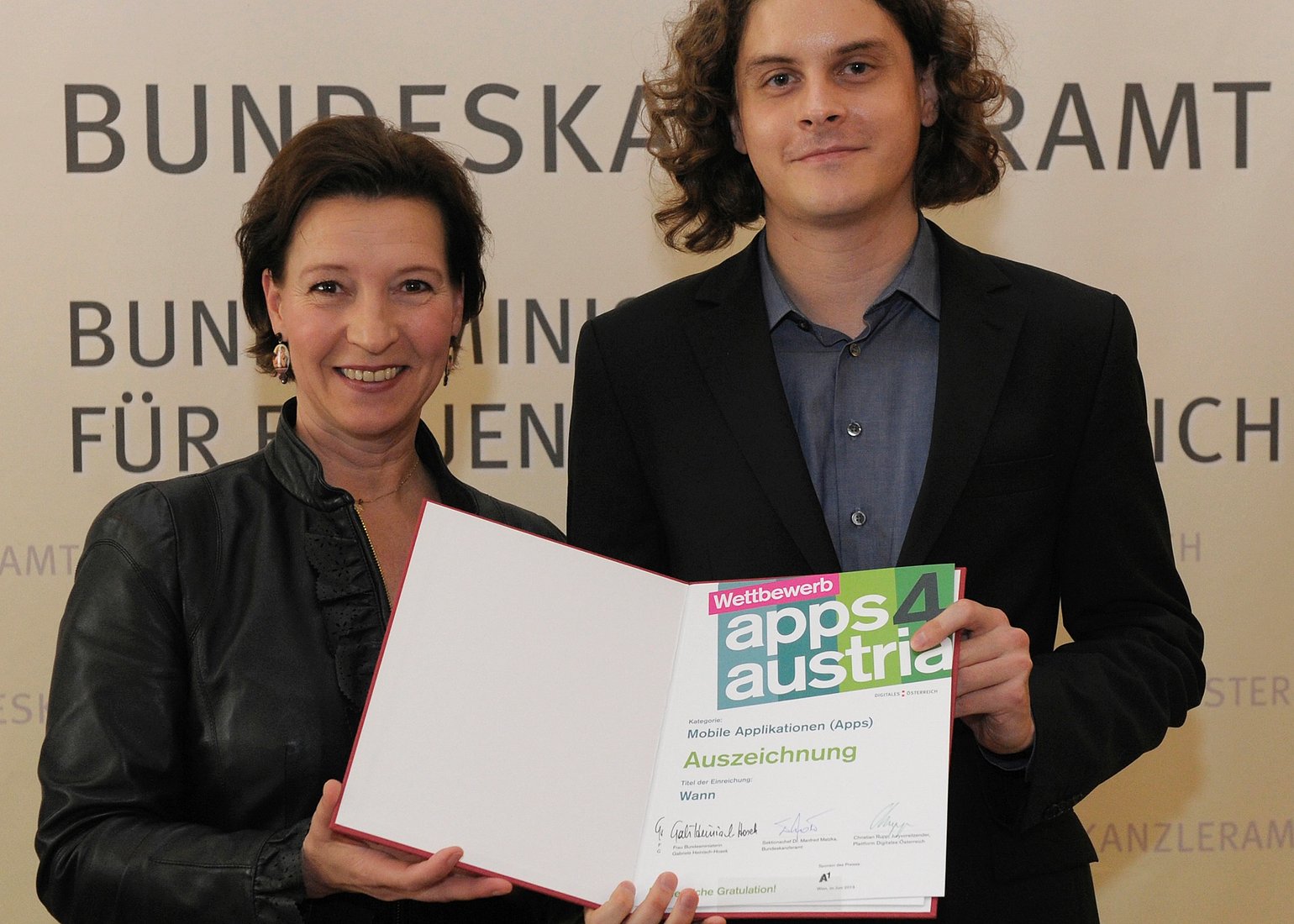 Die Plattform Digitales Österreich (PDÖ) veranstaltet gemeinsam mit der Cooperation Open Government Data Österreich (COGD) den "apps4austria" Wettbewerb. Ziel ist es innovative, nützliche, benutzerfreundliche Lösungen auf Basis von frei verfügbaren österreichischen Verwaltungsdaten zu entwickeln.
Es gab 89 Einreichungen in den Einreichkategorien des Wettbewerbs:
Applikationen (Apps)
Visualisierungen
Ideen für Apps (Konzepte)
Der Wettbewerb, der von Bundesministerin Gabriele Heinisch-Hosek im Rahmen der Verwaltungsmesse 2012 initiiert wurde, ist entschieden! Eine 25-köpfige Jury von Expertinnen und Experten aus Wirtschaft, Wissenschaft und Verwaltung hat in einem mehrstufigen Prozess aus allen Einreichungen die Finalisten des Wettbewerbs eruiert. Am 12. Juni war in Linz im Rahmen der E-Government-Konferenz die Preisverleihung. Ein Preisträger ist der an unserer Fakultät studierende Patrick Wolowicz mit seinem Abfahrtsmonitor Wann.
Wann ist ein neuartiger Abfahrtsmonitor für öffentliche Verkehrsmittel. Das Ziel von Wann ist es, Usern schnell zu zeigen, Wann öffentliche Verkehrsmittel in der Nähe abfahren. Es ist dabei so einfach zu bedienen und so schnell, dass es sich auszahlt, es in Situationen zu verwenden, wo andere Abfahrtsmonitore durch ihre fehlende Geschwindigkeit oder umständliche Bedienung zu langsam wären. Ein Beispiel hierfür ist, wenn man in der Nähe der Station ist, aber diese durch Hindernisse wie Gebäude nicht sehen kann, oder beim Umsteigen an Haltestellen, wo der Abfahrtsort der verschieden Verkehrsmittel ein anderer ist.
Wenn ein Verkehrsunternehmen es anbietet, verwendet Wann Echtzeitdaten, denn nichts ist ärgerlicher, als wenn man liest, dass ein Verkehrsmittel in 7 Minuten kommt, es dann aber früher kommt und man es verpasst. Ziel ist es auch, das App so barrierefrei wie möglich zu halten, um so auch Menschen mit Seheinschränkung die Nutzung des Apps zu ermöglichen.
Wann war ursprünglich für Wien gedacht. Da die Wiener Linien aber ihre Daten erst im Herbst freigeben werden, wurde das App vorerst nur in Linz veröffentlicht. Durch das Fehlen von Open Data bei den meisten Verkehrsbetrieben Österreichs hat sich für Wann ein weiteres Ziel ergeben: Die Öffentlichkeit auf die fehlenden offen Daten aufmerksam zu machen und die Verkehrsunternehmen von den Vorteilen von Open Data zu überzeugen.
Links
Kontakt
Note: This is one of the thousands of items we imported from the old website. We're in the process of reviewing each and every one, but if you notice something strange about this particular one, please let us know. — Thanks!