Vienna Center for Logic and Algorithms eröffnet
Das von Stefan Szeider und Helmut Veith geleitete Zentrums soll internationaler Forschungskooperationen und den wissenschaftlichen Austausch fördern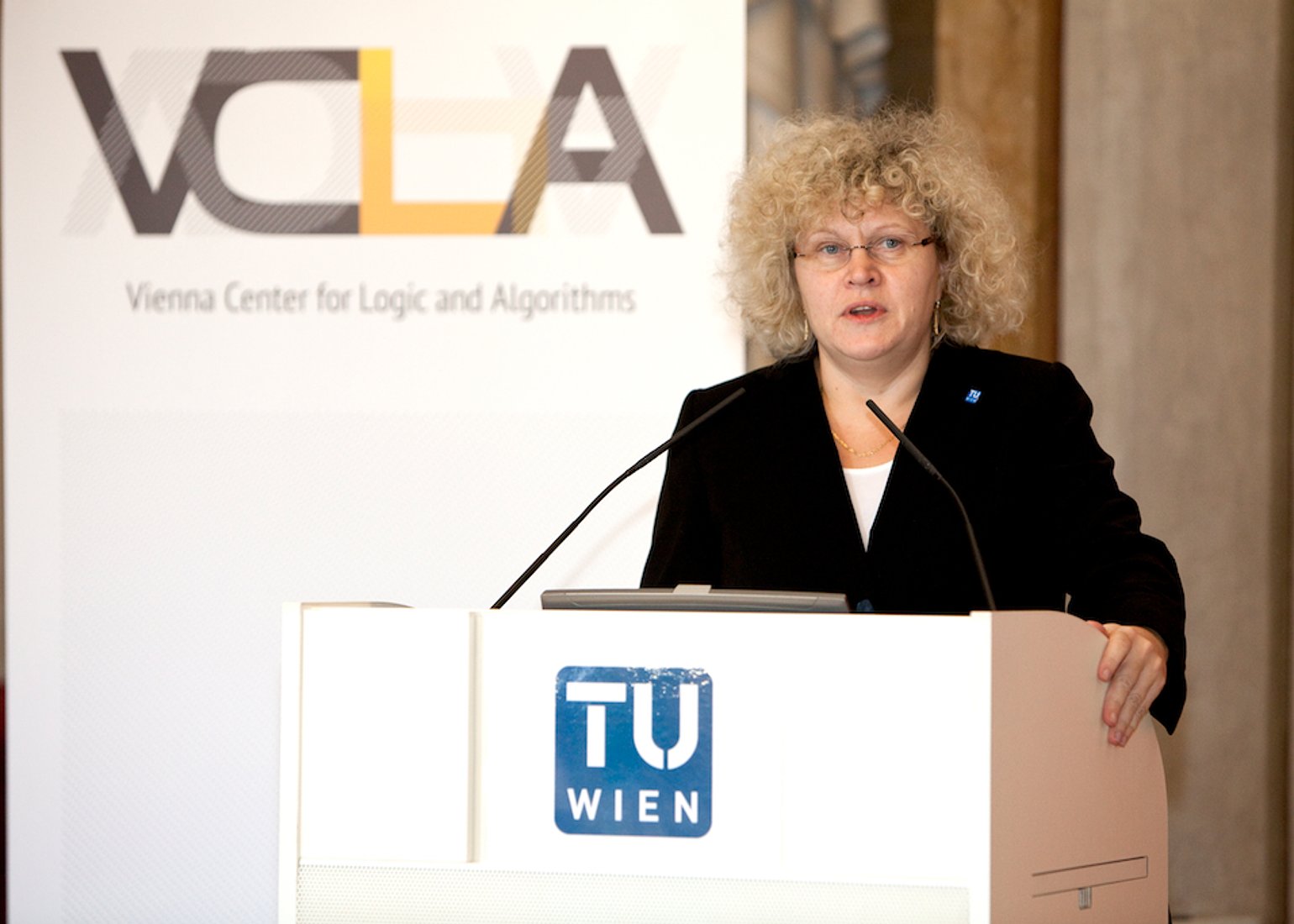 Die enge Verbindung zwischen Logik und Algorithmen in der modernen Informatik läßt sich besonders deutlich am SAT-Problem aufzeigen. Für dieses bekannt schwierige Problem aus der Aussagenlogik gelang es in den 90er Jahren erstmals praxistaugliche Algorithmen zu entwickeln. Zu diesem technologischen Durchbruch hatte der VCLA-Gastvortragende Joao Marques-Silva entscheidende Beiträge geleistet. Diese Algorithmen wurden dann erfolgreich von der Forschungsgruppe E.M. Clarkes in einen neuen Model Checking-Algorithmus zur Überprüfung der logischen Korrektheit von Computerprogrammen eingesetzt.
Der enorme Bedeutungszuwachs dieser wissenschaftlichen Bereiche in der Informatik zeigt sich weltweit in erstklassigen Tagungen, Konferenzen und Workshops. Das Vienna Center for Logic and Algorithms bündelt die Forschungstätigkeiten von vier Arbeitsbereichen an der Fakultät in den inhaltlichen Schwerpunkten Knowledge Representation, Verification of Hardware and Software sowie Constraint Satisfaction und verstärkt damit die aktive Rolle der Fakultät entscheidend. Mit seinen Aktivitäten fördert das VCLA internationale Kooperationen, unterstützt den internationalen wissenschaftlichen Austausch durch Gastaufenthalte führender Forschungspersönlichkeiten in Wien und organisiert Workshops. Zudem werden spezielle Winter- und Sommerschulen für Studierende aus dem In- und Ausland angeboten – die erste VCLA Winter School findet gleich im Februar statt. Diese Initiative der TU Wien an der Fakultät für Informatik wird durch eine dreijährige Exzellenzfinanzierung gefördert.
Im Vorfeld der feierlichen Eröffnung gab das Symposium "Logic and Algorithms: A Scientific Perspective" einen Überblick über aktuelle Entwicklungen in den Forschungsbereichen Logik und Algorithmen. Zu den Vortragenden zählten neben Edmund M. Clarke (Carnegie Mellon University), dem Turing-Preisträger und Ehrendoktor der TU Wien, und dem Mitglied des Advisory Board des VCLA, Fedor V. Fomin (University of Bergen), auch Thomas A. Henzinger vom IST Austria. Des Weiteren präsentierten Joao Marques-Silva (University College Dublin & IST/INESC-ID) und Georg Weissenbacher (Princeton University) aktuelle Forschungsarbeiten.
Links
VCLA, Vienna Center for Logic and Algorithms
Note: This is one of the thousands of items we imported from the old website. We're in the process of reviewing each and every one, but if you notice something strange about this particular one, please let us know. — Thanks!