Honorarprofessur an C. Floyd und Ehrendoktorat an E.M. Clarke
Edmund M. Clarke ist Erfinder des Model Checking, Christiane Floyd ist die Entwicklerin der Methode STEPS.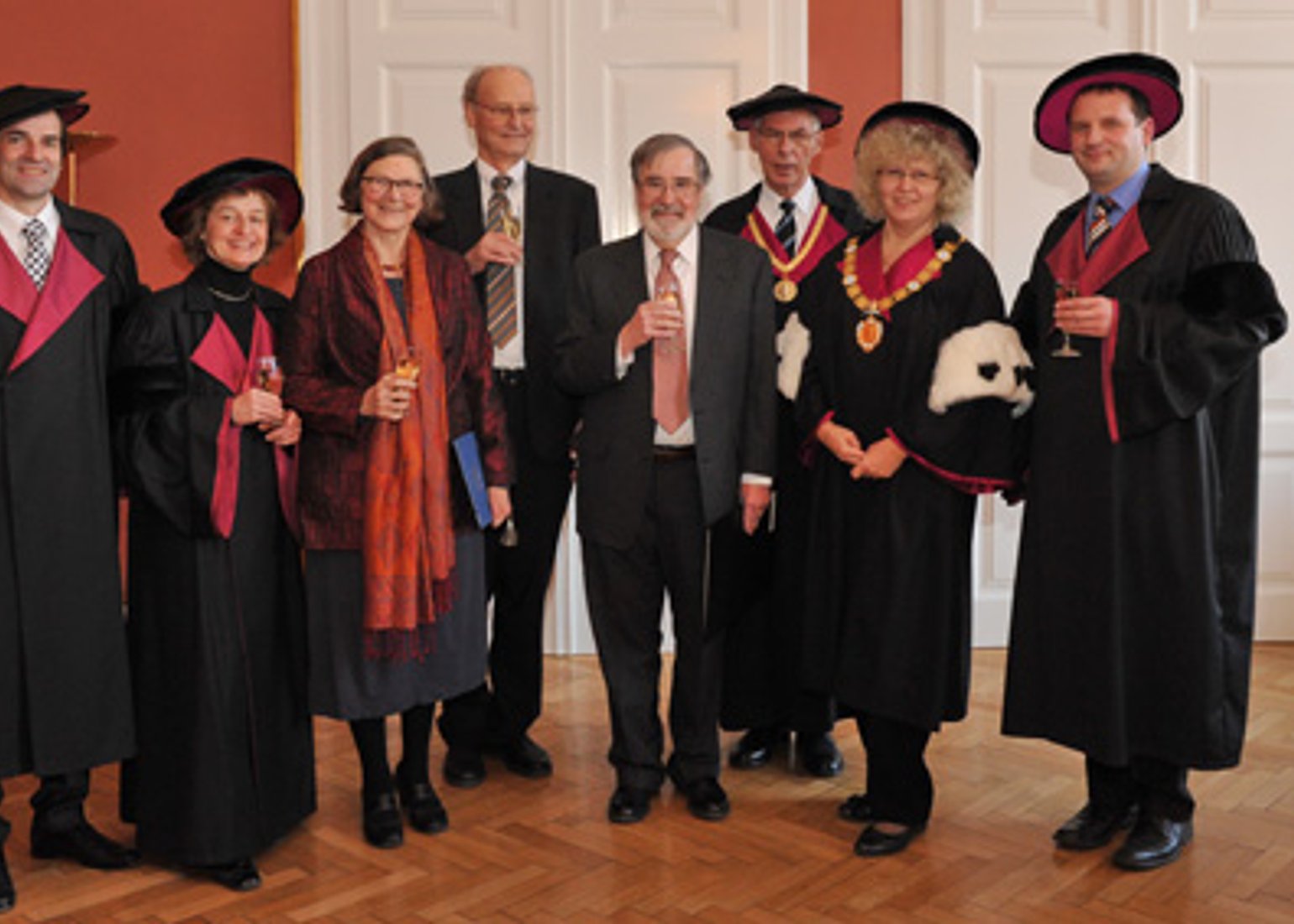 Prof.em. Dr. Christiane Floyd
Mit der Methode STEPS (Softwaretechnik für evolutionäre partizipative Systementwicklung) lieferte die Informatikerin eines der weltweit ersten Forschungsergebnisse im Bereich Partizipatives Design und Evolutionäres Prototyping von Anwendungssoftware. Als Praktikerin (Siemens und Softlab, München) und Wissenschafterin in Stanford, Berlin und Hamburg beschäftigte sich C. Floyd schon früh mit der evolutionären Softwareentwicklung und adaptiven Systemen, die nach wie vor hochaktuelle Forschungsthemen in der Informatik darstellen.
In den letzten Jahren engagierte sich C. Floyd, die an der Universität Hamburg 2008 emeritiert wurde, sehr stark für die Förderung von WissenschafterInnen in der Informatik und fungierte u.a. seit Start des Projektes WIT (Wissenschafterinnenkolleg Internettechnologien) der TU Wien als dessen wissenschaftliche Beraterin. Im Rahmen von WIT sowie der Vienna PhD School of Informatics kam C. Floyd als Gastprofessorin und Vortragende regelmäßig an die TU Wien.
Die Laudatio für Christiane Floyd hält Gertrude Kappel, Professorin am Institut für Softwaretechnik und Interaktive Systeme.
Prof. Edmund M. Clarke, B.A., M.A.
Edmund M. Clarke zählt zu den führenden Informatikern der heutigen Zeit, der als Professor in Havard und seit 1982 an der Carnegie Mellon University gemeinsam mit seiner Forschungsgruppe die wichtigsten theoretischen und logischen Grundlagen des Model Checking entwickelt hat. Zudem trugen seine Forschungsarbeiten dazu bei, Model Checking als leistungsstarkes Werkzeug im Bereich des industriellen Hardware und Software Engineering zu etablieren. Die wissenschaftlichen Visionen von Edmund M. Clarke im Bereich des Systems Engineering mittels formal-logischer Analyse entwickelte sich zu einem zentralen Forschungsgebiet der Informatik in Österreich (z.B. www.arise.or.at).
In die Liste an Auszeichnungen, die E.M. Clarke für seine hervorragenden wissenschaftlichen Leistungen erhielt, reihen sich der ACM Turing Award (2007) für die Erfindung des Model Checking, die Mitgliedschaft in der National Academy of Engineering (2005) sowie American Academy of Arts and Sciences (2011), zudem der CADE Herbrand Award (2008), der ACM Kannelakis Award (1998) u.v.m.
Die Laudatio für Edmund M. Clarke wird Helmut Veith, Professor am Institut für Informationssysteme, halten.