Laura Bassi Centre of Expertise offiziell eröffnet
Seit 2010 arbeitet das Team rund um Silvia Miksch aktiv an Projekten im Bereich der Visual Analytics. Am 23. März fand der feierliche Auftakt des Zentrums statt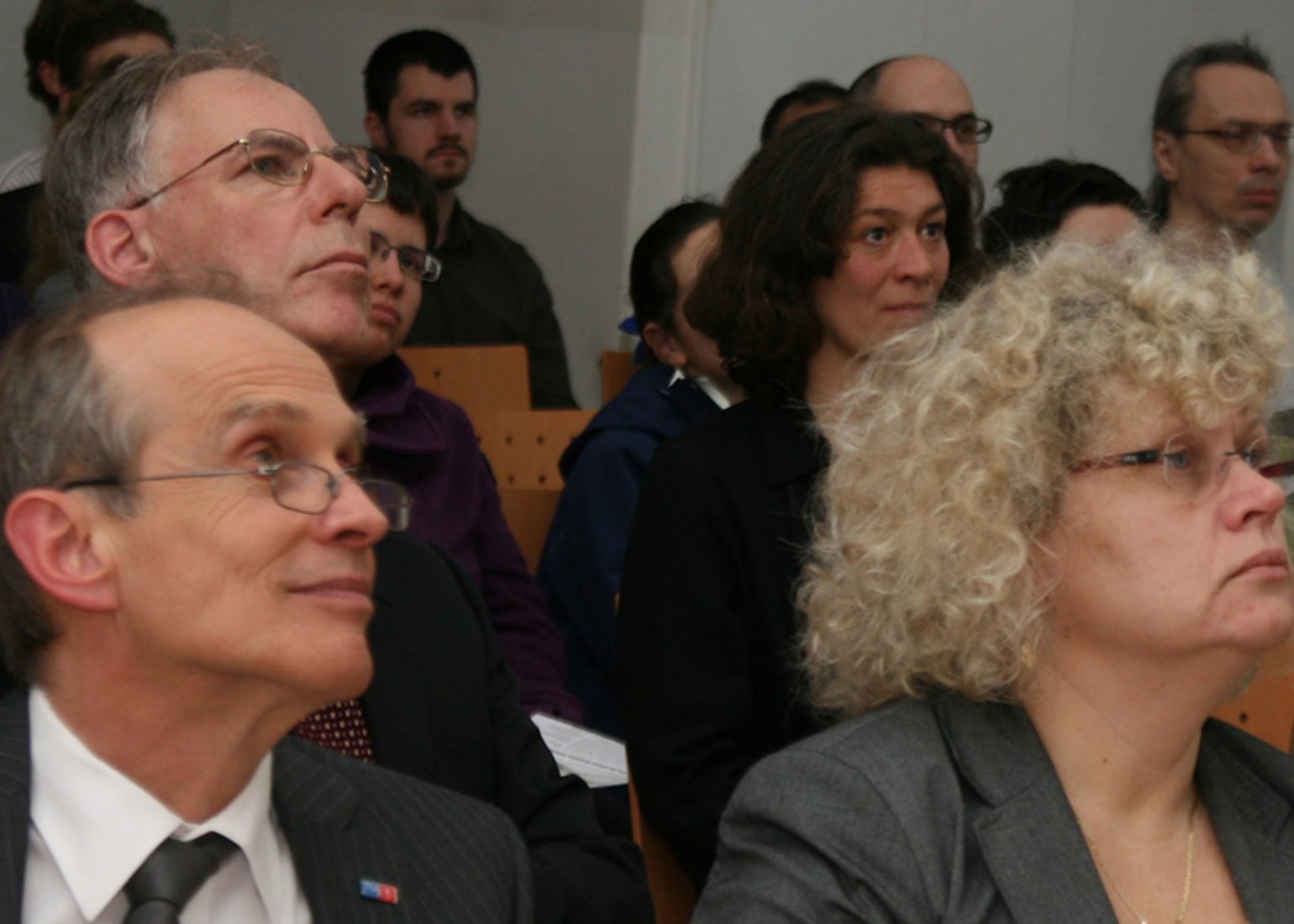 Sabine Seidler, Vizerektorin für Forschung und designierte Rektorin der TU Wien, Gerald Steinhardt, Dekan der Fakultät für Informatik, und A Min Tjoa, Vorstand des Instituts für Softwaretechnik und Interaktive Systeme, leiteten die Eröffnung mit festlichen Worten ein. Welche Ideen und Visionen hinter der Initiative der Laura Bassi Centres stecken erläuterten die Programmverantwortlichen von w-fFORTE Sabine Pohoryles-Drexel und Corinna Wilken. Dabei ist nicht nur von Frauenförderung mittels entsprechender Programme, sondern auch von der Förderung hochkarätiger Forschungsleistungen die Rede.
Welche Bedeutung visuellen Analysemethoden insbesondere bei Krisen und Katastrophen zukommen erörterte Daniel Keim in seinem Einführungsvortrag anhand der aktuellen Entwicklungen in Japan. Die Visualisierung von in der (Welt-)Bevölkerung gestreuten Informationen bzw. Daten können durch die Sammlung, Strukturierung und Reduktion - beispielsweise auf einer Karte - Informationsgrundlage für adäquate Handlungsschritte der Betroffenen darstellen. Trotz der Fortschritte in der Wissenschaft besitzt die breite Öffentlichkeit derzeit nur begrenzt Zugang zu diesen Technologien.
Das Laura Bassi Centre of Expertise CVAST, unter der Leitung von Silvia Miksch vom Arbeitsbereich Information and Software Engineering am Institut für Softwaretechnik und Interaktive Systeme, verschreibt sich dem wissenschaftlichen sowie anwendungsorientierten Erkenntnisgewinn von Visual Analytics. Darüber hinaus findet eine Zusammenarbeit mit Margit Pohl vom Arbeitsbereich Human Computer Interaction am Institut für Gestaltungs- und Wirkungsforschung statt. Die Anwendungsorientierung ist in der engen Kooperation mit den Wirtschaftsunternehmen Math.Tec GmbH und XIMES GmbH reflektiert, die sich auf diesen Bereich spezialisiert haben. Die Geschäftsführer der beiden Unternehmen Karl Knoll (Math.Tec) und Johannes Gärtner (XIMES) erklärten ihren Zugang zum neu gegründeten Laura Bassi Centre.
Links
Note: This is one of the thousands of items we imported from the old website. We're in the process of reviewing each and every one, but if you notice something strange about this particular one, please let us know. — Thanks!