Preisträgerinnen und Preisträger des EPILOG vom 2. Dezember 2010
Beim EPILOG am 2. Dezember 2010 wurden Magdalena Widl, Rainer Planinc, Ernst Schwartz sowie Reinhold Preiner ausgezeichnet.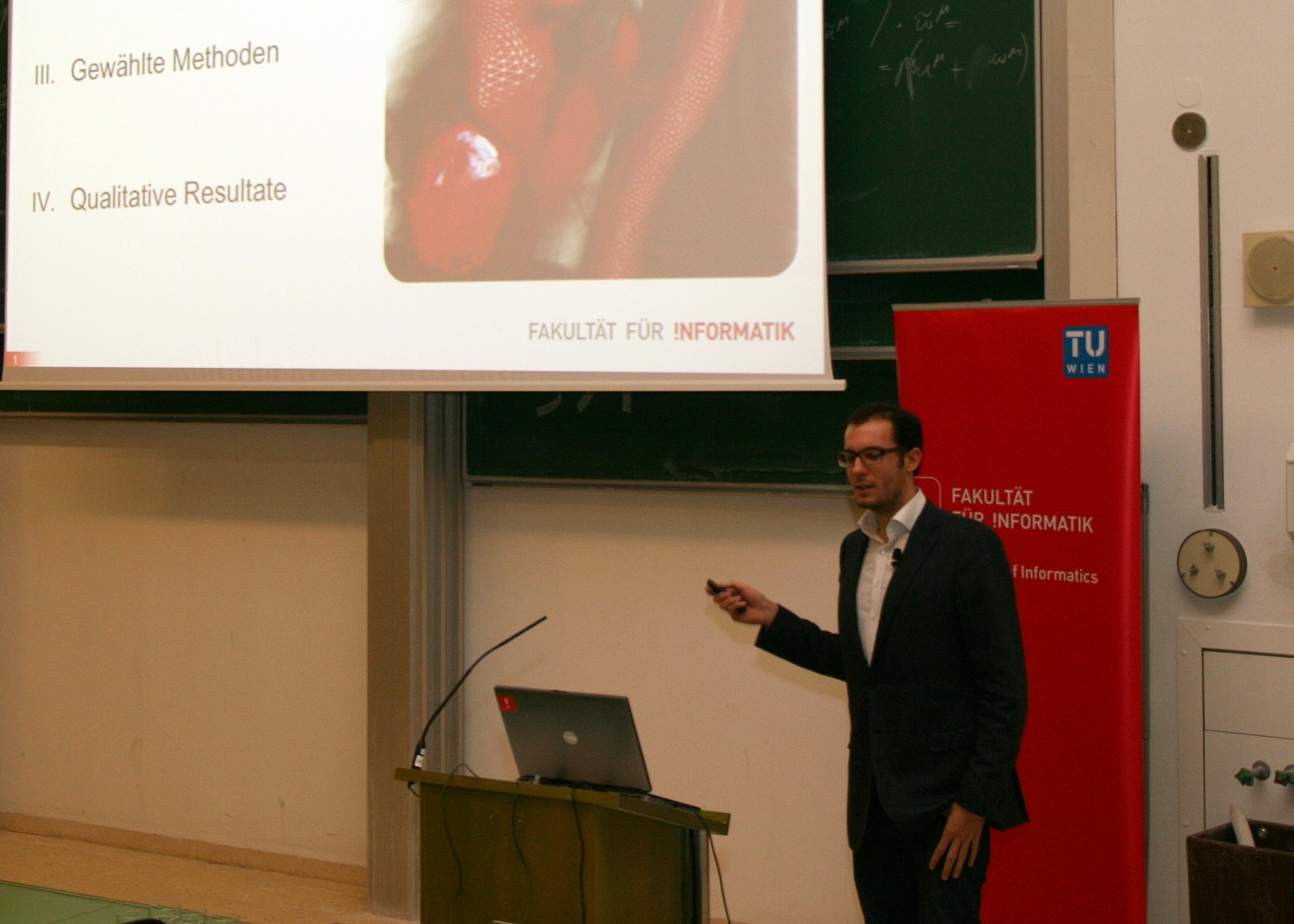 Distinguished Young Alumnus/Alumna
Mit dem "Distinguished Young Alumna"-Award der Fakultät für Informatik ausgezeichnet wurde im Wintersemester 2010 Magdalena Widl und ihre Arbeit "Memetic Algorithms for Break Scheduling", ausgeführt am Institut für Informationssysteme, Arbeitsbereich Datenbanken und Artificial Intelligence. Der Preis ist mit 4.000 Euro dotiert.
Best Poster
Als bestes Poster der bei der Ausstellung anwesenden AutorInnen ausgezeichnet wurde Reiner Planinc mit seiner Arbeit "Modeling Sources and Sinks in Crowded Scenes by Clustering Trajectory Points Obtained by Video-based Particle Advection", verfasst am Institut für Softwaretechnik und Interaktive Systeme, Arbeitsbereich Interactive Media Systems. Der Preis ist mit 1.000 Euro dotiert.
FIRMENPREISE
Der Microsoft Förderpreis in der Höhe von 2.000 Euro ging an Ernst Schwartz für die Arbeit "Measuring the Effects of Aortic Branch Transposition onto the Vessel Dynamics of the Aorta", verfasst am Institut für Rechnergestützte Automation.
Den Poster Award sponsored by Bank Austria in der Höhe von 1.000 Euro erhielt Reinhold Preiner für sein Poster zur Arbeit "Interactive Curved Reflections in Large Point Clouds", verfasst am Institut für Computergraphik und Algorithmen, Arbeitsbereich Computergraphik.
Links
Curious about our other news? Subscribe to our news feed, calendar, or newsletter, or follow us on social media.
Note: This is one of the thousands of items we imported from the old website. We're in the process of reviewing each and every one, but if you notice something strange about this particular one, please let us know. — Thanks!