Austrian Kangaroos sind Dribbling-Weltmeister
Gute Performance der humanoiden Robokicker beim Robocup 2010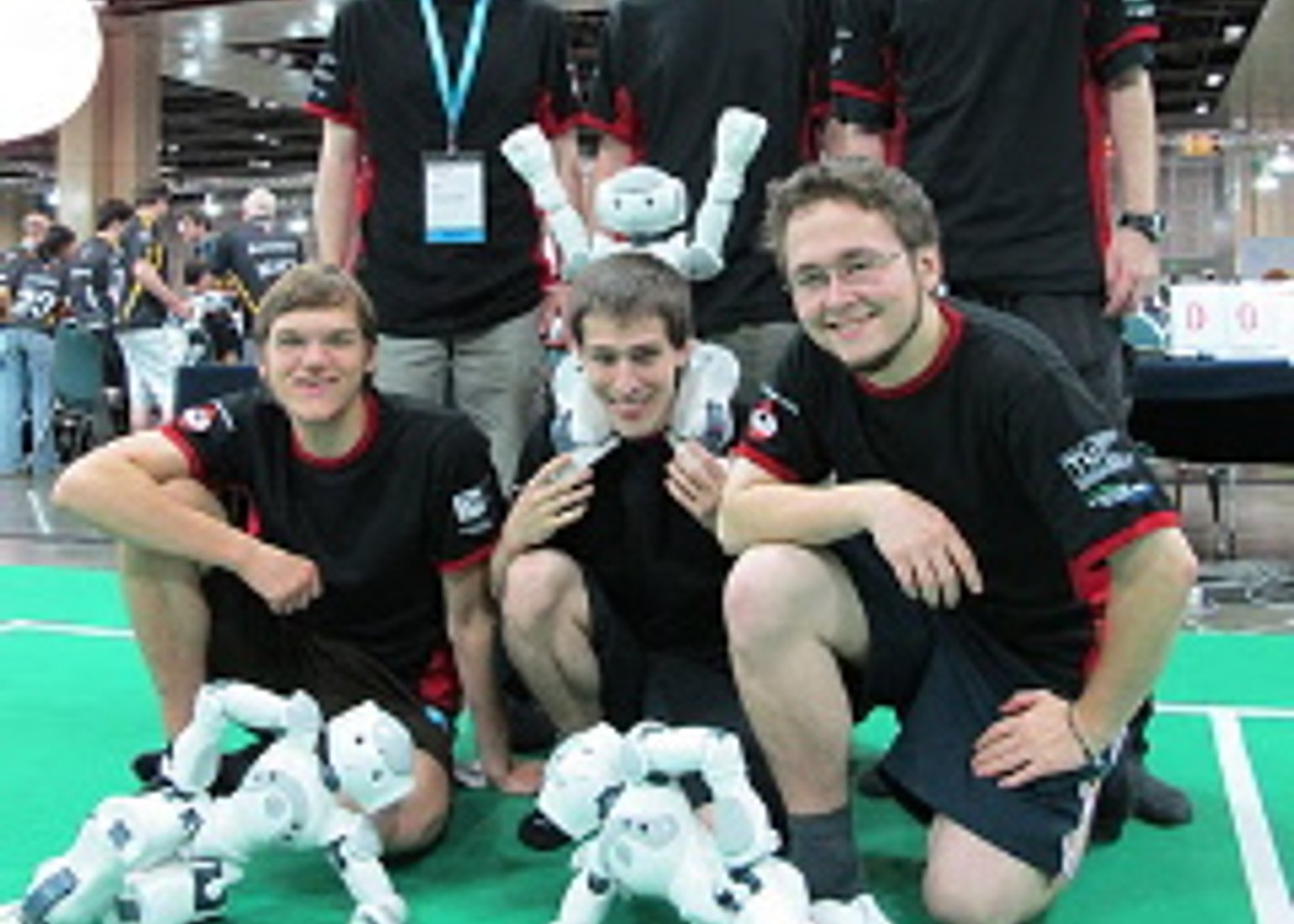 Wiens erstes Humanoides Roboterfußballteam, die Austrian Kangaroos, konnten bei der Roboterfußball-WM in Singapur unter schwierigen Bedingungen gute Leistungen bringen: im Hauptbewerb erreichten sie einen guten 9. Platz im Hauptbewerb. Hier traten 24 Teams um den Weltmeistertitel in der "Standard Platform League" (SPL) an. Alle TeilnehmerInnen arbeiten mit der gleichen Hardware, den humanoiden Roboter NAO des französischen Herstellers Aldebaran. Drei Roboter pro Mannschaft kicken auf einem 6x4 Meter großen Feld in Spielen, die aus zwei Halbzeiten zu je 10 Minuten bestehen.
Bei den Technical Challenges im Nebenbewerb errangen sie den "Dribbling Weltmeister"-Titel 2010. Bei der Dribbling-Challenge muss ein Spieler den Ball im eigenen Strafraum aufnehmen und möglichst schnell an Gegnern vorbei ins gegenüber liegende Tor dribbeln. Die Schwierigkeit hierbei ist, dass jeglicher Kontakt zwischen dem Spieler und einem Gegner, sowie der Kontakt zwischen einem Gegner und dem Ball (wird als Ballverlust gewertet) zu einem sofortigen Aus in der Challenge führt. Zusätzlich gewinnt das Team mit der besten Zeit. Die Roboter müssen daher Vorsicht und Präzision gegen Geschwindigkeit abwägen.
Seit Beginn dieses Vorjahres arbeiten WissenschaftlerInnen gemeinsam mit StudentInnen an den Austrian Kangaroos. Das Team der humanoiden Robokickern der TU Wien und der FH Technikum Wien steht unter der Leitung von Dietmar Schreiner ( Institut für Computersprachen , TU Wien), Markus Bader (Institut für Automatisierungs- und Regelungstechnik, TU Wien) und Alexander Hofmann (FH Technikum Wien). Seitens der Informatik kommen dabei Forschungsergebnisse aus den Bereichen Robust Embedded Systems, Real-time Systems, Bio Inspired Computing und Bio-Mimetic Computing zum Tragen.
Für die kommende Saison befindet sich das Team durch die Erfolge beflügelt im Aufwind. Interessierte können jederzeit mit den Austrian Kangaroos in Kontakt treten, neue Teammitglieder sind gerne willkommen.
Links
Note: This is one of the thousands of items we imported from the old website. We're in the process of reviewing each and every one, but if you notice something strange about this particular one, please let us know. — Thanks!