Bundesministerin Karl besucht "Sparkling Science"-Projekt "Sparkling Fingers".
2010-02-05
Research
Event
Sustainability
Innovation
Das Projekt wird durchgeführt von der TU Wien mit dem Institut "integriert studieren", dem Schulzentrum Ungargasse sowie dem Bundes-Blindenerziehungsinstitut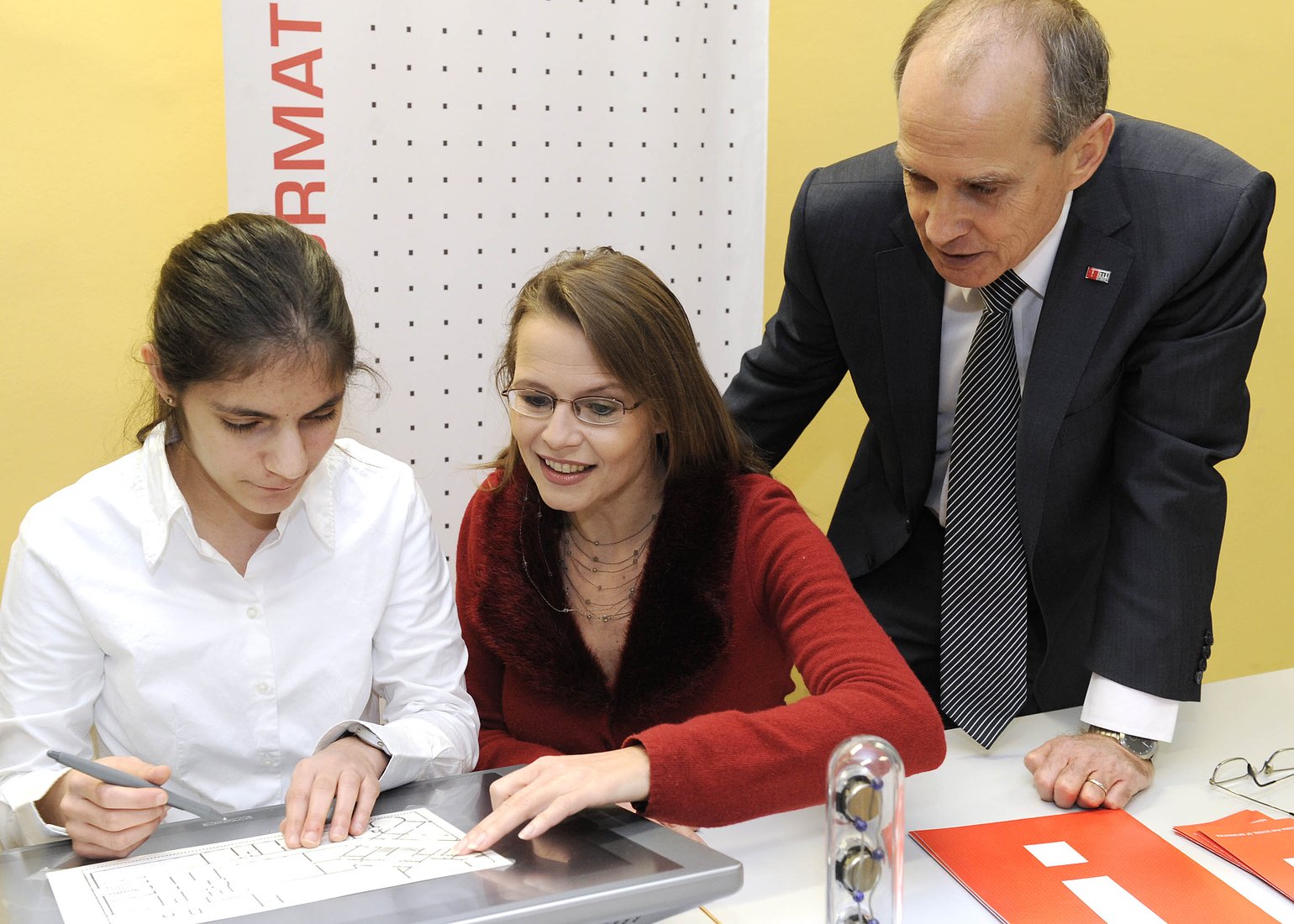 Wissenschaftministerin Beatrix Karl besuchte heute eines der insgesamt sieben an der Technischen Universität Wien angesiedelten "Sparkling Science"-Projekte. Bei dem im Herbst 2008 gestarteten Projekt "Sparkling Fingers" entwickeln das Institut für Gestaltungs- und Wirkungsforschung und das Institut "integriert studieren" gemeinsam mit blinden und sehbehinderten Schüler/innen des Bundes-Blindenerziehungsinstitutes und Schüler/innen des Schulzentrums Ungargasse ein haptisches E-Learning-Instrument.
Tastbare Modelle sind vor allem für blinde und hochgradig sehbehinderte SchülerInnen ein wichtiger Bestandteil ihres Unterrichts. Im Zuge mehrerer Entwurfs- und Umsetzungsphasen sollen nun unter Einbezug potentieller BenutzerInnen neue Wege computergestützten Lernens entwickelt werden. Der Fokus soll hierbei auf die Kombination haptischer und auditiver Interaktionsmöglichkeiten liegen.
Die partizipative Vorgehensweise ermöglicht die Interessen und Ideen von SchülerInnen und LehrerInnen innerhalb mehrerer Entwurfs- und Umsetzungsschritten in den Gestaltungsprozess einzubringen. Die Schüler und Schülerinnen bekommen dabei die Gelegenheit, die Abwicklung eines akademischen Entwicklungsprojektes als aktiv beteiligte Designpartner miterleben zu können.
Initialkonzept von Sparkling Fingers ist ein Aufbau, bei dem multimodale Inhalte bei der haptischen Exploration eines zwei- oder dreidimensionalen Objekts gespeichert und abgerufen werden können.
Projektleiter ao. Univ.Prof. Dr. Peter Purgathofer Technische Universität Wien, Institut für Gestaltungs- und Wirkungsforschung
Bild: Die Schülerin G. Ulucan, Bundesministerin B. Karl, Dekan G. Steinhardt (Foto: HBF/Pusch)
Links
Note: This is one of the thousands of items we imported from the old website. We're in the process of reviewing each and every one, but if you notice something strange about this particular one, please let us know. — Thanks!