The Winners of the 2019 VCLA International Student Awards
We celebrate the research capacity of students from all over the world and their outstanding scientific works in Logic and Informatics.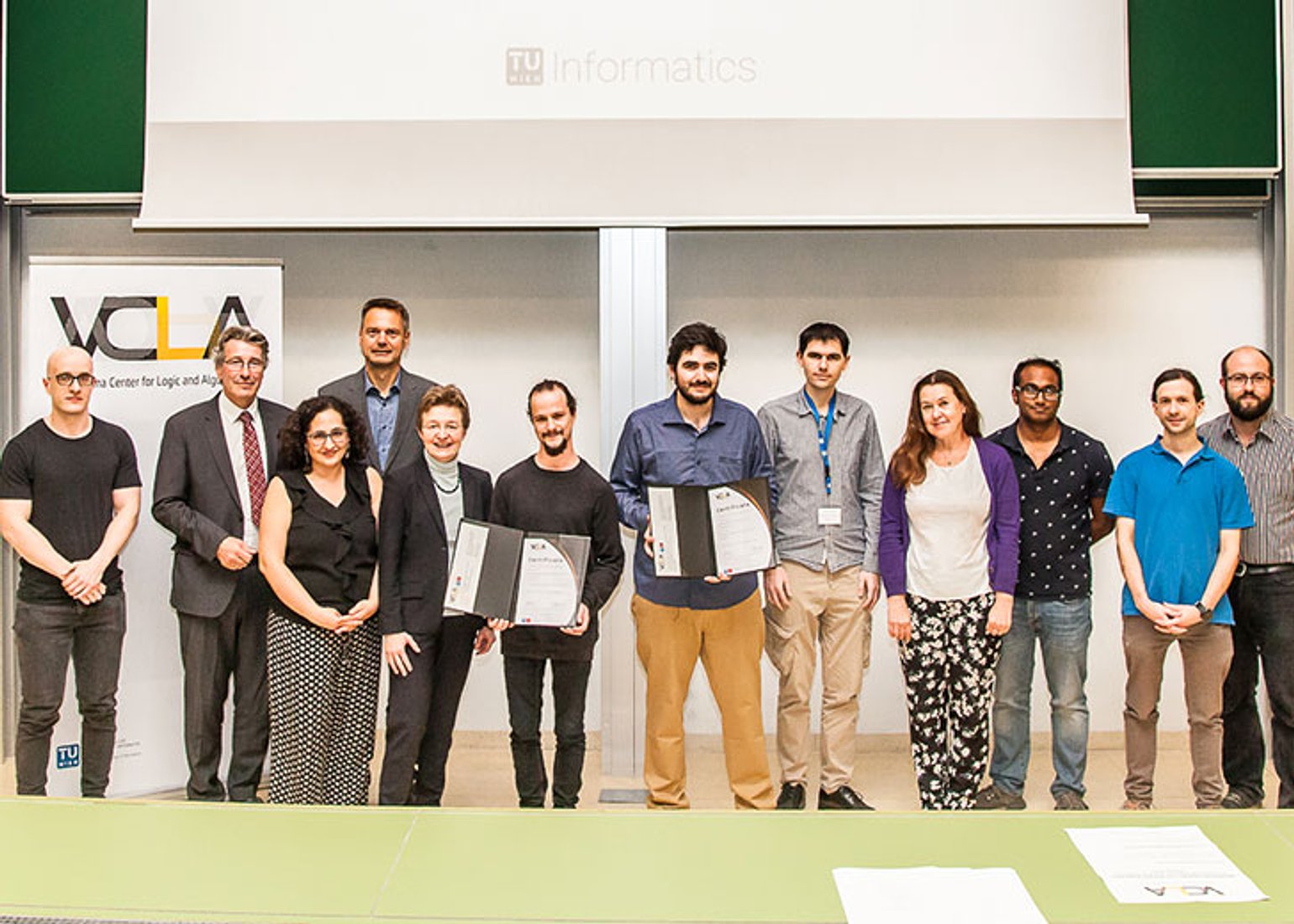 The award ceremony of the 4th edition of the VCLA International Student Awards for Outstanding Bachelor and Master Theses took place on September 24, and was collocated with the 9th Workshop on Graph Classes, Optimization, and Width Parameters (GROW 2019).
This year's awardees who have been invited to Vienna from Chile and Germany, were greeted by the vice rector for academic affairs of TU Wien, Kurt Matyas and Gerti Kappel. Following the ceremony, moderated by the chair of the VCLA Awards, Magdalena Ortiz, the winners gave a short presentation of their theses.
The Outstanding Master Thesis Award is awarded to Martín Muñoz (Pontificia Universidad Católica de Chile) for the master thesis "Descriptive Complexity for Counting Complexity Classes" under the supervision of Marcelo Arenas and Cristian Riveros. The Outstanding Undergraduate Thesis Award is awarded to Alexej Rotar (TU München) for the undergraduate thesis "The Satisfiability Problem for Fragments of PCTL" under the supervision of Jan Kretinsky.
VCLA International Student Awards
The annually awarded VCLA International Student Awards for Outstanding Undergraduate and Master Theses recognize and support students all over the world at the beginning of their scientific career in the field of logic in computer science. The awards entail an invitation to the award ceremony, and a cash prize fund of €2000. The VCLA Awards are dedicated to the memory of Helmut Veith, a brilliant computer scientist who tragically passed away in March 2016, and aim to carry on his commitment in promoting young talent and promising researchers in these areas.
Deadline for Next Nominations
The deadline for submission of nominations for the degrees awarded between November 15th, 2018 and December 31st, 2019 (inclusive) will be announced in January 2020.
Curious about our other news? Subscribe to our news feed, calendar, or newsletter, or follow us on social media.