27th Epilog
2019-01-16
Report
Award
Studies
Excellence
Students
Jungforscher_innen wurden von der Fakultät für Informatik für ihre exzellenten Leistungen ausgezeichnet.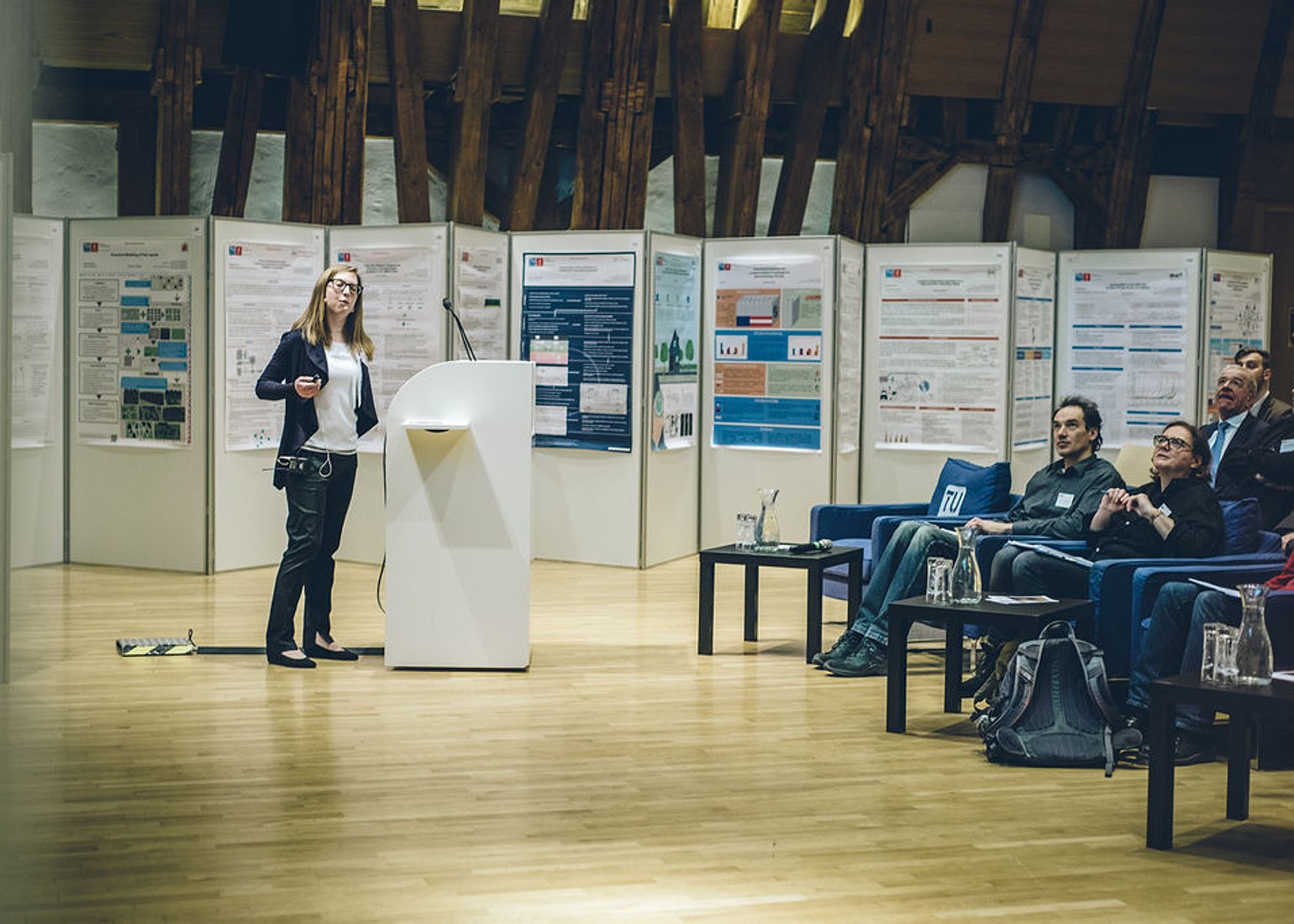 Im historischen Kuppelsaal der TU ehrte die Fakultät für Informatik im feierlichen Rahmen exzellente Studierende für ihre hervorragenden Leistungen. Die Jury, bestehend aus Ivona Brandic, Hannes Kaufmann und Georg Weissenbacher, prämierte unter dem Vorsitz von Margrit Gelautz nicht nur die beste Diplomarbeit, sondern vergab auch den Best Poster Award. Außerdem wurden den ersten beiden Absolventen des Exzellenzprogramms "Bachelor with Honors" Ihre Zertifikate und das Empfehlungsschreiben der Rektorin verliehen und mit den jährlichen Siemens-Exzellenzstipendien exzellente Studentinnen für Ihre Leistungen ausgezeichnet.
Eröffnet wurde der Epilog einmal mehr von Rektorin Sabine Seidler und Dekan Hannes Werthner. In ihrer Begrüßungsrede betonte die Rektorin die Einzigartigkeit dieser Veranstaltung, die beispielgebend für die TU Wien sei und hoffentlich von anderen Fakultäten nachgeahmt würde.
Beste Alumna
Von den vier besten Absolventen/-innen, die ihre Diplomarbeiten präsentierten, wurde Katinka Böhm vom Institut für Logik und Computation mit dem "Distinguished Young Alumus/Alumna Award" ausgezeichnet. Sie forschte zu "Semi-Automatic Engineering of Topic Ontologies from a Common-Sense Knowledge Graph" und überzeugte die Jury sowohl mit ihrer anschaulichen Präsentation als auch in der anschließenden Frage-Runde mit ihrem fundierten Wissen zu dem Thema. Maria Magdalena Ortiz de la Fuente betreute die erfolgreiche Absolventin.
André Schidler (Institut für Logik und Computation) schrieb seine Diplomarbeit über "A solver for the Steiner Tree Problem with few terminals". Am gleichen Institut forschte Theresa Fröschl zu "Minimizing Wiggles in Storyline Visualizations", während Michael H. Spiegel (Institut für Computer Engineering) "Generische virtuelle Komponenten - Standardbasierte Kopplung von Simulation und Automationsinfrastruktur" vorstellte.
Vielfalt der Forschung
Über den mit je € 350 dotierten Best Poster Award durften sich dieses Semester gleich zwei Diplomanden freuen – dank spontaner Preisgeldaufstockung durch Dekan Hannes Werthner konnte die Jury den Preis für die zwei besten Poster vergeben: Raphael Löffler konnte für seine Präsentation über "An Interactive Optimization Framework for Point Feature Label Placement" einen Best Poster Award mit nach Hause nehmen. Seine Diplomarbeit wurde von Martin Nöllenburg aus dem Forschungsbereich Algorithms and Complexity betreut. Seyedehanahid Naghibzadehjalali, die von Andreas Rauber aus dem Forschungsbereich Information und Software Engineering betreut wurde, erhielt den anderen Best Poster Award für ihre Diplomarbeitspräsentation zum Thema "Sound Event Detection mit Deep Neural Networks".
In unserer digitalen Posterausstellung können Sie nicht nur die beiden prämierten Poster anschauen, sondern auch die gesamte Ausstellung betrachten und so einen Überblick über die vielfältigen Forschungsbereiche der Fakultät für Informatik gewinnen.
Frauenförderung mit den Siemens Exzellenzstipendien
Seit mittlerweile acht Jahren unterstützt die Siemens AG Österreich unser Stipendienprogramm für Studentinnen. Auch dieses Wintersemester überreichte Michael Heiss, Principal Consultant Digital Enterprise bei Siemens und Honorarprofessor an der TU Wien, sechs Studentinnen Exzellenzstipendien, die mit jeweils € 1.000 dotiert sind. Diese Prämie für herausragende Leistungen fördert Frauen während des Studiums und soll sie bei einer erfolgreichen Forschungskarriere unterstützen. Die glücklichen Stipendiatinnen aus dem Bereich Software & Information Engineering sind die Bachelorstudentinnen Lea Salome Brugger und Marie Stadlbauer und ihre Kollegin Tina Stamencic von der Medizinischen Informatik. Bei den Masterstipendiatinnen handelt es sich um Monika Meczkowski und Carina Pratsch vom Institut für Media and Human-Centered Computing, während Sanja Pavlovic im Bereich Logic und Computation gefördert wird.
Förderung könne gar nicht früh genug ansetzen, betonte auch Kurt Hofstädter, Head of Digital Factory Central Eastern Europe bei Siemens Österreich, in seinem Vortrag über Digitalisierung der Technik und die Umsetzung einer Industrie 4.0 in Österreich. "Schenken Sie Ihren Kindern zu Weihnachten Chemiebaukästen, Physikbaukästen oder programmierbare Roboter!" Nur wenn man das Interesse für Technik und Informatik frühzeitig wecke, sei es möglich, mehr Absolventen/-innen in diesem Bereich zu gewinnen, um so Engpässe in der Industrie abzufedern und am Weltmarkt bestehen zu können.
Premiere: Bachelor of Honors
Last but not least wurden heuer zum ersten Mal die Zertifikate "Bachelor with Honors" verliehen. Dieses zusätzliche Exzellenzprogramm für Bachelor-Studierende mit hervorragenden Leistungen wird seit 2017 angeboten und ermöglicht ihnen, ihre Kenntnisse zu vertiefen und sie für die wissenschaftliche Forschung zu begeistern. Die ersten beiden Studenten haben nun dieses Programm durchlaufen und wurden für ihre Leistungen ausgezeichnet: Timon Höbert und Johannes Vass nahmen ihre Zertifikate stolz entgegen.
Fotogalerie
Alle Fotos: © Amélie Chapalain
Links
Curious about our other news? Subscribe to our news feed, calendar, or newsletter, or follow us on social media.
Note: This is one of the thousands of items we imported from the old website. We're in the process of reviewing each and every one, but if you notice something strange about this particular one, please let us know. — Thanks!