26th Epilog
2018-06-21
Report
Award
Studies
Excellence
Students
Für seine Diplomarbeit "Evaluation of the Recognition Distances of Safety Signs in VR" bekommt Dominik Bauer den Titel "Distinguished Young Alumnus"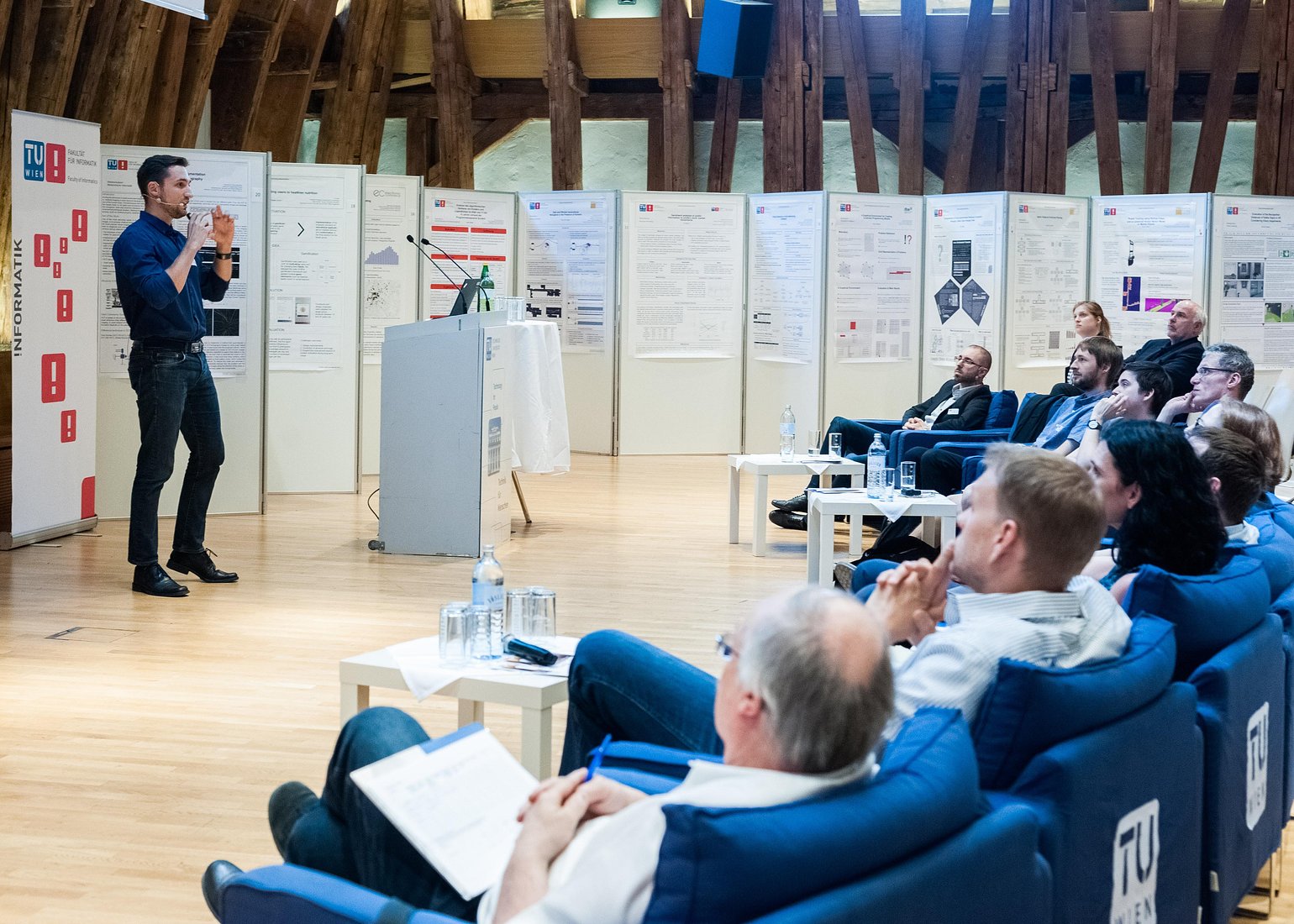 Beim EPILOG im Sommersemester, der am 18. Juni 2018 das erste Mal im Kuppelsaal der TU Wien stattgefunden hat, wurde Dominik Bauer mit dem "Distinguished Young Alumnus"-Award der Fakultät für Informatik ausgezeichnet. Er überzeugte die Jury mit seiner Diplomarbeit zum Thema Evaluation of the Recognition Distances of Safety Signs in VR Considering Vision Impairments. Die Arbeit wurde von Michael Wimmer, Professor des ForschungsbereichesComputer Graphics und Katharina Krösel, Doktorandin am selben Forschungsbereich, betreut. Der Preis ist mit 1.500 Euro dotiert.
Best Poster-Award der Fakultät für Informatik
Mit dem Best Poster Award wurde Manuel Heinzl ausgezeichnet. Seine Diplomarbeit trägt den Titel Analyse, Konzeption und prototypische Entwicklung eines mobilen Serious Games zur Steigerung und Aufrechterhaltung des Bewegungsverhaltens und wurde von Thomas Grechenig, Professor am Forschungsbereich Business Informatics betreut. Der Preis ist mit 500 Euro dotiert. Am Best Poster Wettbewerb können nur jene AbsolventInnen teilnehmen, die bei der Ausstellung anwesend sind und sich den Fragen der Jury stellen.
Digitale Posterausstellung online
Das Siegerposter von Manuel Heinzl sowie alle anderen Poster des EPILOGs im Sommersemester können Sie ab sofort in der digitalen Posterausstellung betrachten.
Die Fakultät gratuliert den EPILOG-PreisträgerInnen sehr herzlich!
durchSTARTen in die Informatik
Im Rahmen des EPILOGs gab das Projektteam, bestehend aus Gerti Kappel, Gerald Futschek, Bernhard Standl-Gruber und Elisabeth Wetzinger, auch einen Einblick in das Fakultätsprojekt START Informatik und stellte erste Ergebnisse vor, u.a. den MOOC "Einführung in das Programmieren mit Processing" auf www.imoox.at, Peer Learning innerhalb der Lehrenden des ersten Studienjahrs, sowie "Schnittstelle Schule" vulgo VILL, Vienna Informatics Living Lab, u.a. mit einer permanenten Ausstellung mit zahlreichen Experimenten zum Thema Computational Thinking.
Die besten AbsolventInnen auf der Bühne des Kuppelsaals
Im Zuge des EPILOG treten die besten vier KandidatInnen vor Publikum gegeneinander an, um sich den Titel des Distinguished Young Alumnus/Alumna zu sichern. Eine Fachjury entscheidet anhand des Vortrages und der Diplomarbeit, wer, den Titel mit nachhause nehmen darf.
Für den EPILOG im Sommersemester 2018 waren folgende KandidatInnen mit ihren Arbeiten nominiert:
Dominik Bauer: Evaluation of the Recognition Distances of Safety Signs in Virtual Reality Considering Vision Impairments Institut für Visual Computing und Human-Centered Technology | Forschungsbereich Computer Graphics
Lucas Kletzander: A Heuristic Solver Framework for the General Employee Scheduling Problem Institut für Logic and Computation | Forschungsbereich Database and AI
Daniel Pfleger: Knowledge and Communication Complexity in Distributed Systems Institut für Computer Engineering | Forschungsbereich Embedded Computing Systems
Manuel Pöter: Effective Memory Reclamation for Lock-Free Data Structures in C++ Institut für Computer Engineering | Forschungsbereich Parallel Computing
Fotos der Veranstaltung
Fotos: Jan Gott / Fakultät für Informatik, TU Wien
Links
Curious about our other news? Subscribe to our news feed, calendar, or newsletter, or follow us on social media.
Note: This is one of the thousands of items we imported from the old website. We're in the process of reviewing each and every one, but if you notice something strange about this particular one, please let us know. — Thanks!