Helmut-Veith-Preis für Hanna Lachnitt
2018-04-23
Helmuth Veith Stipend
Women in Informatics
Students
Mit dem Preis der TU Wien und des Wolfgang Pauli Institutes werden jährlich herausragende Studentinnen in der Informatik gefördert.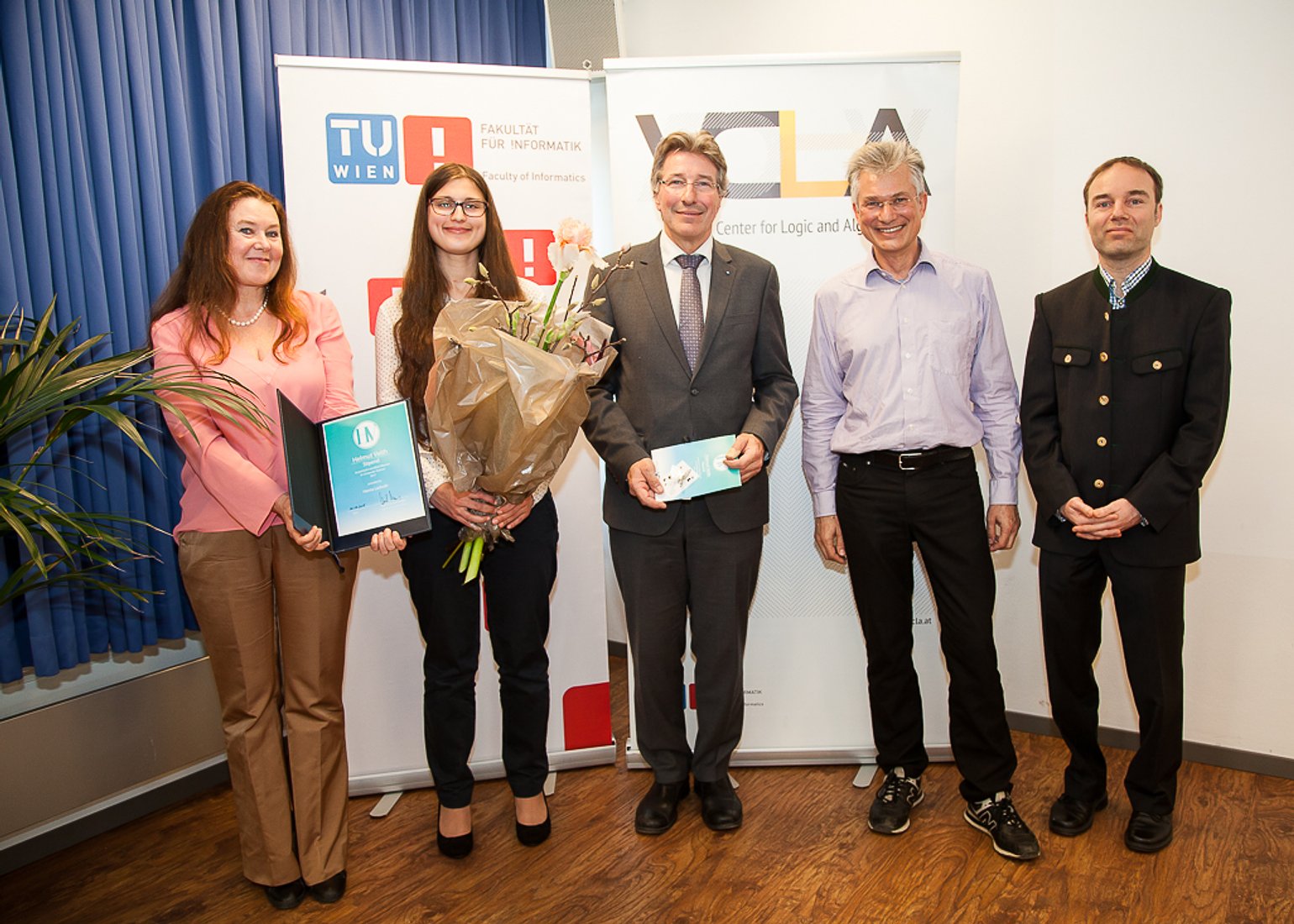 Am 6. April wurde zum zweiten Mal an der TU Wien der Helmut-Veith-Preis verliehen. Die Auszeichnung ist mit einem Stipendium für ein Masterstudium verbunden, welches mit 6.000 Euro pro Jahr dotiert ist. Der Preis geht an Frauen, die im Studium der Computerwissenschaften herausragende Leistungen erbracht haben. Die diesjährige Preisträgerin ist Hanna Lachnitt aus Deutschland.
Im Gedenken an Prof. Helmut Veith
Die Idee zu einem Förderpreis stammt aus dem Umfeld des TU-Informatikers Helmut Veith, der 2016 im Alter von nur 45 Jahren verstorben ist. Mit Unterstützung der TU Wien, des Wolfgang Pauli Institutes, des Vienna Center for Logic and Algorithms und durch Spenden aus dem Freundeskreis von Helmut Veith werden nun Informatikstudentinnen gefördert, die sich für die Forschungsgebiete Veiths interessieren und mithelfen, die Informatik stärker in der Gesellschaft zu verankern. Studentinnen, die sich mit Helmut Veiths Forschungsgebieten beschäftigen, soll damit ein Masterstudium an der TU Wien ermöglicht werden. Im Vorjahr war als erste Helmut-Veith-Stipendiatin die Niederländerin Mariëlle Rietdijk ausgezeichnet.
"Helmut hat immer wieder betont, dass eine Förderung von Frauen besonders am Anfang ihrer akademischen Karriere wichtig ist. Das Helmut Veith Stipendium wurde ins Leben gerufen, um genau das zu erreichen." betont Georg Weissenbacher, assoziierter Professor an TU Wien.
Hanna Lachnitt schloss ihr Bachelor-Studium in Informatik an der Freien Universität Berlin mit Auszeichnung ab. Sie verfasste ihre Bachelorarbeit zur Verifikation der intuitionistischen Modallogik, die mit Helmut Veiths bahnbrechenden Arbeiten zur Temporallogik und Verifikation in Zusammenhang steht. Darüber hinaus verbrachte sie ein Semester an der Universität Bath in Großbritannien als Erasmus-Studentin. Hanna Lachnitt interessiert sich besonders für Logik und theoretische Informatik, sowie für Programmiersprachen und Verifikation. Nach Abschluss ihres Master-Studiums möchte sie ihre wissenschaftliche Karriere mit einer Dissertation fortsetzen.
Hanna Lachnitt wird auch in Wien Sprachunterricht geben – diesmal geht es allerdings um Programmiersprachen. Die Preisträgerin wird die Gelegenheit bekommen, ihre Erfahrungen aus Berlin, wo sie Deutschunterricht für Flüchtlinge - Jugendliche und Erwachsene - gegeben hat, bei dem Projekt Welcome.TU.code der Fakultät für Informatik der TU Wien einzubringen.
Logik und die Gesellschaft
Mit dem Helmut Veith Stipendium möchte die Fakultät für Informatik auch Helmut Veiths Erbe in Erinnerung rufen. Helmut Veith hatte maßgeblichen Anteil daran, Österreich – und speziell Wien – zu einem internationalen Hotspot im Bereich Logik und Verifikation zu machen.
Das gelang ihm einerseits durch aufsehenerregende Forschungserfolge und dem Aufbau eines neuen, großen und starken Forschungsbereichs FORSYTE (Formal Methods in Systems Engineering) an der TU Wien, andererseits auch etwa durch seine Freude, moderne und innovative Projekte ins Leben zu rufen, sowie durch die aktive Einbindung der Medien, um die Aufmerksamkeit und das Interesse der Öffentlichkeit an der Wissenschaft zu wecken. Zu den von ihm angeregten bzw. mitgegründeten Projekten zählt etwa das österreichweite Forschungsnetz ARISE im Bereich der Computer-Aided Verification oder auch das Netzwerktreffen des Vereins Informatik Austria, sowie der Austrian Computer Science Day. An der TU Wien hat Helmut Veith das FWF Doktoratskolleg "LogiCS" für mathematische Logik in der Informatik initiiert, ebenso das Programm "Master in Logic and Computation".
Weitere von Helmut Veith angeregte Projekte sind das Vienna Center of Logic and Algorithms (VCLA), eine Plattform für die Förderung der internationalen Forschung und Zusammenarbeit im Bereich Logik und Algorithmen und der Vienna Summer of Logic, der 2014 in Wien stattfand und bis jetzt weltweit größte Konferenz zu diesem Thema ist. Website: http://www.vcla.at/2018/04/helmut-veith-stipend-award-ceremony/
[Text: Florian Aigner, Büro für Öffentlichkeitsarbeit, TU Wien / Mihaela Rozman, VCLA]
Links
Note: This is one of the thousands of items we imported from the old website. We're in the process of reviewing each and every one, but if you notice something strange about this particular one, please let us know. — Thanks!