Aufbruch ins Verstehen
2018-01-24
DC LogiCS
Doctoral School
Verstärkt und verlängert: Das Doktoratskolleg für logische Methoden in der Informatik (LogiCS) startet mit Unterstützung des FWF in eine weitere Runde.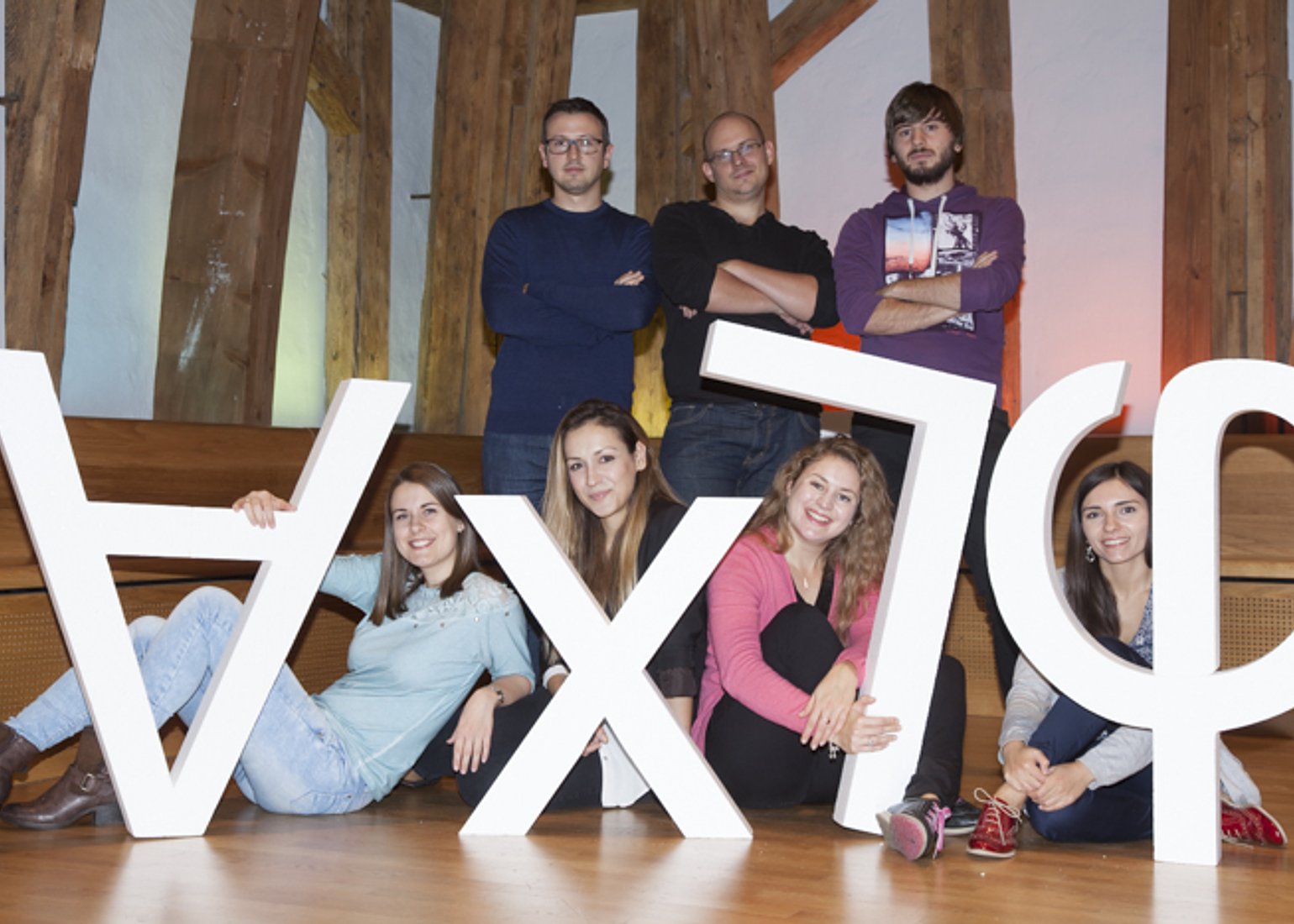 Dem LogiCS-Doktoratskolleg, das 2014 von ProfessorInnen der TU Wien, TU Graz und JKU Linz rund um Prof. Helmut Veith ins Leben gerufen wurde und international einen hervorragenden Ruf genießt, stehen für weitere vier Jahre Mittel zur Verfügung, um die Forschung und die Ausbildung hochqualifizierter DoktorantInnen weiter voranzutreiben.
Mehr als 40 junge ForscherInnen aus 20 Ländern, davon etwa ein Drittel Frauen, finden schon jetzt an der TU Wien den optimalen Nährboden ihre Begeisterung für Logik weiterzuentwickeln. Nach einer gründlichen Evaluierung durch internationale Experten investiert der FWF weitere 3,6 Millionen Euro in das Kolleg, dessen Netzwerk sich über die TU Graz und die JKU Linz erstreckt, in Wien aber seinen zentralen Knotenpunkt bildet. Mit Unterstützung der TU Wien werden auch zwei weitere Stellen für weibliche Doktorandinnen geschaffen.
"Es ist uns ein großes Anliegen, mindestens 30 Prozent Frauen im Kolleg zu haben", erklärt Anna Prianichnikova, die wissenschaftliche Leiterin des Kollegs. Die Studierenden kommen aus verschiedenen Bereichen, darunter die Mathematik, Informatik, aber auch Philosophie. Sie alle verbindet das starke Interesse an logischen Methoden", so Prianichnikova.
Verstehen, überprüfen, verändern
"Die Logik findet im digitalen Zeitalter sehr zentrale und greifbare Anwendungen", weiß Georg Gottlob, der die Leitung des Kollegs von dessen Initiator, dem verstorbenen Logiker der TU Wien, Helmut Veith, übernommen hat. Gerade der wachsende Bereich der Künstlichen Intelligenz wird verstärkt die Methoden der Logik zum Einsatz bringen, verrät Gottlob. Das Doktoratsprogramm umfasst neben mathematischen Methoden der formalen Logik auch angewandte Themen wie Verifikation, Datenbanken, verteilte und cyber-physische Systeme und Informationssicherheit. Auch die Schnittstellen zur Technischen Informatik und des Engineerings spielt eine zentrale Rolle, so Gottlob.
Neben der inhaltlichen Qualität zeichne sich das Kolleg besonders durch seine exzellente Betreuungssituation und eine "tolle, aufgeschlossene und internationale Atmosphäre" aus, ist Prianichnikova überzeugt. Sie organisiert zahlreiche soziale Veranstaltung für die Mitglieder und fördert durch regelmäßige Treffen den Austausch untereinander sowie zwischen etablierten ForscherInnen und DoktorandInnen.
"Wir verstehen Logik als zentrales Thema der Informatik", sagt Stefan Szeider, stellvertretender Sprecher des Kollegs. "Einerseits dient die Logik als theoretische Grundlage, andererseits stellt sie aber auch ein effektives Werkzeug zur Modellierung, Konstruktion und Analyse von Systemen und deren Anwendungen dar." Gerade die sich rasend entwickelnden Informationstechnologien fordern die LogikerInnen heraus, die Zusammenhänge zu verstehen, zu überprüfen und zu gestalten. Doch der steigende Bedarf an ForscherInnen, die sich sowohl in der Logik als auch in der Informatik zuhause fühlen, bringt nicht nur Rückenwind für das Kolleg, sondern zeugt auch von einer allgemeinen Aufbruchstimmung der Logik in Wien.
Wien als "Hotspot der computationalen Logik"
Was am Beginn des vorigen Jahrhunderts mit Gödel, Wittgenstein und Carnap als "Goldenes Zeitalter" der Wiener Logik bekannt wurde, erlebt heute eine neue Phase des Aufbruchs. Bedeutenden Aufwind erhält die Beschäftigung mit logischen Methoden an der Fakultät für Informatik der TU Wien auch durch das Vienna Center of Logic and Algorithms (VCLA), das im Dienst der Logik die Grenzen der Disziplinen und Institute überwindet. Die Leiter des LogiCS-Kollegs sind überzeugt: Nun, da auch das Doktorandenkolleg für eine weitere Periode gesichert ist, steht dem weiteren Ausbau der TU Wien als ein "Hotspot der computationalen Logik" nichts mehr im Wege.
Links
Curious about our other news? Subscribe to our news feed, calendar, or newsletter, or follow us on social media.
Note: This is one of the thousands of items we imported from the old website. We're in the process of reviewing each and every one, but if you notice something strange about this particular one, please let us know. — Thanks!