Allan Hanbury erhält Stiftungsprofessur "Data Intelligence"
2018-01-22
News
Professorship
Ermöglicht durch TU Wien, TU Berlin, der Deutschen Telekom AG, T-Mobile Austria und das EU Labs Programm der Telekom Innovation Laboratories (T-Labs)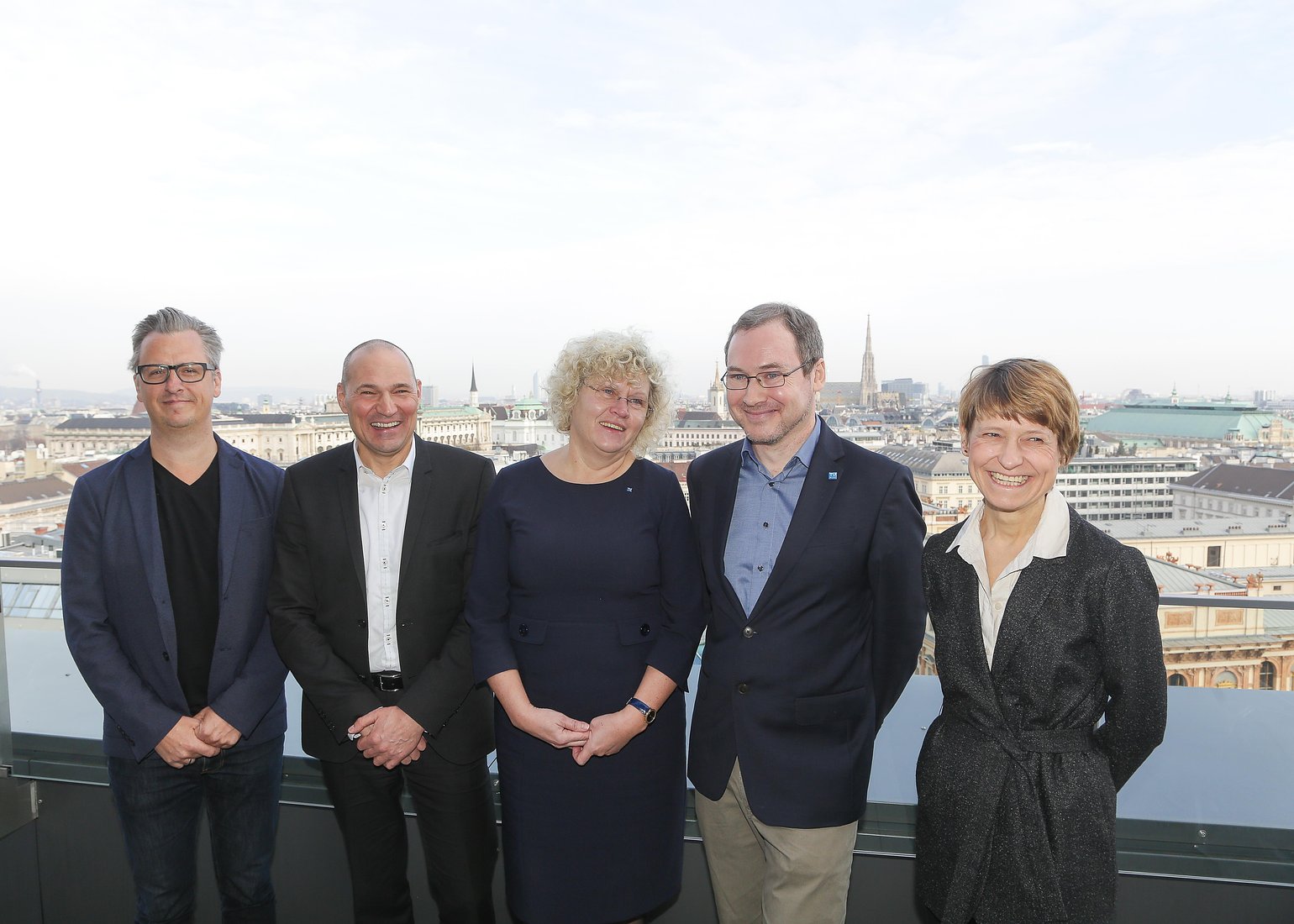 Für die nächsten fünf Jahre wird Prof. Allan George Hanbury (43) mit seiner Stiftungsprofessur seine Forschungen im Bereich Data Intelligence an der Fakultät für Informatik vertiefen und künftigen Data Scientists mit der Kombination von Statistik und Informatik optimales Rüstzeug für die Digitale Transformation mit auf den Weg geben. Prof. Hanbury wird damit die TUW-Forschungsschwerpunkte "Information and Communication Technology" und "Computational Science and Engineering" kompetent verstärken.
"Die Implementierung von Stiftungsprofessuren in strategisch wichtigen Forschungsgebieten ist ganz klar die optimale Ergänzung unserer Berufungspolitik und unterstützt die Internationalisierungsbestrebungen der TU Wien", unterstreicht Rektorin Sabine Seidler.
Die Stiftungsprofessur entsteht im Rahmen der Forschungskooperation zwischen TU Wien und TU Berlin sowie der Deutschen Telekom AG, T-Mobile Austria und wird gefördert durch das EU Labs Programm der Telekom Innovation Laboratories (T-Labs). Der Fokus der neuen Professur liegt auf grundlagen- sowie anwendungsorientierter Forschung in den Bereichen Data Analytics und Intelligent Interaction.
Theorie und Praxis eng verknüpfen
Die neue Stiftungsprofessur verstärkt die datengetriebene Wirtschaft mit der Innovationskraft wissenschaftlicher Forschung. Hanbury, der in Südafrika geboren wurde, studierte Angewandte Mathematik und Physik an der Universität Kapstadt. 2002 erhielt er sein Doktorat von der MINES ParisTech (Frankreich). Sechs Jahre später habilitierte Hanbury in Informatik an der TU Wien, wo er nun als Professor für Data Intelligence tätig ist. Als Co-Founder des Spin-offs contextflow bringt er nicht nur fundierte Erfahrungen in der Grundlagenforschung, sondern auch in der unternehmerischen Umsetzung mit. Ein Schwerpunkt seiner Forschung liegt in der semantischen Textanalyse, bei der eine große Menge an Text möglichst automatisiert untersucht wird, um Ergebnisse daraus zu filtern und neue Zusammenhänge aufzeigen zu können. Hanburys Forschungen dazu fanden bereits Anwendung in der Analyse von medizinischen Publikationen wie auch in der Patentsuche und in Bereichen der Industrie 4.0.
"Durch die Digitalisierung sind wir mit einer wachsenden Menge an Daten konfrontiert. Wir stehen vor der Herausforderung, diese Daten für die spezifischen Anforderungen der Unternehmen effektiv und effizient zu analysieren, um wichtige und vielleicht unerwartete Erkenntnisse zu gewinnen.", sagt Prof. Hanbury.
Hinter dem Begriff "Data Intelligence" verbirgt sich das Know-how, Datenmengen intelligent auszuwerten und aufzubereiten, um damit komplexe Entscheidungsprozesse zu vereinfachen. Die daraus resultierenden Ergebnisse liefern wertvolle Entscheidungshilfen für verschiedene Bereiche der Gesellschaft wie die Gestaltung von Unternehmensprozessen, Investitionsanfragen oder Entwicklungsprognosen. Tools wie data mining, network analysis oder machine learning können wichtige Entscheidungen erleichtern.
"Wir freuen uns, dass die TU Wien, die sich stark und visionär im Thema 'Intelligente' Technologien engagiert, ein Teil unseres EU-Labs-Programms wird und dass Kunden in Europa von innovativen, intelligenten Lösungen profitieren werden, die in enger Kooperation mit T-Mobile Austria und unseren top Forschungspartnern entstehen", so Alex Choi, Head of Research & Strategy and T-Labs, Deutsche Telekom AG.
Angela Ittel, Vizepräsidentin für Internationales und Lehrkräftebildung an der TU Berlin: "Berlin und Wien sind historisch als Kulturmetropolen bekannt. In jüngerer Zeit etablieren sich aber auch mehr und mehr als Technologie- und Innovationszentren Mitteleuropas. In diesem Kontext ermöglicht der neue Lehrstuhl an der TU Wien 'Data Intelligence' mit starker Unterstützung der Deutsche Telekom Gruppe eine wissenschaftlich-industrielle Brücke zwischen den großen technischen Universitäten der beiden Hauptstädte. In den kommenden Jahren wollen wir gemeinsam insbesondere einen effizienten Wissenstransfer und innovative Beiträge zur europäischen Forschungsagenda im Rahmen der neu etablierten Kooperation mit unserer strategischen Partneruniversität TU Wien voranbringen."
"Mobilfunk ist wesentlicher Motor der Digitalisierung und schafft an der Schnittstelle von Forschung und Industrie neuen Raum für Innovation", sagt Andreas Bierwirth, CEO T-Mobile Austria. "Die TU Wien stellt mit ihrem Leitbild 'Technik für Menschen', T-Mobile Austria mit dem 'Wie-ich-will Prinzip' und die Deutsche Telekom, T-Labs mit ihrer Innovationskraft den Menschen und seine Bedürfnisse in den Mittelpunkt."
Pressefoto- und Video-Hinweis
Videomaterial (APA) Youtube-Kanal der Fakultät für Informatik Bildmaterial (APA)
Rückfragehinweis / TU Wien:
Bettina Kunnert MAS Pressesprecherin Büro der Rektorin M +43 664 484 50 28 bettina.kunnert@tuwien.ac.at
Mag.(FH)Daniela Neubacher, MA Zentrum für Koordination und Kommunikation der Fakultät für Informatik T +43-1-58801-19568 daniela.neubacher@tuwien.ac.at
T-Mobile: Helmut Spudich Unternehmenssprecher M +43 676 8200 5200 helmut.spudich@t-mobile.at
Foto: T-Mobile/APA-Fotoservice/Tanzer
Links
Note: This is one of the thousands of items we imported from the old website. We're in the process of reviewing each and every one, but if you notice something strange about this particular one, please let us know. — Thanks!