Ausgezeichnet: Siemens Exzellenz-Stipendien für Frauen
2018-01-22
Report
Award
Studies
Excellence
Students
Bereits zum vierten Mal wurde das Siemens Exzellenz-Stipendium für Frauen der Fakultät für Informatik verliehen. Das sind die diesjährigen Preisträgerinnen: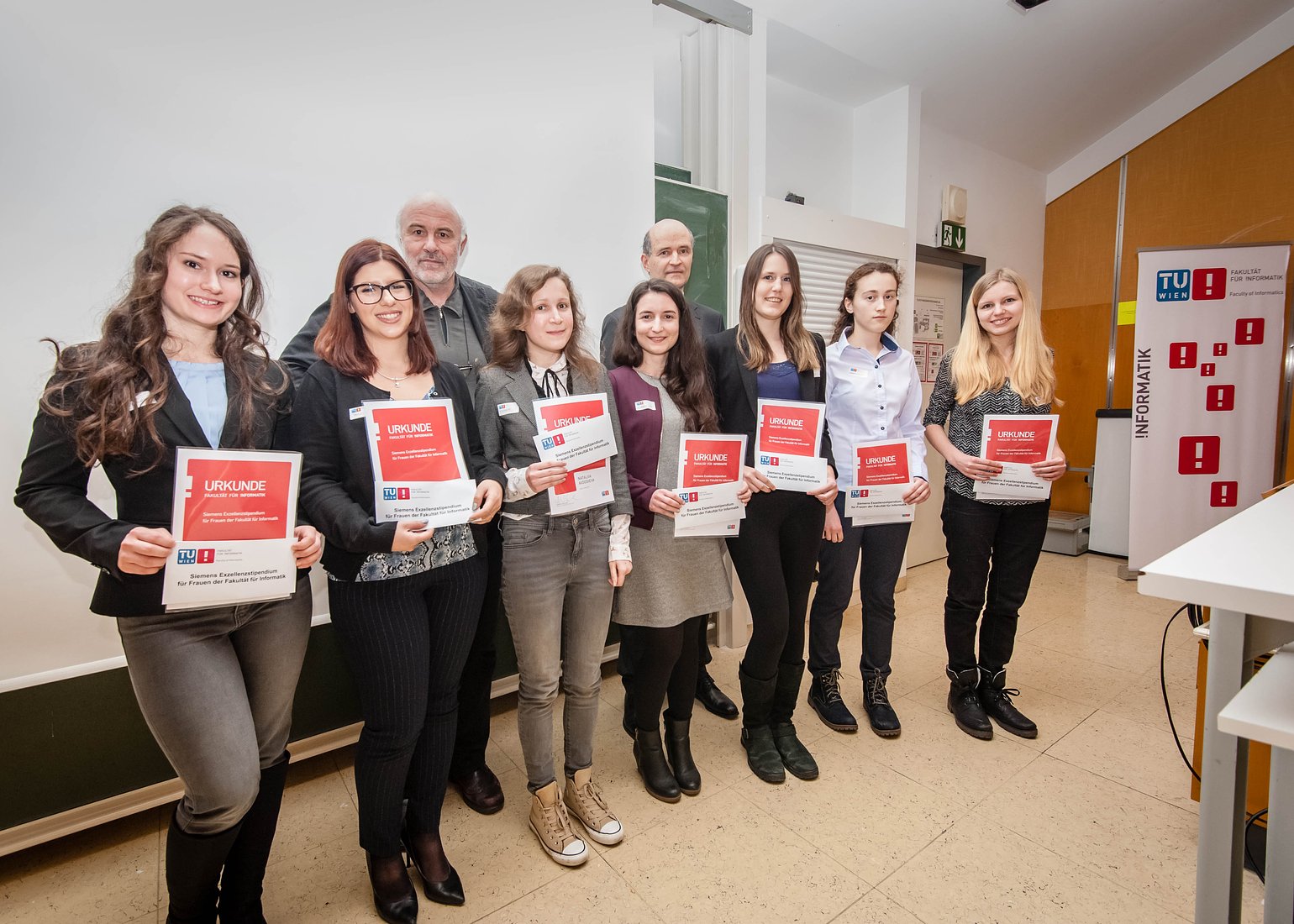 Sieben herausragende Studentinnen der Fakultät für Informatik wurden mit einem Exzellenzstipendium, das von Siemens gefördert wird, im Zuge des EPILOGs, der Diplomarbeitspräsentation der Fakultät für Informatik am 18. Jänner 2018,usgezeichnet. Darunter die Bachelorstudentinnen Lena Kathrin Schedlitz, Samantha Fuchs und Anna Chmurovicova sowie die Masterstudentinnen Marie Valerie Riegler, Nataliia Avdosieva, Verena Dittmer und Sanja Pavlovic. Sie konnten im Studienjahr 2016/17 besondere Erfolge vorweisen.
Academic Excellence and Comittment: Prämie für herausragende Studienleistungen
Als eine der Maßnahmen der Frauenförderung an der Fakultät für Informatik werden zum bereits vierten Mal in Folge Siemens Exzellenzstipendien vergeben. Ziel ist es, hervorragende Informatikstudentinnen zu fördern und exzellente Leistungen anzuerkennen. Die Stipendien im Wert von jeweils 1000 Euro wurden von Prof. Dr. Michael Heiss (Siemens) feierlich verliehen. Die Preise dienen der Frauenförderung während des Studiums und sollen exzellente Studentinnen vor den Vorhang holen. Die Fakultät für Informatik verfolgt unterschiedliche Maßnahmen, um Frauen in der Informatik sichtbar zu machen und ihnen ein erfolgreiches Studium sowie Forschungskarriere zu ermöglichen. Eine Übersicht der aktuellen und vergangenen Maßnahmen befindet sich unter http://www.informatik.tuwien.ac.at/frauenfoerderung
Links
Note: This is one of the thousands of items we imported from the old website. We're in the process of reviewing each and every one, but if you notice something strange about this particular one, please let us know. — Thanks!