The Future of Computing: "Leaving the Comfort Zone"
2017-12-05
Research
Security & Privacy
Faculty
Videos on Demand: In November 2017, the Faculty organized a lecture and panel discussion on the newest findings and questions in the field of Computing.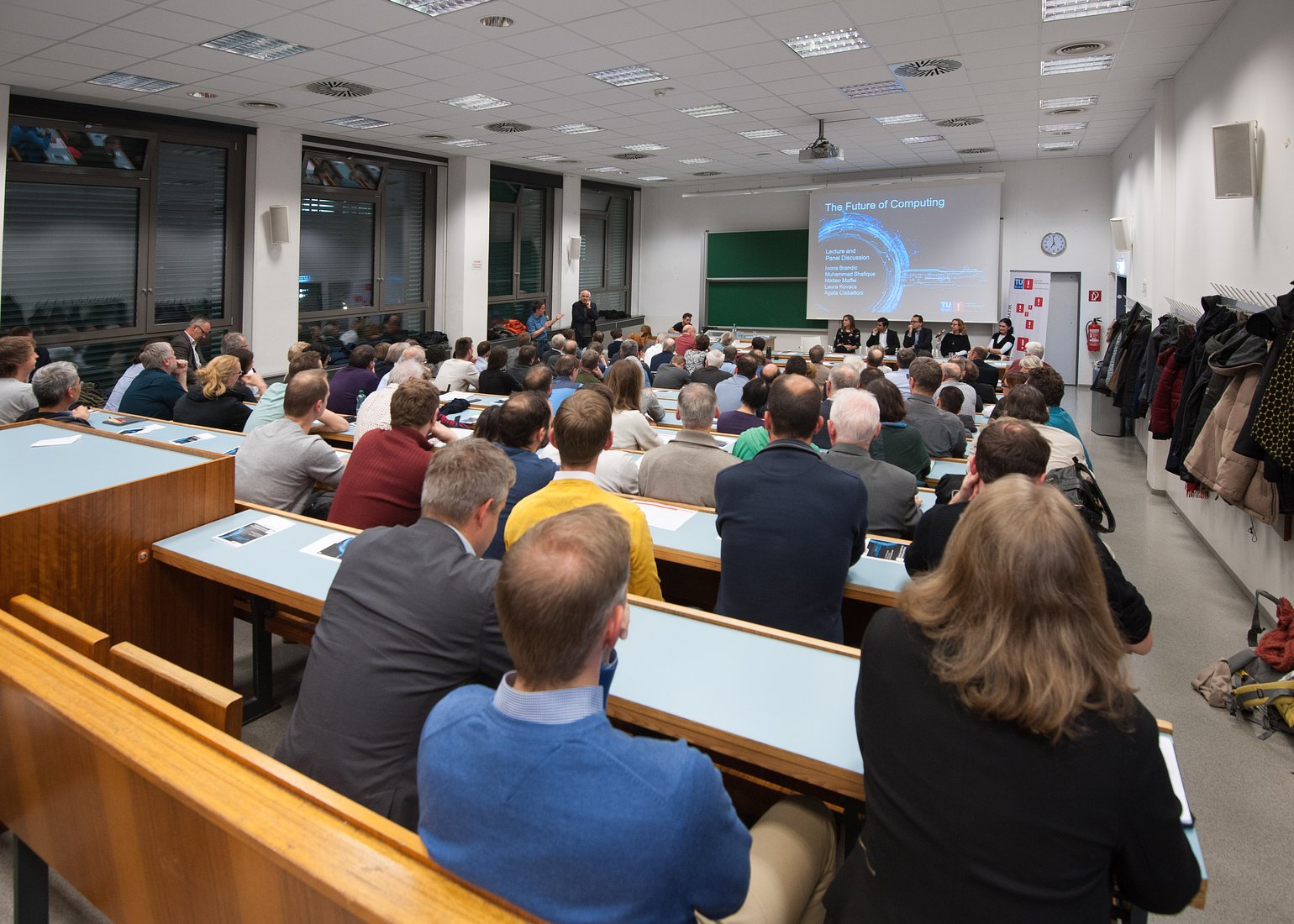 How do questions of Security and Privacy will shape our relation to technologies like Blockchain and cloud computing? What can we learn from the human body for developing automated systems? Where should we build the data centers of the future?
On November 22, five new professors of the Faculty of Informatics gave insights into their work and discussed together with Hannes Werthner, Dean of the Faculty, the newest findings and trending topics of Computing – from high performance computing and big data to classical and non-classical logics, from security to new computer architecture.
Videos on Demand
Watch a summary of the highlights on our youtube-channel.
The complete event was recorded. The video can be found here
5 new professors at the Faculty of Informatics
The panel discussed how the fields of the new professors will shape the future of Computing. What are the newest research findings and how do they affect society? In the discussion, it came out that interdisciplinarity as well as cooperation within the fields of Informatics need to play an essential role in responding to rapidly evolving technologies. Matteo Maffei suggested to "leave the comfort zone" for collaborating with new partners. "We need human creativity everywhere", Ivona Brandic stated. The complete lecture and discussion was recorded. The video will be soon published on our youtube channel.
Lecture and panel discussion with
Agata Ciabattoni, Professor for Non-classical Logics in Computer Science Ivona Brandic, Professor for High Performance Computing Systems Laura Kovacs, Professor for Automated Program Reasoning Matteo Maffei, Professor for Security and Privacy Muhammad Shafique, Professor for Computer Architecture and Robust Energy-Efficient Technologies.
Photo Gallery
Credit: Jan Gott/Fakultät für Informatik
Links
Curious about our other news? Subscribe to our news feed, calendar, or newsletter, or follow us on social media.
Note: This is one of the thousands of items we imported from the old website. We're in the process of reviewing each and every one, but if you notice something strange about this particular one, please let us know. — Thanks!