TU Wien startet Pilotprojekt für die besten Köpfe der Informatik
2017-11-09
Teaching
First-Years
Excellence
Students
Mit dem österreichweit ersten Bachelor with Honors-Programm fördert die TU Wien ab sofort überdurchschnittlich begabte und leistungsbereite Studierende.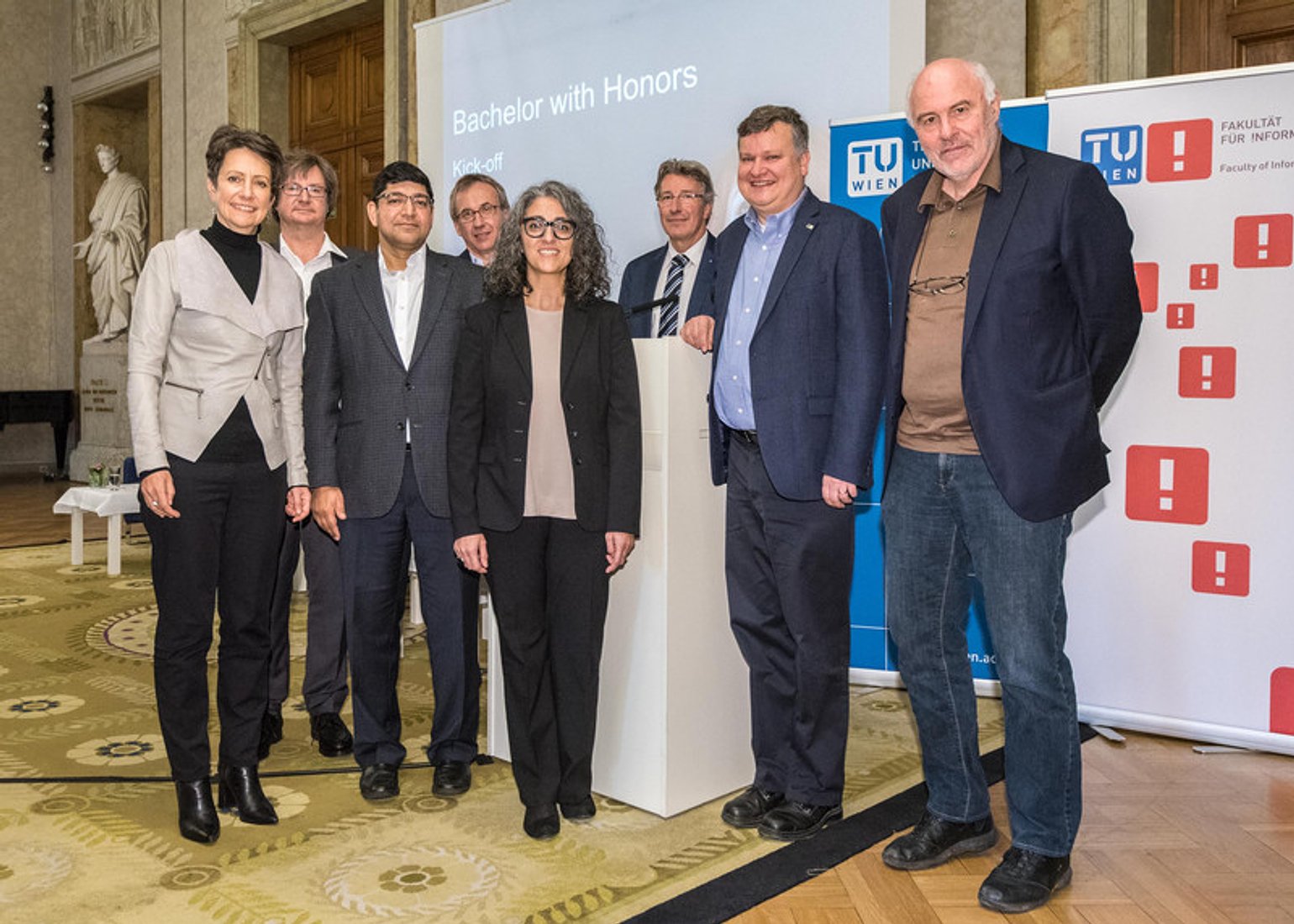 Als Teil der Exzellenzförderung an der TU Wien wurde heute, 9. November 2017, eine Initiative der Fakultät für Informatik präsentiert. Die international besetzte Auftaktveranstaltung zeigte: Das Bachelor with Honors-Programm eröffnet Studierenden zusätzliche individuelle Möglichkeiten zur Verbreiterung und Vertiefung ihres Wissens.
Wer hervorragende Studienleistungen vorweist, kann künftig ergänzend zu allen regulären Bachelorstudien der Informatik und Wirtschaftsinformatik an der TU Wien mit dem neu geschaffenen Bachelor with Honors-Programm eine Zusatzqualifikation erwerben. Hochrangige Vertreter_innen aus Wissenschaft und Wirtschaft, darunter Infineon-Chefin und Vorsitzende des Rats für Forschung und Technologieentwicklung, Sabine Herlitschka, Tom Henzinger, Präsident des IST Austria sowie Sunil Prabhakar von der Purdue Universität, bekräftigten den Bedarf an Exzellenzförderung als Triebfeder von Innovation und Forschung.
Früh für Forschung begeistern
"Als Forschungsuniversität zeichnet uns die forschungsgeleitete Lehre aus. Dabei arbeiten wir laufend an Verbesserungen für Lehrende und Studierende. Dazu zählt auch die gezielte Förderung von Exzellenzentwicklung bei unseren Studierenden. Das Bachelor with Honors-Programm an der Fakultät für Informatik ist ein weiterer Baustein das Angebot für Talente auszubauen und den akademischen Nachwuchs zu fördern", beschreibt Kurt Matyas, TUW-Vizerektor für Studium und Lehre den Rahmen.
"Österreichs Universitäten befinden sich im Rennen um die brillantesten Forscher_innen", betonte Hannes Werthner, Dekan der Fakultät für Informatik bei seinen Begrüßungsworten. Im anglo-amerikanischen Raum wie auch in den Niederlanden und in Deutschland sind Honors-Programme längst Teil der Begabtenförderung. "Die Fakultät für Informatik nimmt ihre Verantwortung wahr, bereits frühzeitig wissenschaftlichen Nachwuchs zu fördern und herausragende Studierende für den Studien- und Forschungsstandort Wien zu begeistern", erklärt Werthner die Idee hinter dem Programm, das Exzellenz und Verantwortung eng miteinander verknüpft.
Hohe Nachfrage an "High Potentials"
Das Podium war sich einig: Die Nachfrage nach High Potentials ist groß. Sie trifft auf besonders engagierte Studierende, die sich individuelle und weitergehende Forderung und Förderung wünschen. Honors-Programme tragen dem Rechnung.
Sunil Prabhakar, Leiter der Informatik an der Purdue University in Kalifornien, berichtete von den langfristigen positiven Wirkungen, die das Honors College an seiner Universität mit sich gebracht hat. Prabhakar: "In einer Welt, die immer mehr von Wettbewerb geprägt ist, sind herausragende Studierende sehr daran interessiert, sich mit ihren Fähigkeiten, Erfahrungen und Kompetenzen voneinander abzuheben. Ein differenziertes, hoch qualitatives und bereicherndes Honors-Programm ist ein effektiver Weg, diese Studierenden anzuziehen."
IST-Präsident Tom Henzinger hob die Wichtigkeit der Exzellenzförderung für die wissenschaftliche Forschung hervor: "In der Forschung ist Exzellenz nicht optional. Forscherinnen und Forscher stehen immer in Konkurrenz zu ihren internationalen Mitstreiterinnen und Mitstreitern. Wer an zweiter Stelle steht, kann weder publizieren noch patentieren", ist Henzinger überzeugt.
Auch Borealis CEO Marc Garrett unterstreicht die Wichtigkeit von Exzellenz. Er nennt sie "eine der wichtigsten Antriebe für Borealis". "Einfach gesagt: Wir wollen die Besten engagagieren, um als Unternehmen unser höchstes Potential voll auszuschöpfen", so Garrett.
Sabine Herlitschka, Vorstandsvorsitzende Infineon Technologies Austria betont den Stellenwert von Exzellenz: "Um im globalen Wettbewerb zu bestehen, müssen wir die Digitalisierung und ihre Chancen nutzen. Daher gilt es, das Land der besten Köpfe und nicht der billigsten Hände sein. Das bedeutet konsequente Investition in das Know-how und die Kreativität der Menschen, also in exzellente Aus- und Weiterbildung, Forschung und Innovation. Als Unternehmen, das diese Umwälzungen aktiv mitgestaltet, wissen wir bei Infineon, dass die Zukunft Österreichs in und mit den Köpfen der Menschen entschieden wird. Meine zentrale Zukunftsbotschaft lautet: Vorsprung durch Wissen, Innovation und Exzellenz."
Bachelor with Honors: Die Eckpunkte des Programms
Ziel des Honors-Programms ist es, besonders begabten Studierenden der Bachelorstudien der Informatik und der Wirtschaftsinformatik der TU Wien individuelle Möglichkeiten zur Vertiefung ihres Wissens zu bieten. Sie erwartet ein Zusatzangebot zu ihrem regulären Bachelorstudium, das sich durch Exzellenz, Individualität und Interdisziplinarität auszeichnet. Sowohl für die Zulassung als auch den Abschluss werden ausschließlich leistungsbezogene Kriterien herangezogen. Studierende erarbeiten, in Abstimmung mit einer Mentorin bzw. einem Mentor, ein ihren persönlichen Zielen entsprechendes individuelles Programm, das 45-60 ECTS umfasst. Neben vertiefenden Bachelor-Lehrveranstaltungen können auch Lehrveranstaltungen aus Masterstudien belegt werden. Das individuelle Mentoring im Programm erfolgt kontinuierlich. Absolvent_innen des Honors-Programms erhalten zusätzlich zum Studienabschluss ein Bachelor with Honors-Abschlusszertifikat sowie ein Empfehlungsschreiben des Rektorats.
Details zum neuen Honors-Programm der Fakultät für Informatik finden Sie hier.
[Text: OTS-Aussendung vom 9.11.2017]
Pressespiegel
9.11.2017: APA Science: "Informatik an TU Wien startet "Bachelor with Honors"-Programm"
9.11.2017: DerStandard.at: "Informatik an TU Wien startet "Bachelor with Honors"-Programm"
24.11.2017: Die Presse: "TU Wien fördert begabte Bachelorstudenten"
Links
Note: This is one of the thousands of items we imported from the old website. We're in the process of reviewing each and every one, but if you notice something strange about this particular one, please let us know. — Thanks!