Jetzt anmelden für das Aufnahmeverfahren!
2017-04-03
First Steps
Students
Bis zum 15. Mai können sich Studieninteressierte für das Aufnahmeverfahren an der Fakultät für Informatik registrieren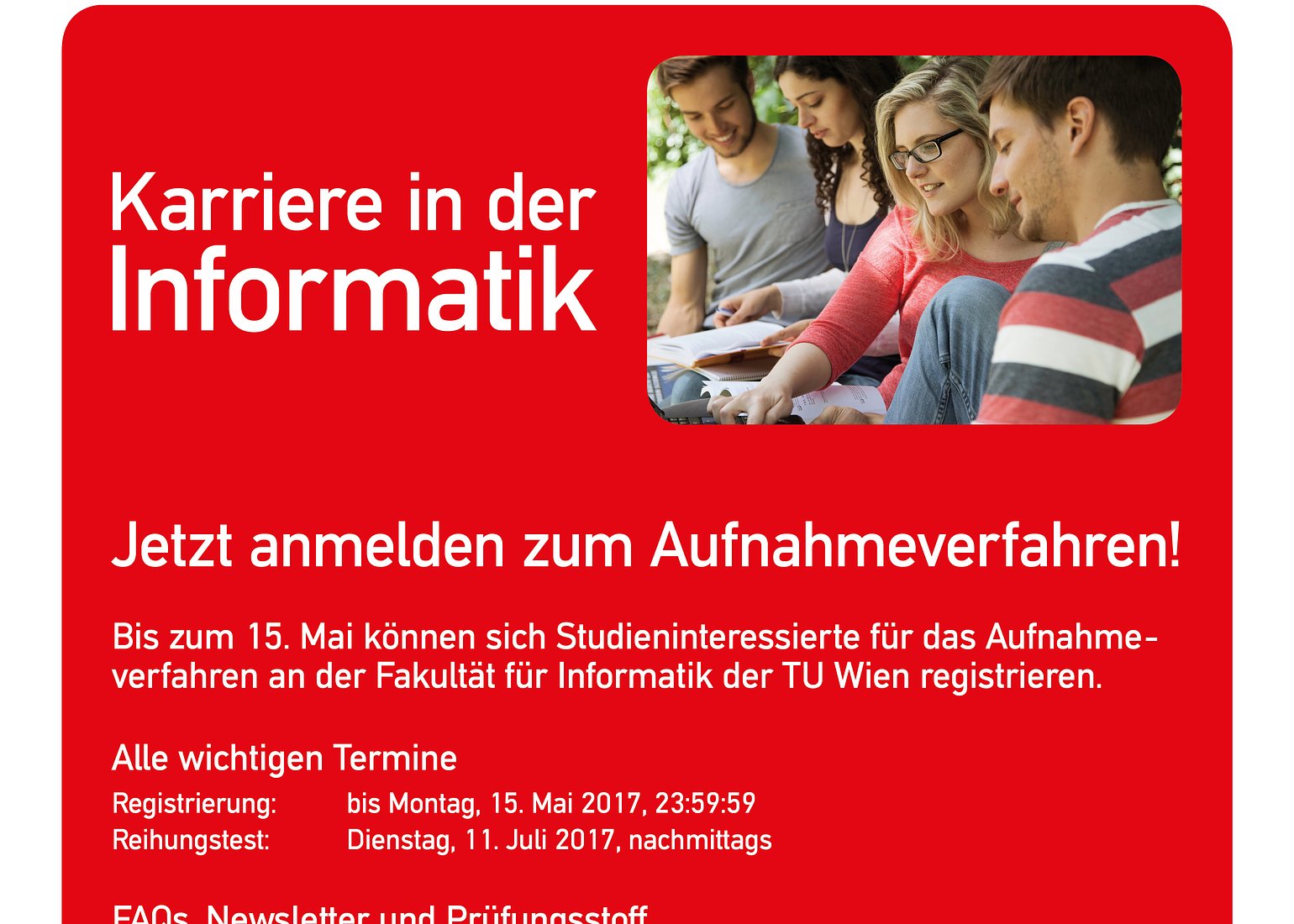 Einen Schritt näher zum Bachelor in Informatik oder Wirtschaftsinformatik
An der Technischen Universität Wien und der Universität Wien wird für alle StudienbewerberInnen (Informatik und Wirtschaftsinformatik) seit dem Studienjahr 2016/17 ein Aufnahmeverfahren durchgeführt. Dieses Aufnahmeverfahren findet nur einmal im Jahr statt, unabhängig davon, ob Sie im Wintersemester oder im Sommersemester Ihr Studium beginnen wollen. Der Ablauf ist zweistufig: Zuerst geben Sie uns in einem Schreiben Ihre Motivation und Erwartungen an ein Informatikstudium bekannt. Danach findet ein Reihungstest statt.
Registrierung verpflichtend: Deadline 15. Mai 2017
Für das Aufnahmeverfahren ist eine verbindliche Registrierung erforderlich: Ab 3. April 2017 können Sie sich über einen eigenen Aufnahme-Account auf unserer Webseite anmelden. ACHTUNG: Die Frist endet am 15. Mai 2017.
Alle wichtigen Termine zum Aufnahmeverfahren 2017
Registrierungszeitraum: Montag, 3. April 12:00 Uhr bis Montag, 15. Mai 2017 23:59:59.
Reihungstest: Dienstag, 11. Juli 2017, nachmittags
FAQs, Newsletter und Prüfungsstoff
Alles über das Aufnahmeverfahren finden Sie laufend aktualisiert unter: www.informatik.tuwien.ac.at/aufnahme
Downloads
Links
Curious about our other news? Subscribe to our news feed, calendar, or newsletter, or follow us on social media.
Note: This is one of the thousands of items we imported from the old website. We're in the process of reviewing each and every one, but if you notice something strange about this particular one, please let us know. — Thanks!