Frauenpower für die Informatik
2017-03-16
Panel Discussion
Women in Informatics
Podiumsdiskussion zum Thema: More female scientists in Computer Science. Who cares?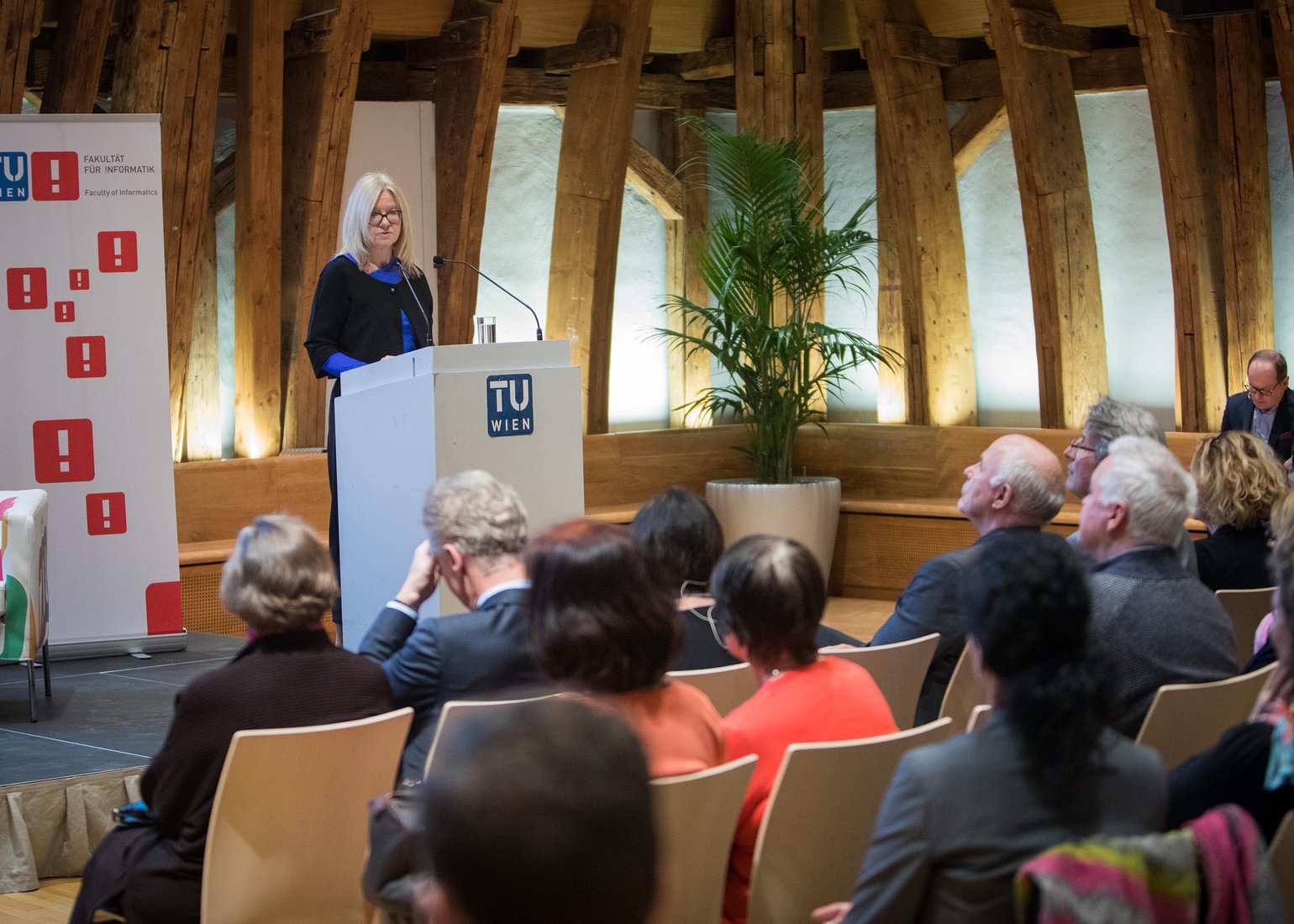 Wo gibt es Löcher in der Pipeline, fragten sich bei der Podiumsdiskussion am 14. März Vertreter_innen von Forschung, Industrie und Lehre. Unter dem Titel "More female students for Computer Science. Who cares?" lud die Fakultät für Informatik ein, über nachhaltige Maßnahmen zur Frauenförderung an Universitäten zu diskutieren.
Hannes Werthner, Dekan der Fakultät für Informatik diskutierte Lösungsansätze mit hochrangigen Wissenschaftler_innen wie Lenore Blum (Carnegie Mellon University) und Christiane Floyd (Deutschlands erste Informatik-Professorin) sowie Georg Kapsch (Präsident der Industriellenvereinigung) und Sabine T. Köszegi (Professorin für Labor Science and Organization, TU Wien). Die Moderation übernahm Gerald Groß.
Frauen unter Beweisdruck
Anna Steiger, Vizerektorin für Personal und Gender wies bei ihren Begrüßungsworten darauf hin, dass Technik-begeisterte Frauen nach wie vor mit engen Geschlechterrollen zu kämpfen hätten. "Im Gegensatz zu Männer müssen Frauen erst beweisen, dass sie mit Technik umgehen können.", so die Vizerektorin. Mit verstärkten Frauenfördermaßnahmen, Quoten in Rektorat, Senat und Advisory Board sowie einem eigens gegründeten Serviceeinrichtung für Genderkompetenz befinde sich die TU Wien bereits auf dem richtigen Weg zur gender-gerechten Hochschule.
Der Sinn und Unsinn von Quoten beschäftigte auch die Podiumsgäste. Diskutiert wurde auch die Frage, ob sich die Interessensspektren von Männern und Frauen bei technischen Themen unterscheiden und sich Lehrpläne entsprechend reformieren müssten. Einigkeit herrschte derweil bei der positiven Bewertung von Mentoring-Programmen, Vernetzungsangeboten und dem Sichtbarmachen von Vorbildern. Für Sabine T. Köszegi (TU Wien) seien die aktuellen Drop-Out-Quoten von Studentinnen besorgniserregend. "Die Pipeline ist lückenhaft", so Köszegi. Eine gemeinsame Antwort auf das Warum ließ jedoch noch auf sich warten.
IV-Präsident Georg Kapsch hob hervor, dass es in Österreich generell ein mangelndes Interesse an Technologie gebe. Dem müsse in den Schulen, aber auch in der Lehrenden-Ausbildung entgegengewirkt werden. Dekan Hannes Werthner betonte die Schwierigkeit von Fördermaßnahmen angesichts von Ressourcenknappheit bei Massenstudien. "Wir müssen uns bewusstwerden, dass es bei der Förderung von Frauen an Universtäten nicht nur darum geht, Personal für die Industrie auszubilden. Universitäten 'produzieren' Ideen und Forschung. Auch dazu brauchen wir mehr Teilhabe von Frauen", stellte Werthner klar.
Best-Practice kostet Zeit und Geld
"Ich hatte selbst kein weibliches Vorbild. Ich bin aber auch nicht sicher, ob mir damals eines fehlte", merkte Christiane Floyd, emeritierte Professorin für Software Engineering an. Die Österreicherin wurde 1978 als erste Informatik-Professorin im deutschsprachigen Raum an die Technische Universität Berlin berufen. Viel wichtiger als Quoten erscheine ihr die Unterstützung der individuellen Lebensumstände und die Anpassung der Arbeitsbedingungen nach den Bedürfnissen von Frauen an Universitäten.
Auch für ihre Kollegin Lenore Blum sei das soziale Umfeld wesentlich entscheidend, um Frauen Karrierewege an Universitäten zu ermöglichen. An der Carnegie Mellon University, welche einen vorbildlichen Frauenanteil von etwa 40 Prozent vorzuweisen hat, habe sich die Gründung einer eigenen Organisation bewährt, von deren Netzwerk-Events und Vorträgen schließlich Frauen wie Männer profitieren würden. "Programme wie diese müssen für die Universitäten zur Priorität werden, um unabhängig von Projektfinanzierungen nachhaltig wirken zu können", appelliert Blum.
Helmut Veith Preis für Masterstudentinnen
Die Podiumsdiskussion bildete den Abschluss eines zweitägigen internationalen Workshops zum Thema "Innovations in Informatics Education at Universities - International Best Practices" statt. Damit stellt sich die Fakultät für Informatik der vielschichtigen Ursachen des Frauenmangels und versucht, im internationalen Austausch Lösungsansätze zu finden. Im Zuge des Abends fand auch die erstmalige Preisverleihung des Helmut Veith Preis für exzellente Masterstudentinnen der Informatik statt. Kurt Matyas, Vizerektor für Studium und Lehre vergab die Auszeichnung an die Niederländerin Marieelle Rietdijk. Sie erhält ein Stipendium in Höhe von 6.000 Euro jährlich für ihr Masterstudium. Aktuell macht sie den "European Master in Computational Logic (EMCL)" an der TU Wien.
Pressespiegel (Auswahl)
Die Presse, 17.3.2017: "Hat Technik ein Geschlecht?"
APA Science, 15.3.2017: "Erster Helmut-Veith-Preis an der TU Wien vergeben"
Der Standard/Forschung Spezial, 18.3.2017 (Online-Erscheinungsdatum): Computerexpertin: 'Die Informatik muss sich von innen heraus ändern"
Der Standard/Karriere, 27.3.217 (Online-Erscheinungsdatum): "Ohne sie kein Weltverändern"
Fotos (Credit: Christian Lendl)
Downloads
Curious about our other news? Subscribe to our news feed, calendar, or newsletter, or follow us on social media.
Note: This is one of the thousands of items we imported from the old website. We're in the process of reviewing each and every one, but if you notice something strange about this particular one, please let us know. — Thanks!