HR Award 2016: Erfolg für Fakultätsmitglieder
Bronze beim HR Award Inside Summit 2016 in Kategorie "Unternehmenskultur"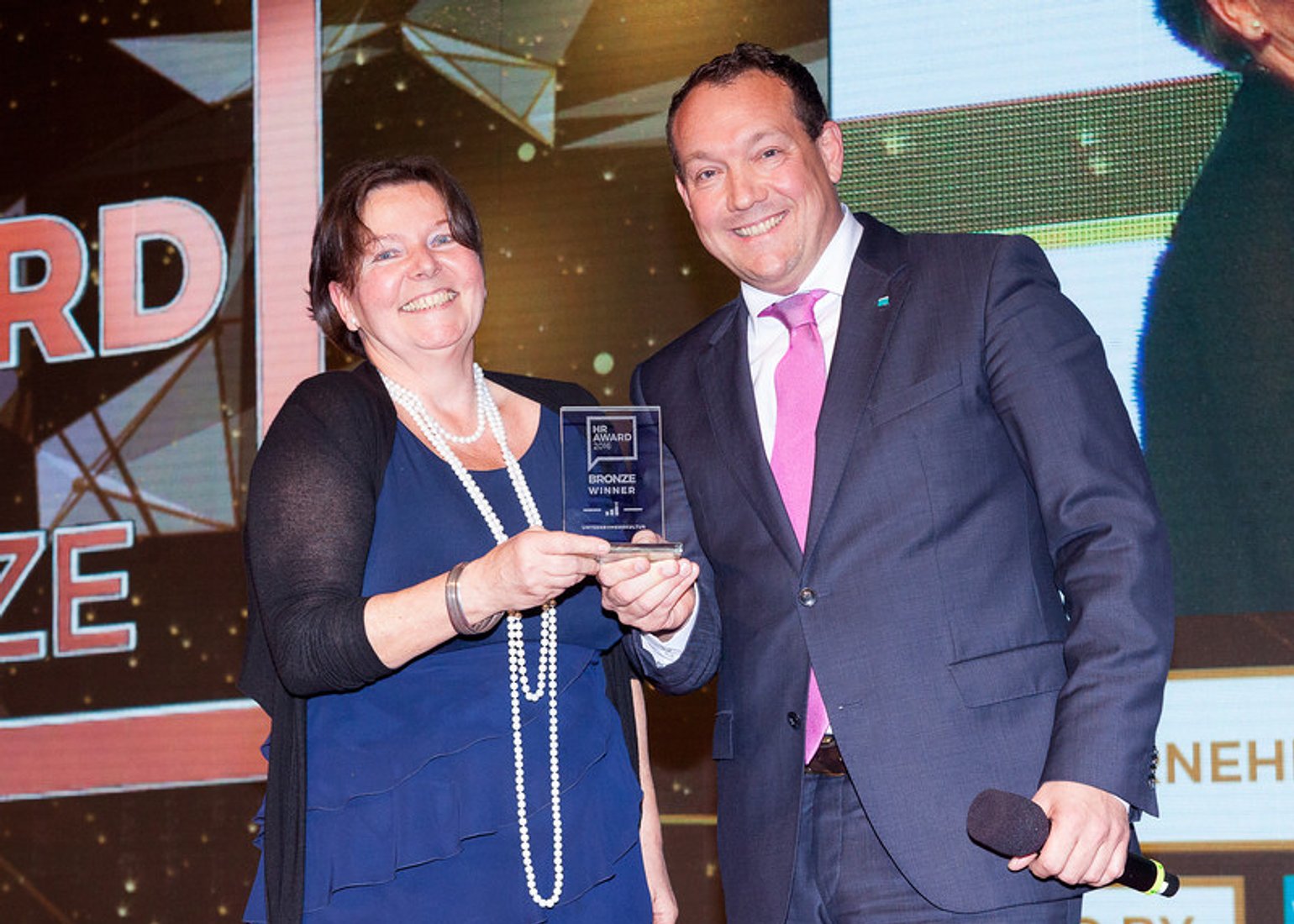 Text adaptiert aus TU Wien News 2016-10-14, Nicole Schipani
Unter dem Leitwort "A company is only as good as the people it keeps" (Mary Kay Ash) ging der Award an kreative Projekte die die Wichtigkeit der MitarbeiterInnen anerkennen und für ein mitarbeiterfreundliches Klima sorgen.
Was war das Besondere am TU Projekt?
Beschäftigte, die Betreuungspflichten für nahe Angehörige haben, sind einer starken Zusatzbelastung ausgesetzt. Diese belastende Situation kann in letzter Konsequenz auch bis zum Verlust der Arbeitskraft führen. Das Projekt "Mehr als ich kann", das von Anna Steiger, Vizerektorin für Personal und Gender und von Vereinbarkeitbeauftragter Ewa Vesely, Mitglied der Fakultät für Informatik initiiert wurde, sollte der Beginn einer Unterstützung für diese Personengruppe sein. Innerhalb der Fakultät war auch das Institut für Gestaltungs- und Wirkungsforschung am Projekt beteiligt.
Im Fokus stehen hierbei bedarfsorientierte Unterstützungsmaßnahmen. Durch einen Bottom-up-Prozess sollte die nachhaltige Wirkung der Maßnahmen erreicht werden. Der Projektstart erfolgte 2013, in mehreren Workshops wurden anschließend Maßnahmen ausgearbeitet. Bis Ende 2015 wurden diese – insbesondere die Betriebsvereinbarung "Erweiterte Pflegefreistellung" – umgesetzt.
Mehrfacher Benefit
Die Maßnahmen bringen eine Win-Win-Situation: Sie wirken enttabuisierend und unterstützend für die Arbeitnehmer_innen. Die TU Wien als Arbeitgeberin wiederum profitiert davon, wenn die Arbeitskraft ihrer Beschäftigten längerfristig erhalten bleibt. Das Projekt wurde bereits mit dem 3. Platz beim Sustainability Award in der Kategorie "Strukturelle Verankerung" prämiert.
Am 12. Oktober 2016 wurde dem Projekt im Rahmen des HR Inside Summit Kongress der HR Award BRONZE im Festsaal der Wiener Hofburg verliehen. "Es ist ein schöner Erfolg und ein Beispiel für das gelungene Miteinander der Mitarbeiterinnen und Mitarbeiter, des Rektorats, der Interessensvertretungen und der Arbeitsjuristin", freut sich Ewa Vesely.
Bild [1]: © BFI Wien/APA-Fotoservice/Martin Lusser
Links
Note: This is one of the thousands of items we imported from the old website. We're in the process of reviewing each and every one, but if you notice something strange about this particular one, please let us know. — Thanks!