Zwei TU-Informatikerinnen ausgezeichnet
ZONTA CLUB WIEN I - TU-Mobilitätsstipendium an Marijana Lazic und Tanja Mayerhofer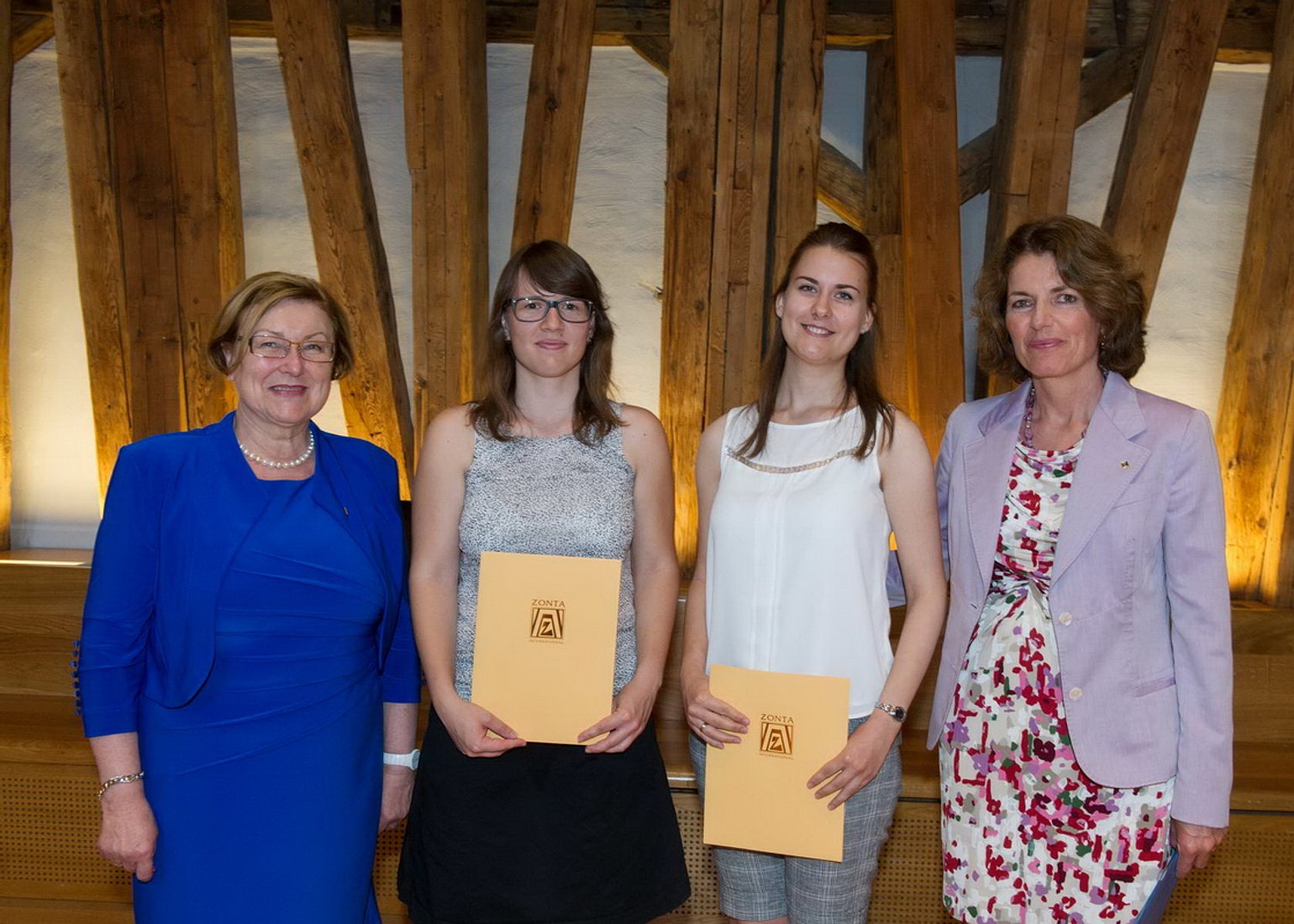 Basierend auf der TU-Wien News vom 6. Juli 2016, Brigitte Ratzer
Im Rahmen einer Sponsion der Fakultät für Informatik wurde Ende Juni das "ZONTA CLUB WIEN I – TU-Mobilitätsstipendium" überreicht. Das Stipendium ging an zwei ausgezeichnete Nachwuchsforscherinnen der Fakultät für Informatik: Marijana Lazic sowie Tanja Mayerhofer
Marijana Lazic, MA ist Kollegiatin des von Prof. Helmut Veith initiierten Kollegs "Logical Methods in Computer Science". Sie arbeitet an der Schnittstelle zwischen "Computer Aided Verification" und "Distributed Computing Theory", widmet sich hier der Fehlersuche in Algorithmen durch Computerprogramme mit Hilfe von fehler-toleranten verteilten Algorithmen.
DI Dr. Tanja Mayerhofer ist als PostDoc in der Business Informatics Group tätig und arbeitet im Bereich der modell-getriebenen Software- und Systementwicklung. Sie ist Initiatorin der internationalen EXE Workshops, die sich mit den Herausforderungen der Modellsimulation beschäftigen und zum Ziel haben, eine Community rund um dieses Thema zu etablieren.
Auslandaufenthalte - kurzfristige wissenschaftliche Aufenthalte, Konferenzteilnahmen, Workshop-besuche - sind eine wichtige Voraussetzung für eine erfolgreiche Karriere in der Forschung. Leider fehlt es jedoch oft Nachwuchswissenschaftlerinnen an der ausreichenden Finanzierung, um Ergebnisse präsentieren zu können. Diesem Umstand trägt das ZONTA CLUB WIEN I Mobilitätsstipendium Rechnung, das in Zusammenarbeit mit der Abteilung Genderkompetenz der TU Wien vergeben wurde. Wir wünschen den beiden ausgezeichneten Kolleginnen alles Gute für ihre wissenschaftlichen Vorhaben.
Rückfragehinweis: Dr.in Brigitte Ratzer Abteilung Genderkompetenz Technische Universität Wien Karlsplatz 13 1040 Wien
T: +43-1-58801-43400 M: +43-664-60588 3400 http://frauen.tuwien.ac.at
Links
Note: This is one of the thousands of items we imported from the old website. We're in the process of reviewing each and every one, but if you notice something strange about this particular one, please let us know. — Thanks!