Zwei Informatiker promovieren sub auspiciis
Markus Jung und Andreas Thöni von Bundespräsident Heinz Fischer ausgezeichnet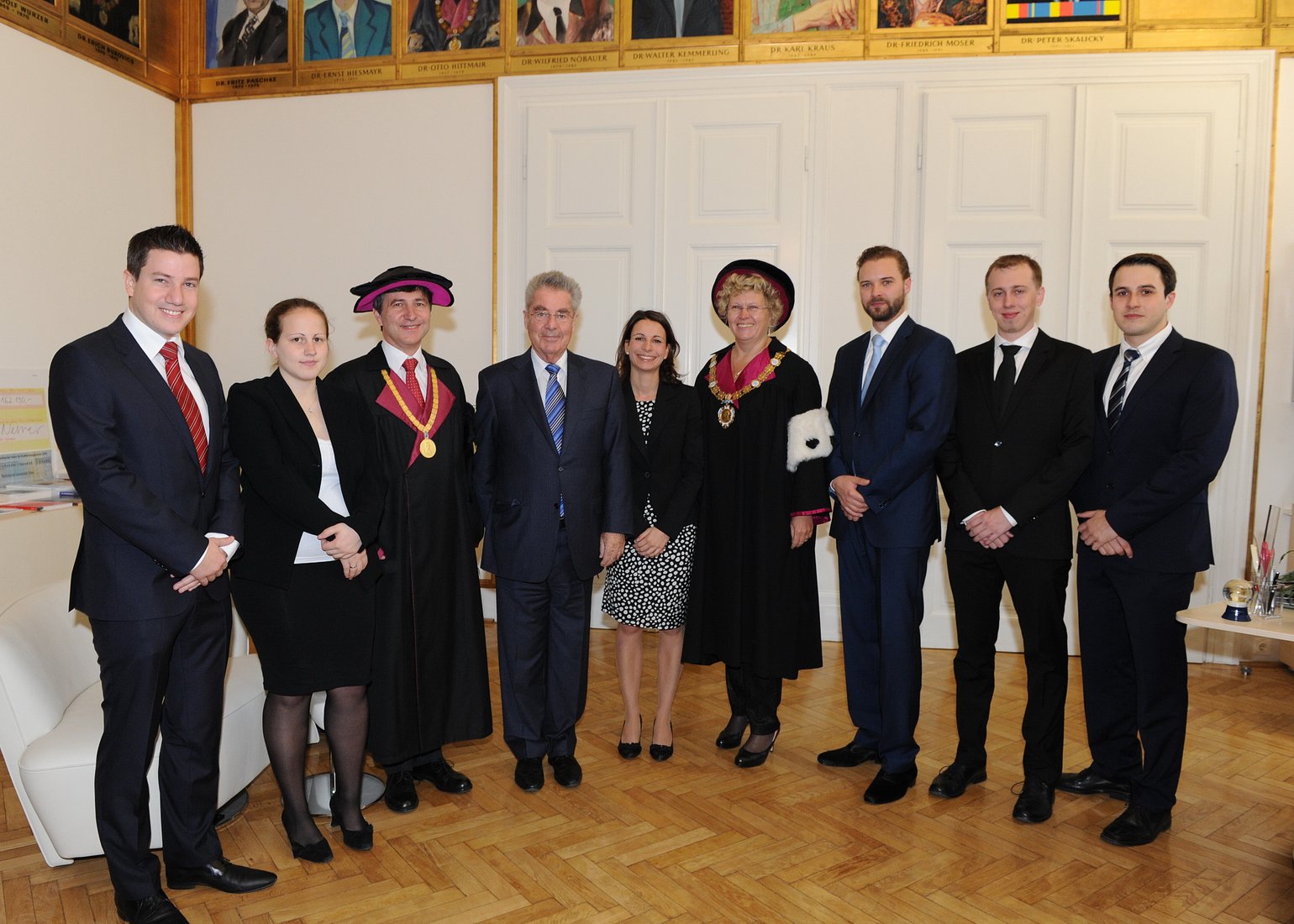 Die Fakultät für Informatik gratuliert ihren zwei Absolventen zu ihrer Promotion sub auspiciis!
Dipl.-Ing Markus Jung, BSc
Dissertationsthema: An integration middleware for the Internet of Things Institut für Rechnergestützte Automation Laudator: Ao.Univ.-Prof. Dipl.-Ing. Dr. Wolfgang Kastner
Markus Jung, geboren 1985, absolvierte seine Schulzeit an der HTL St. Pölten mit Spezialisierung auf Informatik. Der Grundstein war gelegt, um nach der Matura 2004 seine Interessen in einem Bachelor- und Masterstudium der Informatik an der TU Wien weiterzuverfolgen. 2011 entschied sich Hr. Jung für ein Doktoratsstudium der Informatik und arbeitete in dieser Zeit am Institut für Rechnergestützte Automation. Derzeit ist Hr. Jung als Senior Engineer bei Samsung Electronics in Südkorea tätig.
Mag. Dipl.-Ing. Andreas Thöni, BSc
Dissertationsthema: Sustainability Risk Monitoring in Supply Chains – Ranking Suppliers using Text Mining and Bayesian Networks with a Focus on Child Labor Institut für Softwaretechnik und Interaktive Systeme Laudator: O.Univ.-Prof. Dipl.-Ing. Dr. A Min Tjoa
Der gebürtige Tiroler Andreas Thöni, geboren 1985, besuchte das BRG Adolf-Pichler-Platz in Innsbruck, wo er 2003 mit Auszeichnung maturierte. Das Bachelorstudium der Wirtschaftsinformatik führte ihn an die TU Wien, wobei er ab 2005 parallel dazu an der WU Wien Internationale Betriebswirtschaftslehre studierte. Nach Abschluss des Bachelorstudiums Wirtschaftsinformatik, folgten sowohl das entsprechende Masterstudium als auch ab 2012 das Doktoratsstudium der Wirtschaftsinformatik. Alle Studien konnte Hr. Thöni mit ausgezeichneten Noten abschließen. Seit 2010 ist Hr. Thöni als Berater bei McKinsey & Company tätig.
Note: This is one of the thousands of items we imported from the old website. We're in the process of reviewing each and every one, but if you notice something strange about this particular one, please let us know. — Thanks!